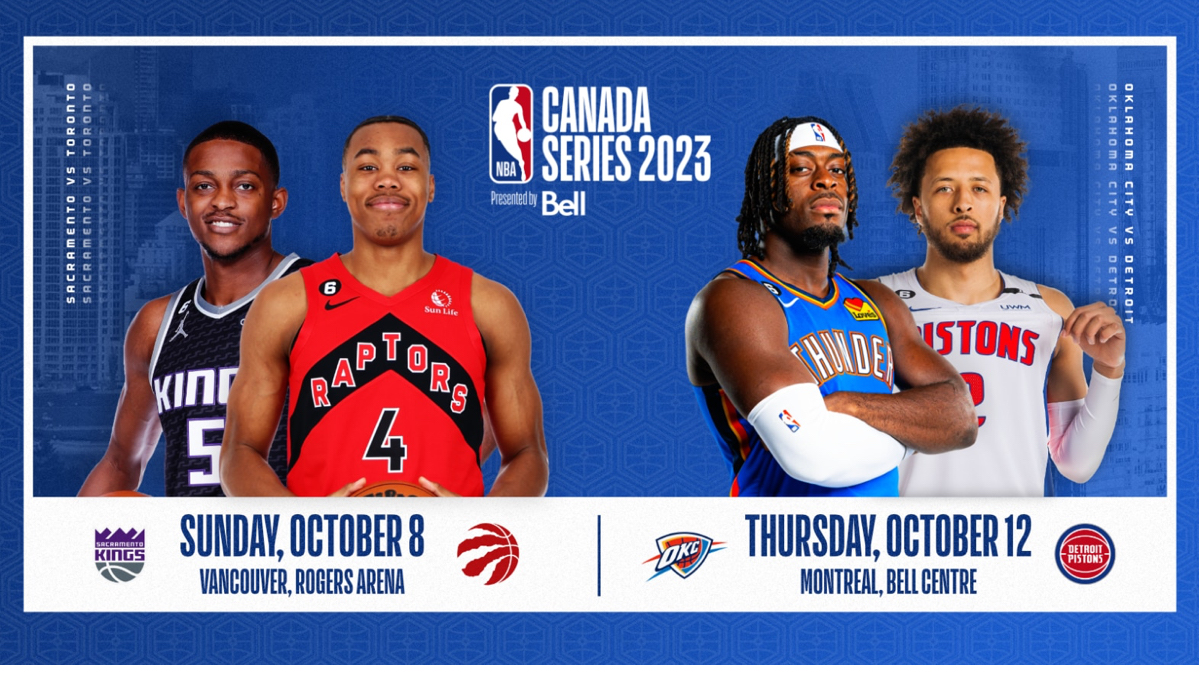 The National Basketball Association has announced that the ninth NBA Canada Series presented by Bell will feature preseason games in Vancouver and Montréal in October 2023.
On October 8, the Toronto Raptors will take on the Sacramento Kings at Rogers Arena in Vancouver. On October 12, Canadians Shai Gilgeous-Alexander and Luguentz Dort — a native of Montréal — and the Oklahoma City Thunder will take on the Detroit Pistons at the Bell Centre in Montréal.
"We're extremely excited about this year's NBA Canada Series presented by Bell, which comes at a time when basketball popularity and the level of talent coming from Canada are at an all-time high," said NBA Canada Senior Vice President and Managing Director Leah MacNab. "Through these two games and the surrounding events, the passionate NBA fans in Vancouver and Montréal will have the opportunity to see some of the best up-and-coming players in the league and several hometown heroes, which will inspire the next generation of fans and players across the country."
Tickets for the games will go on sale at a later date and fans can register interest for exclusive presale ticket access. NBA Experiences ticket packages offering premium access to the game in Montréal and other events will be available for purchase.
"We're thrilled to sponsor the ninth NBA Canada Series and bring the live NBA experience to fans in Montréal and Vancouver," said Bell Vice President Brand & Sponsorship David Kennedy. "For over a decade we've been partners of both the Toronto Raptors and the league and are strong supporters of basketball and events like this that bring communities together and inspire the next generation of players."
Fifteen NBA teams have participated in 16 preseason games across six cities as part of The NBA Canada Series, drawing a total attendance of more than a quarter of a million.