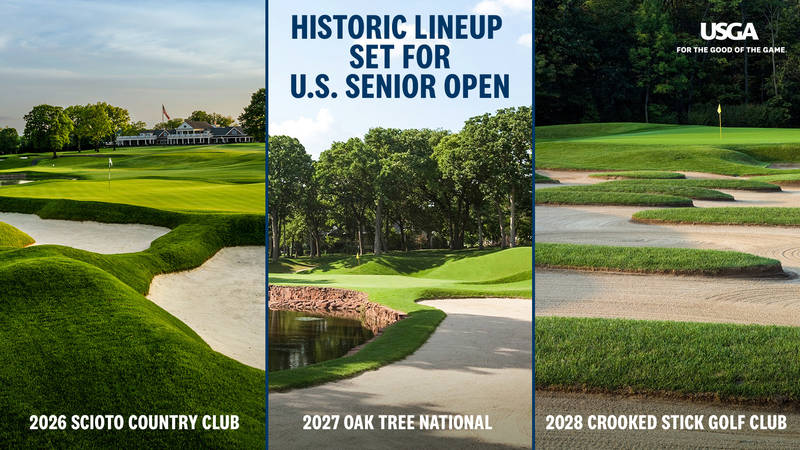 The United States Golf Association will hold the U.S. Senior Open Championship at Scioto Country Club in Columbus, Ohio in 2026 before heading to Oak Tree National in Edmond, Oklahoma, in 2027 and then go to Crooked Stick Golf Club in Carmel, Indiana, in 2028.
"The USGA is pleased to be returning to Scioto Country Club, Oak Tree National and Crooked Stick Golf Club as host sites for the U.S. Senior Open," said John Bodenhamer, USGA chief championships officer. "Each club has a distinguished history of hosting national championships and promoting professional and amateur competition. We know each course will challenge the world's best players and the communities will be welcoming and supportive."
Scioto Country Club, which opened in 1916, will become the third club to host three U.S. Senior Opens. Saucon Valley Country Club, in Bethlehem, Pennsylvania, was a host site for a third time in 2022 and The Broadmoor's East Course, in Colorado Springs, Colorado, will host its third in 2025. Scioto also will host the 2036 U.S. Amateur Championship.
Oak Tree National, opened for play in 1976, is located 20 miles north of Oklahoma City. The 2027 U.S. Senior Open will be the third USGA championship to be played at Oak Tree National. Colin Montgomerie won the 2014 Senior Open in a playoff and Scott Verplank captured the U.S. Amateur title in 1984.
Crooked Stick Golf Club will host its seventh USGA championship but first in almost two decades. Founded in 1964, Fred Funk shot four rounds in the 60s at Crooked Stick en route to his victory in the 2009 U.S. Senior Open. Crooked Stick has also hosted the 1982 U.S. Junior Amateur, 1983 U.S. Senior Amateur, 1989 U.S. Mid-Amateur, 1993 U.S. Women's Open and 2007 U.S. Women's Amateur.
The U.S. Senior Open is open to professional golfers and amateurs with a Handicap Index not exceeding 3.4, who are at least 50 years of age by the start of championship play. The field of 156 players will compete in two rounds of stroke play, after which the field will be reduced to the low 60 scores and ties for the final 36 holes. The 2024 championship will be held at Newport (Rhode Island) Country Club, June 27–30.