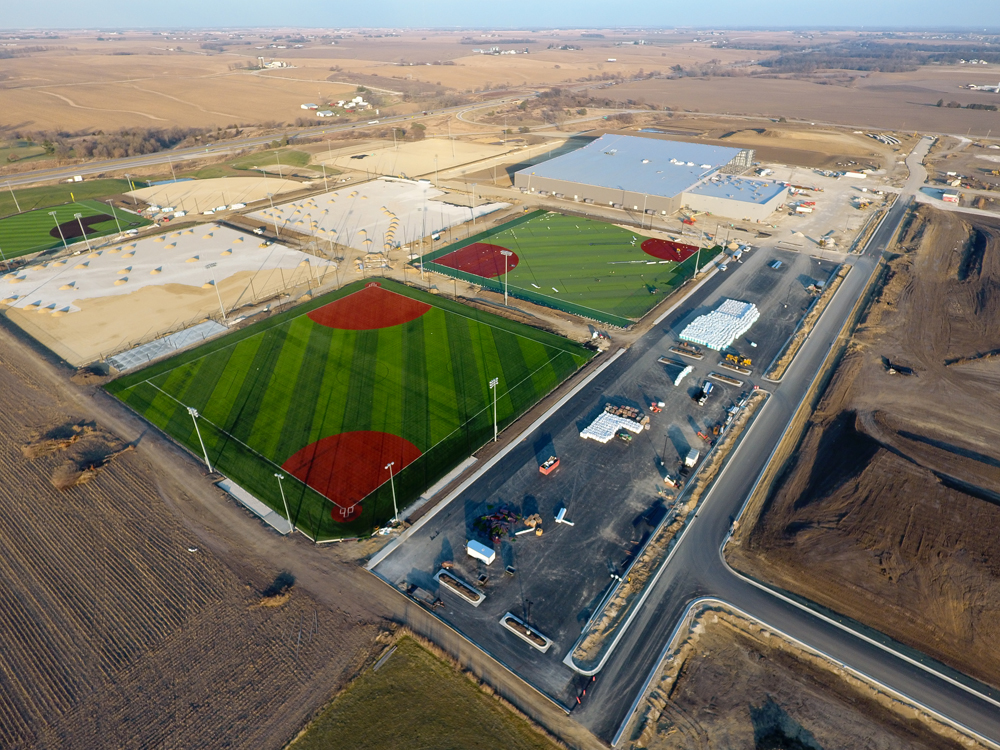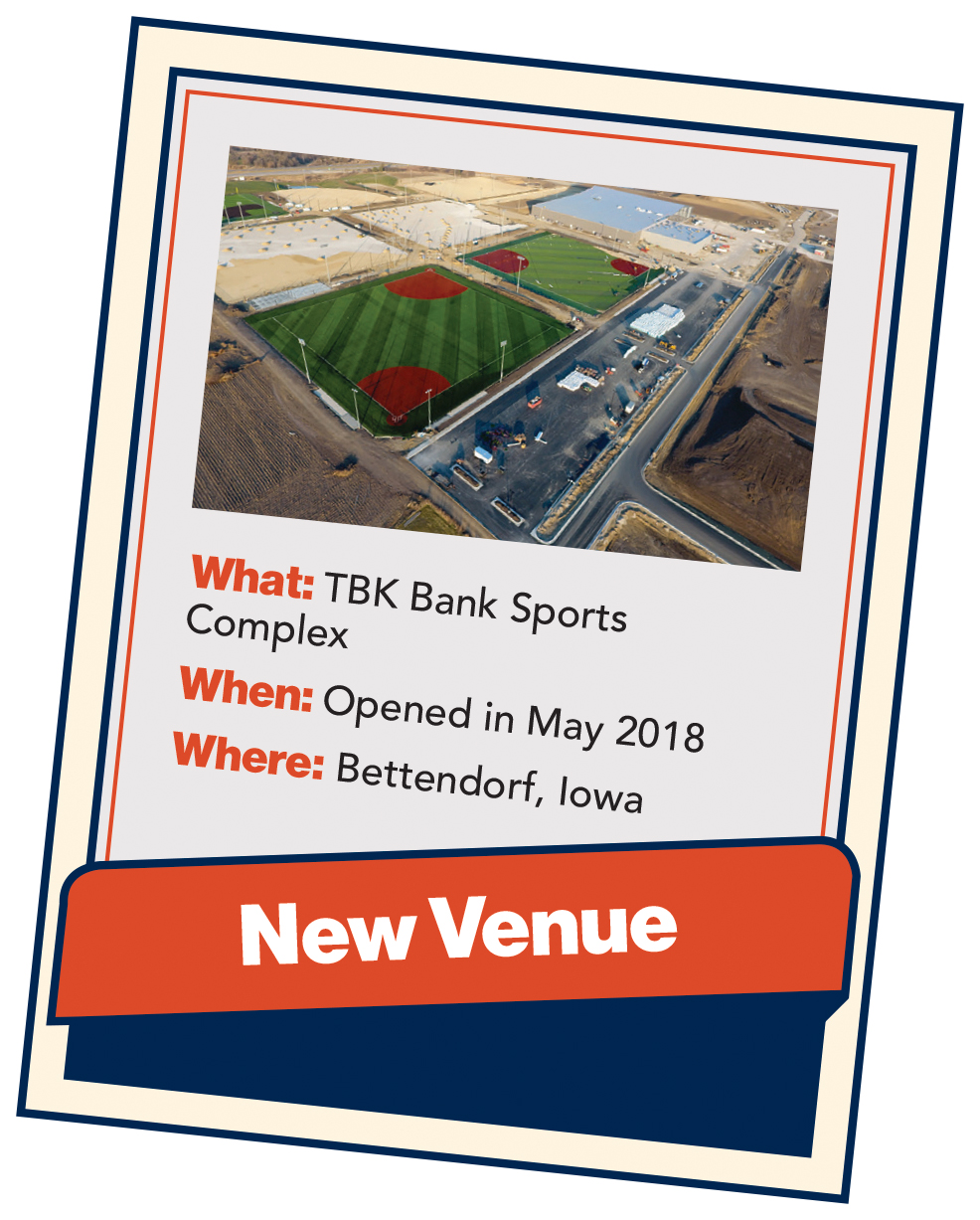 TBK Bank Sports Complex began as an idea on a napkin. While attending a youth sports tournament with his grandchildren, Douglas Kratz realized that the Quad Cities needed a high-quality sports complex, according to Kira Brabeck, director of marketing for Bett­plex, which owns the complex. So he sketched out a plan to bring such a facility to Bettendorf, Iowa, the place where he raised his children.
When the first phase opened in May, the 75-acre TBK Bank Sports Complex earned a spot as one of the largest sports complexes in the Midwest. The first phase includes the outdoor complex, which offers two lighted turf soccer fields, 10 lighted turf baseball/softball fields, five sand volleyball courts, concessions and nearly 1,600 parking spaces. The facility recently welcomed its first tournament, USSSA's Gold Glove Classic.
This fall will see the opening of the second phase, an indoor facility that will include a full-size multipurpose field, eight regulation basketball/volleyball courts, four sand volleyball courts, a team training area, a fitness center, a physical therapy facility, a tiki bar, concessions, a retail shop and a main office. Also at the site is High Five Lanes & Games, a family entertainment center with a bowling alley, arcade games, laser tag, a sports bar and meeting space. It was important to Kratz that the facility have an entertainment component, a space to welcome locals as well as those traveling with youth teams.
"This complex allows us to be a year-round sports destination," said Lynn Hunt, vice president of sales at the Quad Cities Convention & Visitors Bureau. Hunt said the area has been hosting regional and national competitions seasonally but noted that the larger tournaments needed more fields and lighted turf, something that was not readily available. "Turf has become something that a lot of national governing bodies and tournament directors are looking for, and we didn't have that turf when it came to soccer," Hunt said. "We had a couple of large soccer complexes that were mostly pretty much packed with local club use for their own tournaments and practices year-round."
The new complex will also be a welcome addition during the winter months, when indoor options have been scarce. "This particular venue allows us to expand on the types of events that we can host," Hunt said.
Plans for a new on-site hotel are also in the works. Davenport, Iowa-based Frontier Hospitality Group announced plans to develop and operate a new Cambria hotel, which is expected to begin construction later this year. The 112-room hotel will feature meeting space, a fitness center and various dining options.
Brabeck hopes that having accommodations, dining and entertainment all under one roof will prove attractive to organizers. "We want to be booked with various youth tournaments, and not just in one sport. We essentially want volleyball, basketball and soccer—all going on at the same time," Brabeck said. "Our goal is to be 52 weekends a year."
---
Rookie Card examines new sports events being launched and new sports venues ready to open. For consideration of a new event or venue, contact Senior Editor Jennifer Lee at jlee@ntmllc.com.