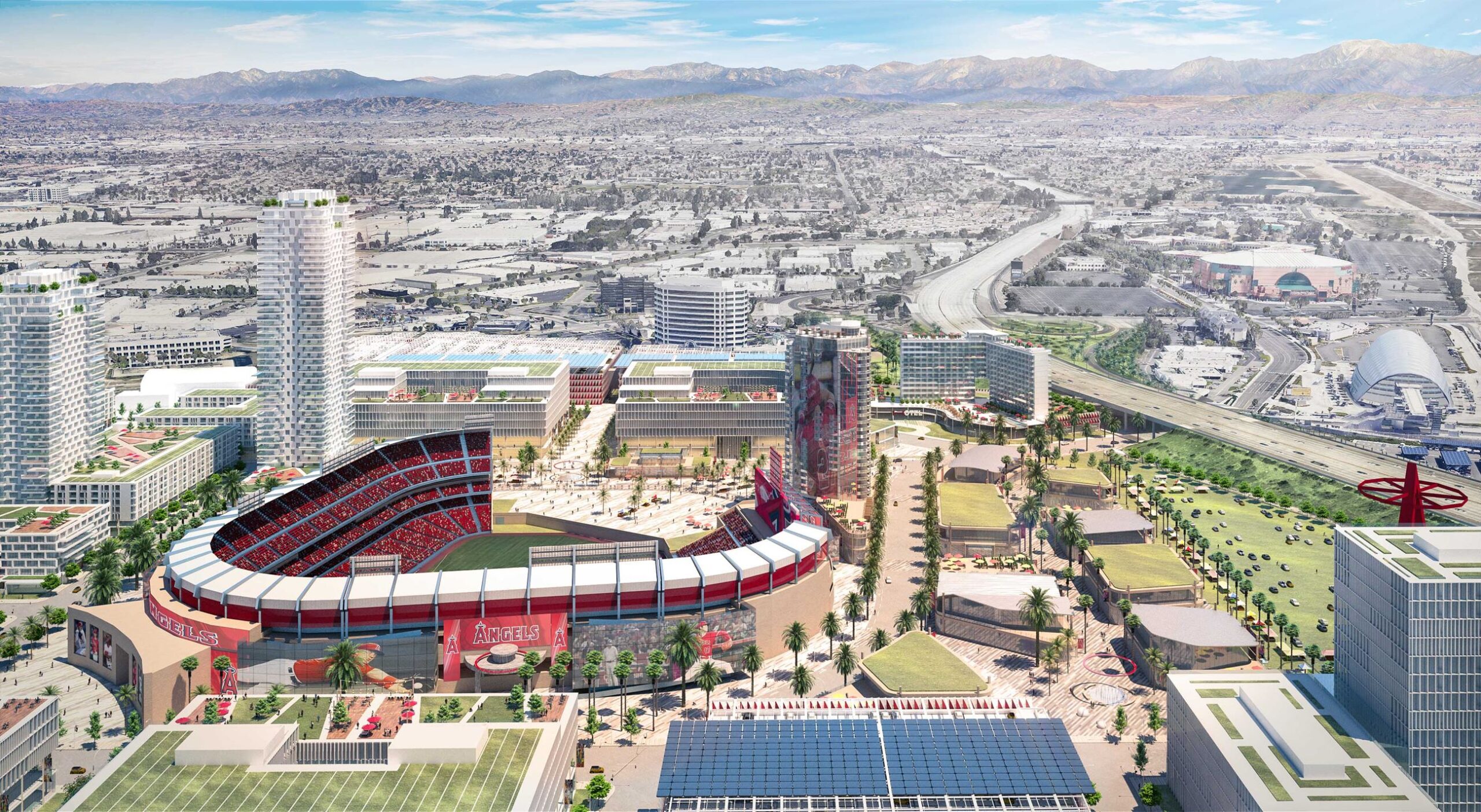 The city of Anaheim, California, received a major development boost with the news on consecutive days this week that the Los Angeles Angels and Anaheim Ducks are planning mixed-use entertainment districts surrounding their venues covering 250 acres of space.
The Ducks' project is named ocV!BE and would include 115 acres of land, surrounding the Honda Center with two hotels with 650 rooms, 2,800 residential apartments, a 68,000-square-foot food hall with multiple standalone restaurants and retail, plus 30 acres of public green space and 825,000 square feet of office space.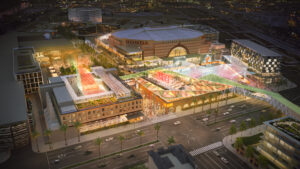 "ocV!BE will transform Anaheim as a destination," said Visit Anaheim President and Chief Executive Officer Jay Burress. "This exciting project will assist Anaheim in attracting and retaining guests, particularly conventioneers, to dine, shop, stay and be entertained in Anaheim, generating significant revenue for the local hospitality industry and the city of Anaheim."
Once started, the first phase of the $3 billion project would be completed and opened in 2024 with the goal of being completed by 2028 when the Honda Center is scheduled to host volleyball as part of Los Angeles' hosting of the 2028 Olympic Summer Games. The project would be privately funded and needs several city approvals; the completed approval process is estimated to take 18 months.
The Ducks' master plan is in part spurred by the team's long-term future in the city. The Ducks played its 25th season in Anaheim in 2018–2019 and the team is committed to staying another 25 years at the Honda Center with an option for five five-year extensions.
Angels Development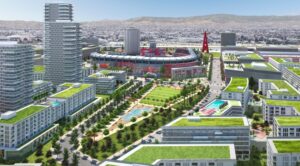 The Angels' plan, called The Big A, has been in development for some time and was accelerated when the team committed to staying in Anaheim through 2050. The updated plan released this week includes 153 acres of development, mostly around the parking lots that surround Angel Stadium. There would be 2.7 million square feet of office building spaces with over 5,000 residential apartments, an urban park, two hotels with nearly 1,000 rooms and 1.1 million square feet of restaurants, shops and entertainment. One of the proposed hotels would have a view directly into the stadium with the current outfield setup featuring rocks and a waterfall being dismantled.
The truncated 2020 season will be the Angels' 55th in Anaheim following the team's move to Angel Stadium prior to the 1966 campaign. The stadium, while renovated and updated several times since its opening, is the fourth-oldest in Major League Baseball. A master site plan submitted for the stadium site includes the option for both renovating the current venue or building a new stadium to the east alongside the Santa Ana River. That would be determined later.
"This plan has the potential to bring the great experiences of baseball cities such as San Diego or Chicago to Anaheim, and I look forward to reviewing it with my council colleagues," said Anaheim Mayor Harry Sidhu. "The investment is represents will help move our city past the economic impacts of coronavirus in years to come."