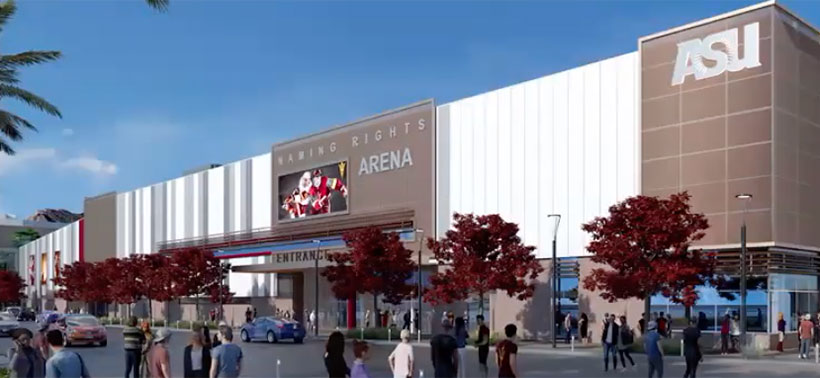 The Arizona Board of Regents has approved Arizona State University's plan for a 5,000-seat, $115 million multi-purpose arena that will serve mainly as the home venue for the Sun Devils men's ice hockey program.
The arena will sit right in the area on campus that serves as the site for several other athletic facilities including football's Sun Devil Stadium as well as the basketball and baseball stadiums. The new arena will be the home for not only ice hockey but also gymnastics and wrestling.
Construction will start January 2021 with full completion projected for December 2022. A groundbreaking ceremony is expected to be held in December.
The Arizona Board of Regents' Finance, Capital and Resources Committee gave initial approval before the Board of Regents in November. At that meeting, ASU Chief Financial Officer Morgan Olsen said a $16 million naming rights deal is in place, but will not be revealed until a later date.
The seating configurations for the arena include nine loges, 20 private suites, two group suites and event-level premium club seats.
Arizona State is the only independent program in Division I hockey. Its inaugural season after being a club program in the NCAA was in 2015; it earned its first NCAA Tournament spot in 2019 and this season is playing 28 games on the road with seven four-game series against each of the Big Ten Conference's Division I programs.