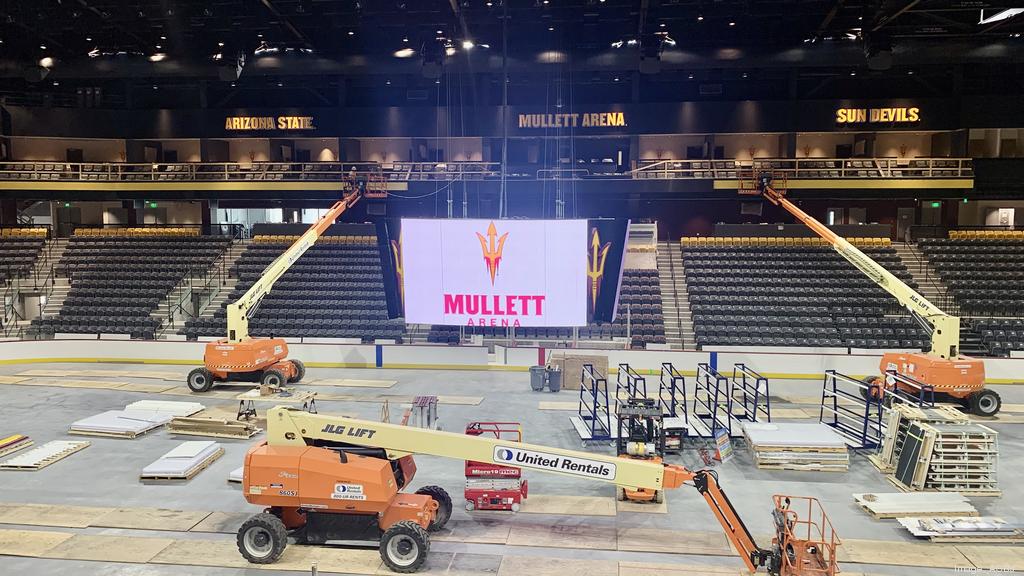 Arizona State University announced the new on-campus multi-purpose arena will be named Mullett Arena in recognition of Donald "Donze" and Barbara Mullett's commitment to ASU and Sun Devil Athletics.
Mullett Arena, which is managed and operated by Oak View Group, will host Sun Devil hockey, gymnastics and wrestling, as well as concerts, family shows, community events and the Mountain America Community Iceplex. Mullett Arena is also the new home of the National Hockey League's Arizona Coyotes for the next three years.
"The Mullett family has supported Sun Devil Hockey through every stage of its existence and expanded their support of Sun Devil Athletics in the years since. In appreciation of Don and Barbara's commitment, we're thrilled to introduce Mullett Arena," said Ray Anderson, vice president for university athletics.
The 5,000-seat venue includes two NHL regulation-size ice sheets, 20 luxury suites, a large club lounge and event-level premium club seats. Mullett Arena is the new home for Sun Devil hockey with over 8,000 square feet set aside for ASU's locker room, weight room, lounge and coaches' offices.
"It is an honor for Barb, me, and our family to have our name associated with Sun Devil Athletics' new on-campus multi-purpose facility," said Don Mullett. "With the recent establishment of the Barbara H. Mullett Family Foundation, we're so proud to have Mullett Arena as part of our initial commitment from the foundation."
Through the recognition of Mullett Arena, the Mullett family is extending existing support of Sun Devil hockey and Sun Devil athletics. In 2014, support from the Mullett family was instrumental in elevating ASU hockey to Division I status.
"There is only one person whose name should be on our ice and on our arena, and it's Don Mullett," said Sun Devil hockey coach Greg Powers. "Without 'Donze,' this arena doesn't happen, and NCAA Division I men's ice hockey doesn't exist at ASU. The Mullett's family legacy will forever be cemented at ASU and nothing will make our ACHA and NCAA alumni happier."