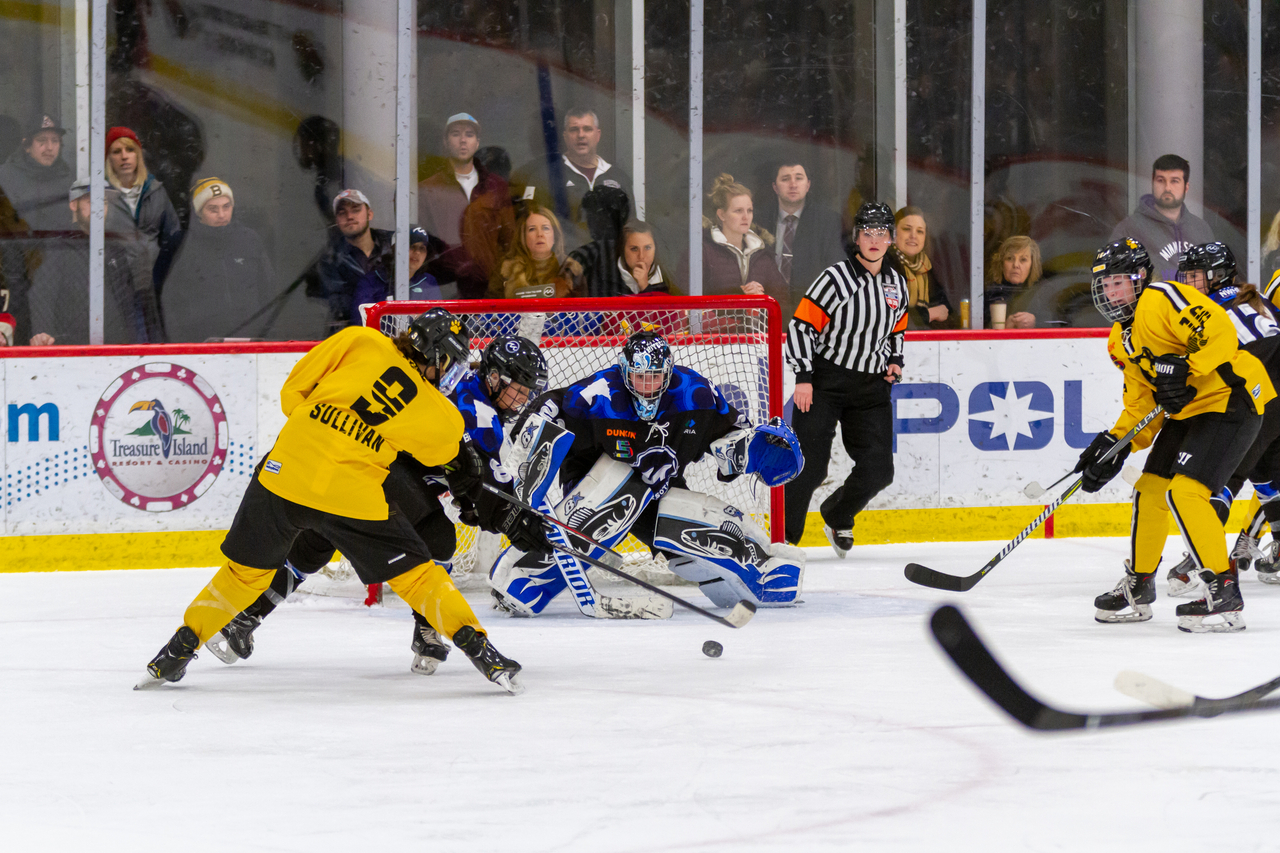 The Premier Hockey Federation has announced a two-year broadcast agreement with ESPN that will see live coverage of the regular season, special events and the Isobel Cup playoffs on ESPN Plus.
The agreement is on the heels of a one-year deal during the 2021–2022 season that included the championship final between the Boston Pride and Connecticut Whale aired live on ESPN2, the network's first linear broadcast of professional women's hockey.
"ESPN's continued commitment to champion the PHF and be teammates to make women's professional hockey accessible to more fans, worldwide, is a victory for our sport and the entire PHF community," said Reagan Carey, PHF commissioner. "Their support bolsters the PHF mission of growing the game long-term and building the best and most sustainable home for women's professional hockey. Extending our valued relationship with ESPN over the next two years ensures we can showcase talented athletes and competitive action on the ice, share incredible stories off the ice, provide our partners with a platform to connect with fans, and engage our dedicated fan base while introducing the PHF to a larger worldwide audience."
The 2022-23 season will be the eighth for the PHF, which this season has increased its salary cap of $750,000 per team. The entire regular season schedule will be announced at a later date. Established in 2015 as the National Women's Hockey League, the NWHL rebranded to become the PHF in 2021 and this coming season will add a team in Montreal to go with the Boston Pride, Buffalo Beauts, Connecticut Whale, Metropolitan Riveters, Minnesota Whitecaps and Toronto Six.
The PHF news comes one day after two major pieces of women's sports news in the broadcast television space. The NCAA Division I Women's Basketball Championship game will be broadcast live on ABC for the first time in 2023 on April 2 at American Airlines Center in Dallas, a move that comes after years of lobbying by supporters of the women's game to give the championship game a bigger showcase. And the National Women's Soccer League Championship will air in primetime for the first time ever in a major announcement between the NWSL, Ally Financial and CBS.
"We are excited to align with the PHF in support of growing the game and providing greater access to watching this first-class league," said Patrick Costello, director of digital media programming at ESPN. "As we track the growth of women's hockey around the world, we are energized by the significant advancements made by the PHF since our relationship began last season, and the exceptional growth on the horizon."