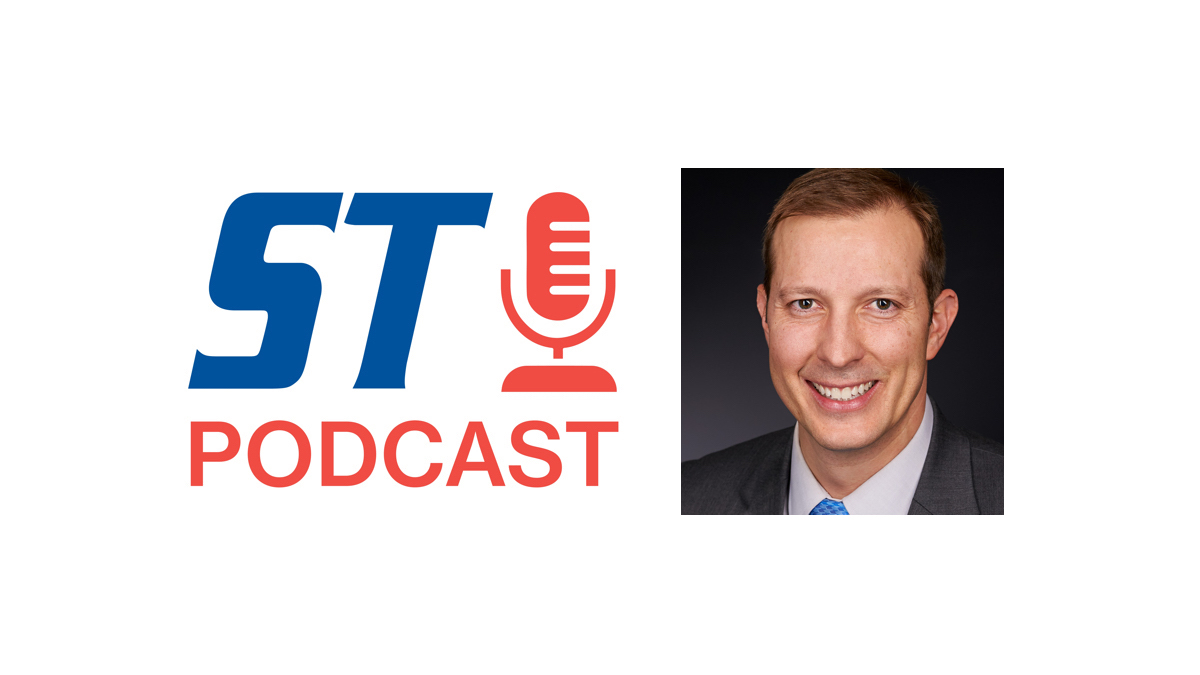 The last World Cup sliding event in North America was in 2019. All three North American tracks lost events — including world championship races in Whistler and Lake Placid — because of the pandemic, with international officials relocating those events to Europe and Asia. American and Canadian sliders spoke out about a wish for more races on home ice and how having essentially the first half of the bobsled and skeleton World Cup seasons in North America should be a boost to both programs. And now this year, that finally comes true with the World Cup season starting November 22 in Canada before going to Park City, Utah, from December 1-3 and then to Lake Placid, New York, for the world push championships and World Cup event.
Aron McGuire was a member of the USA Bobsled national team from 2003 through 2006 and after his athletic career was completed, he worked for USA Track and Field and the USOPC, eventually becoming the senior director of Olympic & Paralympic Training Centers. He was named USA Bobsled and Skeleton Chief Executive Officer in January 2020 and has since steered the organization through the COVID-19 pandemic, a successful Olympic Winter Games performance in Beijing with new stars on the world scene and the return of international competition to North America. He also describes the process of how to become part of the USA Bobsled and Skelton national team and what they look for in an athlete.
In this conversation, SportsTravel Managing Editor Matt Traub sits down with McGuire to talk about the upcoming events, what growing the sport throughout the United States is like, how athletes can become part of the bobsled or skeleton national teams and much more.
Among the topics discussed in this episode:
Racing in North America this season (2:19): "We haven't raced in North America for a World Cup in the last two years due to Covid. So we spent a lot of time in Europe and, and obviously time in Beijing, China for the Olympic Games. So it's always fun to, to race on home ice and to start off the season in North America. … For the athletes themselves, it's a chance for friends and family, mom and dad, to come out and cheer them on, and certainly it's a boost of confidence for them because they're on tracks that they're very familiar with"
The toll has it taken not having the chance to compete in North America for the past few years (3:07): "The entire season last year, we were either in Europe or Asia. And so it certainly wears an athlete out, wears a coach out for being on the road that long. .. The team's become very resilient. You know, where a change prior to the pandemic may have caused a lot of concern and uneasiness, athletes these days — if something changes then they just roll with it."
Trying to retain the athlete talent pool and coaches throughout the pandemic (4:07): " … There's natural to be a bit of turnover after an Olympic quad. So you have some folks that are returning who are veterans, and we've got a lot of new rookies that are part of the program now. And that's kind of the exciting part. We're grateful for the contributions that the athletes who are retiring have made to the sports of bobsled and skeleton. But when you have some new folks that are excited and passionate, that really creates that exciting environment that has that positive effect on our coaches as well as we're looking into this next year and this next quad. We've got some exciting opportunities with some push athletes on the bobsled side that are now moving up to get behind the driver's seat and become a pilot. And so not only do we have some veterans returning, we've got some new rookies with a lot of great talent that are coming into the sport. And then we've got some experienced athletes that are getting behind the the steering wheel, so to speak."
Transitioning in bobsled to becoming a pilot (5:20): "Bobsled and skeleton are very unique sports in the fact that we look for a lot of talent transfer athletes. And so many of the athletes that we bring into the sport were former collegiate athletes or high school athletes in other sports. Football, track and field are a couple of the obvious ones. Rugby, we've had some CrossFit athletes make the transition and this year we've got a university swimmer who has met that transition on the national team this year That transition into being a push athlete? It's fairly simple — well, relatively simple compared to being a pilot.If you're a large person that can run fast and push heavy objects and you like a little bit of fear factor and willing to go down a bobsled track or skeleton track at 70, 80, 90 miles an hour, then you could be a potentially a great bobsled or skeleton athlete. We've had athletes that have come in, tried out and made a national team within the first six months or a year. … But to be a pilot, you really have to understand the sport, you've gotta understand all the tracks. The sports are very unique in terms of we don't travel around with a pit crew who's moving the sleds. And so the athletes themselves are the pit crew. So there are a lot of nuances that it takes to be the leader of the team, which our pilots typically are. And so a lot of times you see a transition of an athlete that's been a push athlete for a couple years, really fall in love with the sport and then say, I wanna be a pilot. And so to be a really good pilot, it takes anywhere between four and six years to get to that World Cup level and then be in a position to to earn a medal."
Transporting sleds and equipment around the world (7:30): "A bobsled doesn't really fit into a carry on. ..If you're familiar with those big shipping crates that you see on boats and being loaded into planes, we actually put all of our equipment into about 10 to 12 of those shipping crates. And so the athletes themselves, they're the pit crew. They go down, they load up all the equipment in the crates, put together an inventory and then we physically ship those crates over to Europe. The athletes fly over, they get off the plane, they go directly over to shipping and receiving, pick up rental vans, load those sleds up into those rental vans, and then drive to the first location and the competition. They'll be there for about a week. Mondays are usually moving day, Sunday night sometimes, and they'll go to the next location and they're the ones that are physically going through loading things up and going from one step to the next."
Olympic TV exposure in Beijing after the Super Bowl (9:03): I really recall being in Beijing, China, and we knew that the monobob was gonna follow the Super Bowl. And we were all keeping track of the score and I didn't really care who won. I wanted it to be close so people tuned in until the fourth quarter. But I didn't want it to go into overtime because we'd miss that live feed … It worked out perfectly at the time we had our two top female bobsledders, Kaillie Humphries and Alana Myers Taylor, who were sitting in first and third in that final run. And NBC had been promoting the monobob throughout the Super Bowl and they went live straight from the celebration of the Super Bowl yo the monobob in Beijing. And they showed the last 10 sleds. And Alana moved herself into that silver model position, Kaillie held onto gold. And so in front of 26 million viewers, the U.S. went 1-2. And so for us it was a great opportunity."
Maintaining bobsled and skeleton tracks in the United States (10:57): "We're fortunate to have two tracks in the United States. We do have two great partners in Park City and in Lake Placid. And the two tracks themselves are very different. So athletes that are learning to drive on those two tracks really get a full scope of skill sets of driving and that helps prepare them for tracks around the world. No one builds a bobsled track for the fun of it. They're not inexpensive to build in the first place. They're not inexpensive to maintain and so I need to really give a lot of credit to both Utah and New York for investing in both of those tracks and maintaining them in order to provide that support system for the USA athletes.  … There's an opportunity in the future for the Winter Olympic Games to return to Utah. A lot of credit goes to Utah for maintaining those venues. This winter, New York is hosting the World University Games and so they've got a great event going on in their track as well. … the bobsled run itself is about a mile. And it takes about a minute to get down, but there's a lot of prep work that goes into training on a given day and during a typical day, an athlete may only take, or a team may only take, one or two runs. In both sports, there's really three elements that are critical for success — how fast you get going at the very top of the track, how well you drive down the track and then how good equipment you have. You can be competitive with two of the three. But if you want to be in medal contention, you have to be great in all three of those areas. The state of New York, and the Lake Placid region have invested in and built what's called an indoor push track, which is essentially a giant refrigerator freezer the length of a football field. It replicates the start of a bobsled or skeleton track, and they all start off and they're flat and then they go downhill. And so that allows our athletes to be training on ice year round, whether it's June, July, August, December, January, and they can be getting reps in that ice house. And so where typically they would do two or three starts in a day during the preseason or offseason, they can be doing 10 to 20 starts and really working on that timing and the technique of that start."
How athletes become involved in the sport in the first place (13:57): "… Historically, what we've done is we've identified eight to 10 cities around the country and will go and do in-person combines very similar to the NFL where we test in sprinting, we test their vertical jump, their standing long jump, really their speed and power and explosive ability. During the pandemic, we couldn't do that, so we had to cancel all the in-person combines. And so we partnered with a company called GMTM that at the time was creating a platform online. And so right now we still do a traditional in-person combines, but running year-round, if an athlete is interested in potentially trying out for the sport of bobsled or skeleton, they can go to our website and go to 'recruit' and that links them to the virtual combine. And in that virtual combine, we ask athletes to tell us a little bit about who they are, what's their background, what other sports have they played. They submit a film of them sprinting, doing a 60-meter sprint and a standing long jump. And that gives our coaches the opportunity to see, do they have sprint mechanics, do they have explosive power? And then we ask for a highlights video, any video that they want to show us. And so oftentimes they'll, they'll show us highlights from a track meet, a football game. We've had some really creative submissions where athletes are jumping over their couch in their house or pushing their car. … We'll invite athletes out for a week long rookie camp. And during that week, they will learn about the sports of bobsled and skeleton, what's involved, the many of the technical aspects of it. But then we'll also test them with their speed and power. And then we'll get them pushing a bobsled or skeleton on wheels. And then towards the end of that week, they actually get to go out to that ice ice house that I mentioned previously and push a bobsled or skeleton on ice. We'll start to see which athletes are picking up, which athletes have the potential to be great athletes. From there, we typically identify and invite those athletes to come back for further camps in Lake Placid or Park City. And then the next step is we do a team selection where there'll be a push championships or team trials where athletes will be selected to be either skeleton athletes, pilots for bobsled and or push athletes for the bobsled team."
What it has been like being CEO of USA Bobsled and Skeleton since his announcement in January 2020 (17:52):  "I'm fortunate to be part of an organization with great people that are involved. … the first year, like most companies, most organizations, navigating the Covid situation was a lot of late nights and weekends in terms of learning both what was going on within the organization itself, but then working with the team to navigate those Covid challenges. And then you move right into the next year and the Olympic Games. … the goal is to be as least disruptive as possible for the athletes because if you start making significant changes that can act actually be a bit more detrimental because it becomes a distraction with the athletes. … you're definitely jumping into the deep end and got through it, which was amazing, and tremendously proud of the team for their success in Beijing with three Olympic medals. Extremely proud of the athletes that came into the sport during those challenging times that are still with us and excited about the next four years. And so now I feel like in a lot of ways I'm starting again fresh in this role. … So it was a steep learning curve for me. But that being said a lot of times during challenging times, that's when you learn the most. And so it was a learning opportunity for me and I'm excited about the next four years."
What being an athlete on the national team gives him in terms of perspective now as an executive (20:50): " … I went through my own experience of going to the training center in Lake Placid and then being invited to come back to work and train with the team and then being selected to the national team. And one of my experiences that I've had a chance to look back on is as an athlete, your goals are always changing. That end zone or that finish line always changes. And I remember myself personally thinking back about my experience of going to that first rookie camp and my goal was I just want to be invited back. I got invited back and then it was, I just want to make a national team. And then I made a national team and then I said, I just want to make a World Cup team. Made a World Cup team, want to make a world championship team. And I made that world championship team and then I want to make that Olympic team — and I miss that Olympic team. It's difficult for athletes to ever really get to accomplish everything that they want. And sp for many of our other athletes, they make that Olympic team and they say, I'm gonna get a medal. And then it's multiple medals. And so what I've observed is that — and I went through it myself of not making the Olympic team — after that experience, I was angry and frustrated because I was focused on not making that Olympic team. And I felt like I hadn't accomplished what I wanted to to accomplish and I'd set out to do. But after a period of time, I realized, I had been focusing on what I didn't accomplish as opposed to focusing on what I did accomplish and having the courage to go out and try something new. That was a huge accomplishment. And making that national team and having that opportunity to wear a uniform that's red, white, and blue, and says USA. I mean, that's, that's a huge honor. And so when I refocused what I was thinking about and what my focus was and had accomplished as opposed to what I didn't accomplish, my whole mindset changed in terms of that experience as opposed to looking that as a failed experience. I thought that was a successful experience and that experience helped set me up for what was next in life. … Within the sport is that opportunity to gain those experiences to grow as a person and set them themselves up for a positive experience after their athletic career."
How crazy do you have to be to compete in bobsled or skeleton (24:52): " … There are definitely two types of people. Those that get into the sport, those that take their first run and they ask the question, how quickly can I get to the back of the top of the track to go down the track again — and those that say, how quickly can I get to the airport to go home? And you either love it or it's not for you. There is a fear factor and there's an adrenaline rush that you, no matter how many times you've gone down, you feel every single time. I was thinking about this the other day, about the number of athletes that get into the sport and stay in the sport. We're probably talking competitively each year a couple hundred that are competing in the sports of bobsled and skeleton. I looked it up the other day, there are approximately 800 people that summit Mount Everest every year. So we're talking an accomplishment that is in some ways larger than climbing Mount Everest there. And so it's definitely rare air if you get into the sport, you try it and you come back  to the next year."
This episode is brought to you by: