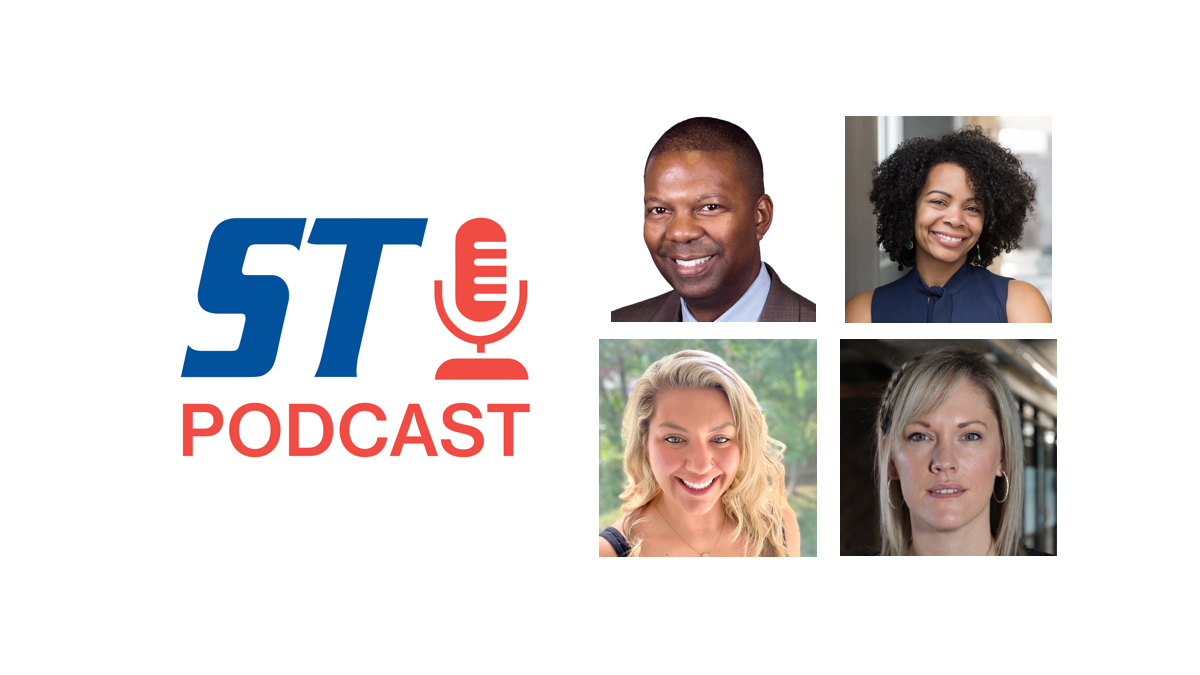 Youth sports are a bigger industry than any professional sports league in the country and are valuable for destinations of all. With multi-sport venues continuing to be built around the country, the industry shows no signs of slowing, but challenges remain from keeping children safe at events to getting them engaged in the first place.
In a discussion that was recorded at the TEAMS Conference & Expo in Oklahoma City, we brought together a panel of leaders in the youth sports space to discuss the industry's most pressing issues, opportunities for sports organizations and destinations to work together, and the future of youth sports across the country.
The session was moderated by SportsTravel publisher Jason Gewirtz and the panel included Ju'Riese Colon, chief executive officer of the U.S. Center for Safe Sport; Megan Ditchman, vice president of marketing and partnerships for Elite Tournaments; Sarah Dyer, senior director of operations for EventConnect and Wayne Moss, executive director for the National Council of Youth Sports.
Among the topics discussed in this episode:
Moss on establishing Youth Sports Week (2:00): "The National Council of Youth Sports is a member organization. We're comprised of a number of different types of organizations, national community based orgs like Pop Warner and AAU, localized mom and pop and some folks in the national governing bodies … We're currently really at work around reducing youth sport injuries. There are about three and a half million young people who are injured each year. And half of those are preventable."
Colon on what U.S. Center for Safe Sport does in the youth space (3:48): "We're largely known for investigations of allegations of abuse and misconduct within the Olympic and the Paralympic sports. But we do so much more than that. A large part of our work is really centered around minor athletes and making sure that they're safe in environments whether that means policies that we develop or training that we roll out, largely in part and in partnership with a lot of folks that are in the room today. … we've got 1,000 organizations across this country who are opting in and they're opting in because they know that there's resources, the educational content and the awareness around how to understand and prevent and respond to abuse and misconduct is so very important."
Ditchman on how Elite Tournaments dealt with the pandemic (6:00): "We had to be really knowledgeable about what was going on at a federal level, what was going on at a local level and how we help keep the athletes safe. At this point we've kind of operationally been able to move past Covid and we've been able to return back to sort of our roots in terms of how we set up events and things like that. But I think some things stuck around, one of which is just the user experience as a whole. People got used to being able to be communicated with early and often and it was really important for us to just inundate our users and our families with as much information as possible, as early as possible. … that's become our new level of expectation in terms of how we operate."
Dyer on the growth of technology in youth sports: (7:32): "I would say through this year, March and May, we saw a lot of things really bounce back. … People are getting out there and making those bookings and those registrations a lot earlier than they were during the pandemic because they don't want to deal with the cancellations that were taking place. Everything is getting back on track and that time span is about another, about 20 to 30 days out into the future that they're actually starting to book and get back engaged with registration with sport."
Ditchman on tournament team registration numbers (8:49): "We were really, really lucky through the pandemic to be a sport that was outdoors. So we were able to keep going and we felt honestly a social responsibility to do that as well because a lot of our clients are non-profit organizations, so we were helping to try and put on things at a smaller scale to make sure they were staying afloat during the pandemic, that kids that weren't able to see their friends at school had a safe space to participate with their peers and to be able to have that experience of childhood and playing sports and things like that."
Moss on the changing scene post-COVID in youth sports (9:40): "If we look at some of the data points just regarding COVID, obviously it impacted us tremendously. Three and a half million participants stopped playing during that period of time. However, the good news is that we saw increases in several areas in basketball and indoor and outdoor soccer. Ultimate Frisbee was an area that grew. And so for those that were in that space that wanted to get back playing and tournaments and so forth, they definitely saw a lot of growth in that area. … One of the other things that we do know is that 70 percent of young people begin to stop playing by age 13. And so it's in our interest, all of our collective interests, to ensure that the experience is fun and that it's one that young people want to continue to come back to again and again so all of our pipelines can be filled."
Colon on the challenges in the youth sports space (13:30): "What we're starting to see is an increase in this emotional and physical abuse and misconduct that is sort of rising to the top .. so how do we make sure that event organizers and teams are able to address some of those things right away? … it's not just the team organizers, but it's also the parents, it's also the venues, it's also the organizations who are managing all of this. And I think now as we're starting to move in the same direction, understanding that we all have a connection to this — every person in every group, in every organization, every venue is starting to understand what their role is. And the more that we can just really push that and help people understand that, I think that all kids will be just a lot safer because you've got more eyes."
Ditchman on evaluating future changes for youth tournament organizers (17:02): "Sometimes you're watching trends and then sometimes it's time to be part of the trend. … we saw where we were in youth soccer and we saw that the landscape was getting saturated and we were really secure in where we were. And so we looked at operationally how can we take our logistics plan and how can we move that and our marketing into another sport that makes sense for us. We had some key members of our company that had some background in lacrosse and we had some key relationships in the sport. So we took our time and we did our research and … we found the right organization that we wanted to work with. And we knew that our success was gonna depend on the relationships within the industry that already existed for lacrosse."
Dyer on how technology is changing the youth sports experience (19:08): "The landscape of how people want to receive information now, they want it to be instantaneous. That really changed during Covid. They want the answer right away. Using technology, whether it's through bots or AI or help desks, allow participants to get that information as quick as they can. And that all really goes down to the experience that they have with the event. … I think what is changing in the landscape is that concept of business sophistication, whether that's through any company or organization to really the experience that they bring to their teams."
Moss on working with destinations on the NCYS mission (21:55): "I think folks are interested in NCYS for a variety of reasons. Some of which is to be aligned to a larger movement, a community of youth sports. Some of it is certainly being able to key into some of the key information as it relates to youth sports, the trends that are happening that helps to serve them as they go on about doing their daily work. … it's a part of pulling all the pieces together."
Colon on what destinations can do to help make a youth sports event safe (23:27): " … a big part of our work right now as we think about making sure that venues are safe is to have a really solid understanding of who we are. Because I think there's a lot of confusion around what the Center for Safe Sport does. … I encourage anyone who's hosting events with kids in particular to really take a really close focus and look at what do you have in place right now to make sure that they're safe. Because there's so many things that could go wrong — but there's also so many things that could go right."
Ditchman on the changes for a tournament organizer in working with destinations (26:13): "One thing that we noticed throughout the pandemic was the appetite for things at a local level. … we're able to look at cities that maybe didn't have those 15-, 20-field complexes for us, but they might have those eight-field complexes and they might be able to help us provide those same high level opportunities, but just at a regional level, which has been really great."
The panel's final thoughts going forward in the youth sports landscape (31:31):
Moss: "I'm bullish where we are as an industry. We see increases in participation, particularly at that 6-12 age group. That's good for all of us. And so, you know, really excited about, again, this notion of getting more young people playing across a number of different spectrums so that again we can all get back to the business of play in a fun and safe environment."
Colon: "We saw a decline in just the way that people were treating each other over the last two years. .. I do hope that like we're gonna see more kids and their parents be a little more kinder to each other so that we are not on the receiving end of reports that come in that don't really need to have that."
Ditchman: "It's so refreshing to just have a return to fun again. On the event level, on the youth side, it's given us permission to pay attention to things like production that maybe played second fiddle to operations before. Kids are excited about extra activities and games and vendors and music … It's not just finish your game and go home. People are lingering because they're just happy to see other people having a great time."
Dyer: … "Sports travel is what fed the market when we were in this little slump — it's what came back first. And just seeing some of these events where registration crashes because families just can't afford the prices that are coming into some of the hotels. … it's the concept of accessibility so that people can travel and then we aren't pricing ourselves completely out of the market and affecting those that do bring that economic impact to the city."
This episode is brought to you by: