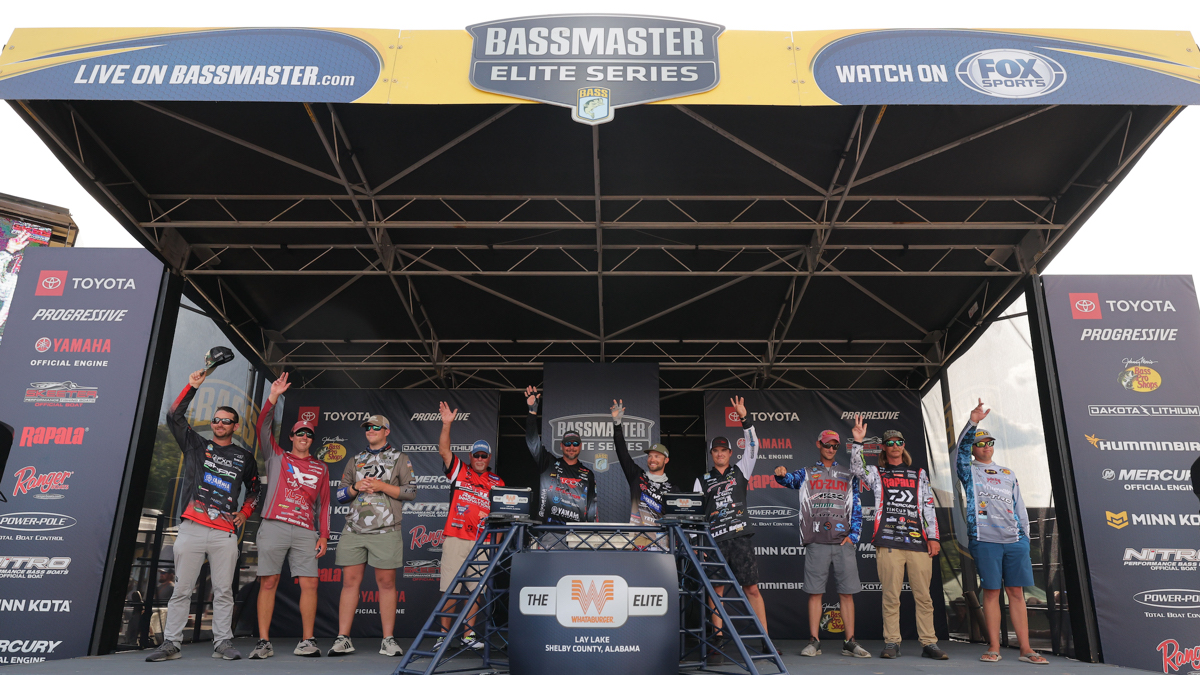 For the first time since 2018, the Bassmaster Elite Series will not start its season in Florida, opting instead to open its 2024 slate at the Toledo Bend Reservoir on the Louisiana/Texas border from February 22­–25.
B.A.S.S. officials also announced its entire nine-tournament schedule that will span six states and visit fisheries that have ranked among the best in the United States.
"We just finished one of our best seasons ever only two weeks ago, and it is already time to start marking your calendar for another incredible year," said B.A.S.S. Chief Executive Officer Chase Anderson. "Anyone who follows and celebrates the sport of bass fishing will recognize the lakes on this schedule as some of the best fisheries anywhere, and we could not be more excited to get it started with the top anglers in the world competing on bass fishing's biggest stage."
The opener on Toledo Bend will take place out of Many, Louisiana, and will mark the 19th time B.A.S.S. has held a major event on the fishery that ranked sixth overall on Bassmaster Magazine's annual 100 Best Bass Lakes list. From Toledo Bend, the Elites will travel to another of the nation's big-bass capitals, Lake Fork in Yantis, Texas, from February 29 through March 3.
"The Sabine River Authority is excited to host the upcoming Bassmaster Elite Series at SRA's new Caney Point Recreation Area on Lake Fork Reservoir," said David Montagne, SRA general manager. "This new facility was developed to attract major tournaments and bring enhanced recreational opportunities to Lake Fork enthusiasts."
The Academy Sports + Outdoors Bassmaster Classic takes place in Tulsa, Oklahoma, on Grand Lake O' the Cherokees March 22–24. The series then heads to Florida, with tournaments on the Harris Chain of Lakes (April 11–14, Leesburg) and the St. Johns River (April 18­–21, Palatka).
The only May event takes place from the 9–12 at Lake Murray in Columbia, South Carolina. From there, the series moves to Wheeler Lake in Decatur, Alabama, June 13–16, and then to Smith Lake in Cullman, Alabama, June 27–30.
"Visit Cullman, the City of Cullman and Cullman County are excited to be hosting the first Bassmaster Elite on Lewis Smith Lake," said Hugh A. Stump III, tourism director for the Cullman County Tourism Bureau. "A partnership with B.A.S.S. gives us a chance to showcase our wonderful fishery, Smith Lake Park and our Cullman community."
The final two events of the 2024 schedule take place in New York, at Lake Champlain in Plattsburgh from August 8–11 and then onto St. Lawrence River in Waddington from August 15–18.
The St. Lawrence ranked second overall on Bassmaster Magazine's 100 Best Bass Lakes list this year, after topping the list in 2019 and 2022.