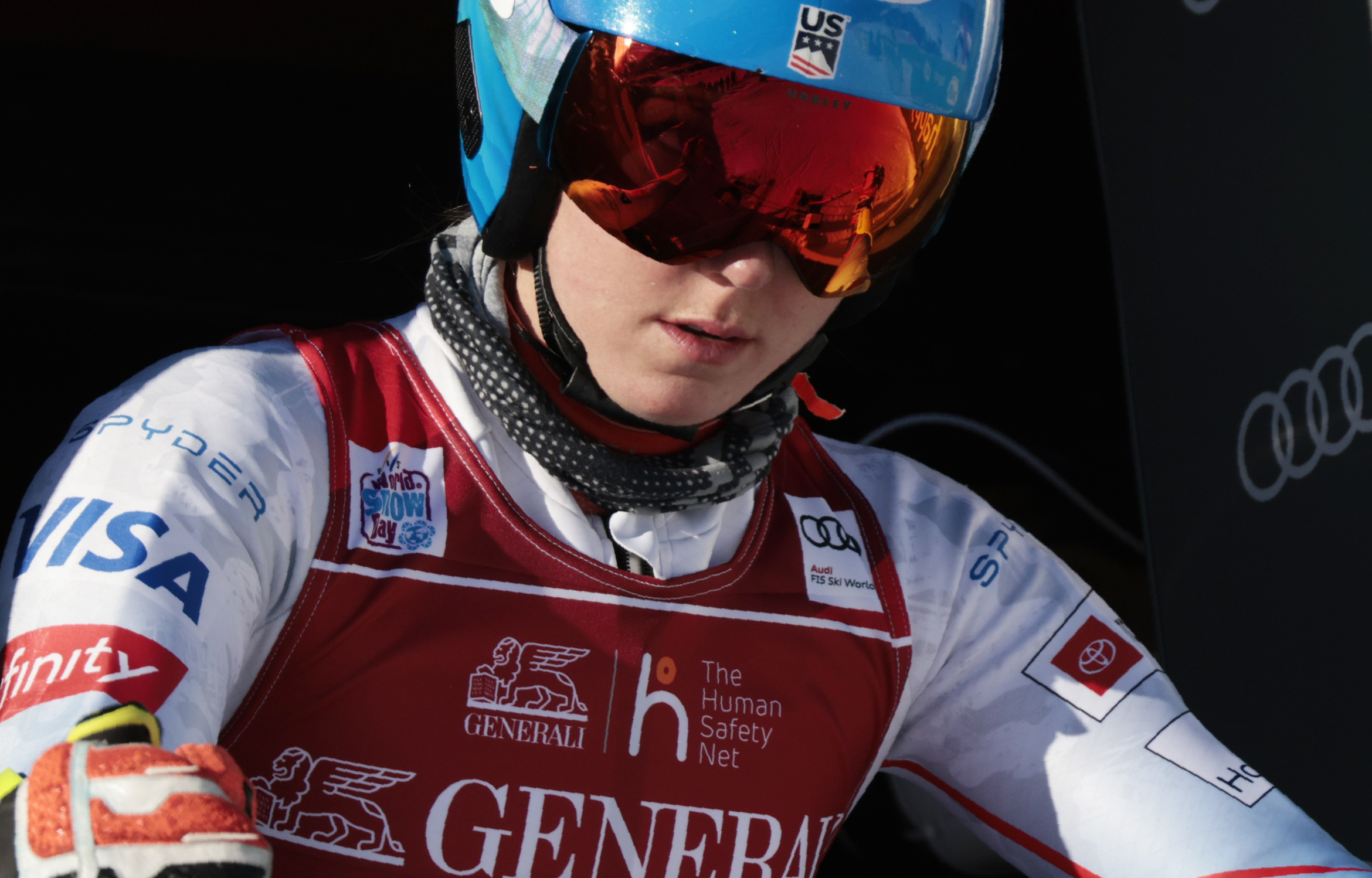 Two-time Olympic champion Mikaela Shiffrin of the United States is the latest elite skier to test positive for COVID-19 with the 2022 Olympic and Paralympic Winter Games less than six weeks away in Beijing, which has so far refused to yield on its strict protocols with the easily transmissable omicron variant spreading throughout the world.
"I wanted to let you all know that I'm doing well, but unfortunately I had a positive COVID test," Shiffrin wrote Monday. "I'm following protocol and isolating."
Several top skiers on the World Cup circuit have tested positive in the past two weeks along with International Sky Federation Chief Race Director Peter Gerdol. Along with the series of positives within the circuit, this week's events in Lienz, Austria, will have no fans allowed.
The Beijing Olympics open February 4. While the CDC said this week that the isolation period for those who have tested positive for COVID but are asymptomatic should be shortened to five days from 10, the Beijing organizers have so far not changed its policy.
To enter China, all participants must twice test negative within 96 hours of leaving for Beijing regardless of if they have recently tested positive but since recovered from COVID. In Beijing's playbook for athletes, for a question if one of two pre-departure tests comes back positive and the other negative, organizers write: "Any positive PCR test of COVID-19 within 96 hours of the departure of your flight to China will prevent you from traveling to China."
Unless Beijing organizers modify its policy, any athlete who contracts COVID between now and the start of the Games could be at risk of not being allowed in China, a scenario that USOPC Chief Medical Officer Jonathan Finnoff told the Wall Street Journal could happen.
Amesh Adalja, a senior scholar at the Johns Hopkins University Center for Health Security, told the Journal in the same story that "I do think China needs to revisit its COVID-zero policy because that's not a sustainable approach. It's one that's going to be overcome by events pretty quickly."
The Deputy Director of Epidemic Prevention and Control Office of Beijing Winter Olympic Organizing Committee, Huang Chun, said before Christmas that China is prepared for possible COVID inside the Games' bubble, admitting the Games could bring "COVID-19 cases or small clusters of infections."
Huang said should somebody test positive, they would be sent to either a hospital or isolation facility depending on if a person has symptoms. For those with symptoms, they would be released after testing negative twice within a 24-hour period along with having a normal body temperature and breathing pattern. Asymptomatic patients would be tested every 24 hours in an isolation facility and released if they present negative results twice within 24 hours.
Hockey: NHL players unhappy with decision
Multiple NHL players have gone public with their disappointment over the decision by the NHL and players association to not have them go to Beijing. The NHL paused its season during the week of Christmas and has made more than 50 games postponed because of multiple outbreaks that at one point last week sidelined nine teams.
Boston's Brad Marchand ripped the league and union for bringing back taxi squads to keep the season going when that option was not given to allow players to play in the Games. "For all of you who want to pipe back about forfeiting pay while being gone, not a problem," Marchand said on Twitter. "Let the players make their choice."
Vladimir Tarasenko said this week "you would be surprised how many people choose to go" to Beijing if given the chance to play for Russia and take leave from the St. Louis Blues.
After missing the 2018 Games because of a dispute between the NHL and International Olympic Committee over travel and insurance costs, the players union got the right to go to Beijing in the latest collective bargaining agreement. But with the omicron variant forcing mass postponements, the league and union announced last week that Beijing would be a no-go.
Players were universally excited about the chance to play in the Games again and missing out on 2018 for some players means that this year's decision likely ends the chance of them ever playing for their country in the Olympics. Tampa Bay Lightning captain Steven Stamkos said players were "robbed" of the chance four years ago.
"Obviously this year with what's going on in the world, it's a little more understandable," Stamkos added. "But the last Olympics where we weren't able to go because of different issues with the NHL, now it just stings even more knowing that for some of the older guys, this is probably their last chance."
The NHL has raised the issue of bringing back another World Cup of Hockey in the near future in what it seems to believe would be a makeup for the Games. One difference is that the World Cup is an event the NHL would be able to profit from as opposed to the Olympics. The other major difference, is "the Olympics are the Olympics and there's really nothing that can compare to that experience," Stamkos said.
Bobsled: Canada dealing with outbreak
The Canadian bobsled team is dealing with a coronavirus problem, announcing Wednesday that 10 sliders and three staffers are in health and safety protocols ahead of a World Cup weekend in Latvia. Countries are allocated starting spots for the Olympics based on the World Cup standings and missing races could make it more challenging for some athletes to make the Canadian team.
"The health and safety of all athletes, teams, staff and communities where we live, train and compete is always our first priority," read a statement from Bobsleigh Canada Skeleton. "(We have) robust health and safety protocols in place under the guidance of federal, provincial, and local public health officials that we continue to follow in our return to sport."