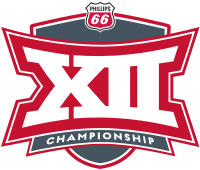 The Big 12 Conference will move its annual baseball tournament out of Oklahoma City after the 2021 event to Arlington, Texas, with the event to be held at the new home of the Texas Rangers from 2022 through 2024.
The 2021 event will be held in Oklahoma City's Chickasaw Bricktown Ballpark, its traditional home for most of its existence, before going to Globe Life Field for its first visit to the Arlington area in nearly two decades.
"Oklahoma City and Arlington have a successful history of hosting Big 12 championships," said Big 12 Commissioner Bob Bowlsby. "We are pleased to continue our longstanding relationship with Oklahoma City in hosting our baseball championship at Chickasaw Bricktown Ballpark and also look forward to playing in the new home of the Texas Rangers at Globe Life Field."
For 20 of the 23 years the event has been held, the tournament has been in Oklahoma City. It was in Arlington in 2002 and 2004 at the former home of the Texas Rangers, and in 2015 it was held in Tulsa, Oklahoma.
Chickasaw Bricktown Ballpark is home to the Triple-A Oklahoma City Dodgers, an affiliate of the Los Angeles Dodgers. In 2018, the team was named the Triple-A winner of the Bob Freitas Award presented by Baseball America for excellence in minor league operations.
"Oklahoma City is proud to host the Big 12 Baseball Championship again in 2021," said Sue Hollenbeck, director of sport business at Oklahoma City Convention & Visitors Bureau. "We are very honored to have a long history and a great partnership with the Big 12 and look forward to another exciting and successful event this year and next. OKC looks forward to the championship returning to the Chickasaw Bricktown Ballpark in the future."
Globe Life Field will open this March. With a retractable roof with a capacity of approximately 40,300, Globe Life Field will also serve as a multipurpose venue that will include capabilities for hosting numerous sports and entertainment events year round.
"We are excited to welcome the Big 12 Baseball Championship back to Arlington and to Globe Life Field for the first time," said Sean Decker, Texas Rangers executive vice president of sports and entertainment. "We were honored to be considered along with many great cities around the country and are ecstatic to be selected for this three-year run beginning in 2022."
The Big 12 Tournament has used several formats since its inaugural event in 1997 and now uses two four-team brackets, both with double elimination. The winner of both brackets then plays in the championship game for the league title and automatic bid to the NCAA Tournament.