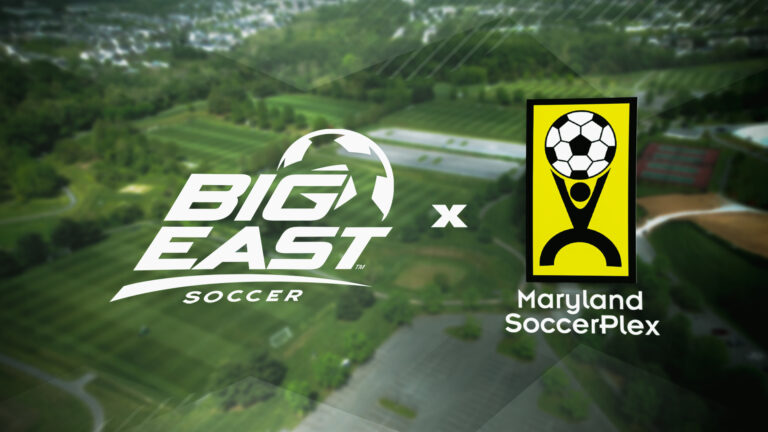 The Big East Conference Men's and Women's Soccer Championships presented by Jeep will be played at the Maryland SoccerPlex in Boyds, Maryland, beginning in 2022.
The agreement spans three years and includes the 2022, 2023 and 2024 postseasons. Since 2015, both the semifinals and finals of the men's and women's championships have been played on Big East campus sites.
"This is an exciting opportunity to showcase some of the best collegiate soccer in the country," said Chris Schneider, Big East executive associate commissioner for sports administration and championships. "The Maryland SoccerPlex has a history of hosting incredible soccer events and we look forward to working with them and their youth soccer community on creating memorable experiences for our student-athletes."
The Maryland SoccerPlex is a 24-field complex that welcomes more than one million visitors a year. In the center of the venue sits Maureen Hendrick's Field at Championship Stadium with 3,200 hard seats and an overall capacity of 5,000.
"The Maryland SoccerPlex is excited to host the Big East Championships over the next three years," said Matt Libber, executive director of the Maryland SoccerPlex. "The Big East represents some of the best men's and women's soccer programs in the NCAA which gives us the opportunity to showcase our facility on a national level, bring high level soccer to our community and provide an ample experience for the student-athletes and their families in Maryland."
The first-round format of both the men's and women's championships will have the No. 3 seed host the No. 6 seed and the No. 4 seed host the No. 5 seed. The women's opening round will be played on October 30, while the men open postseason competition on November 5.
The winners will advance to the semifinals at Maryland SoccerPlex, with the women's semifinal scheduled for November 3, and the title match Sunday, November 6 at 1:30 p.m. ET on FS1. The men's semifinal competition takes place on November 10, prior to the title game on Sunday, November 13.