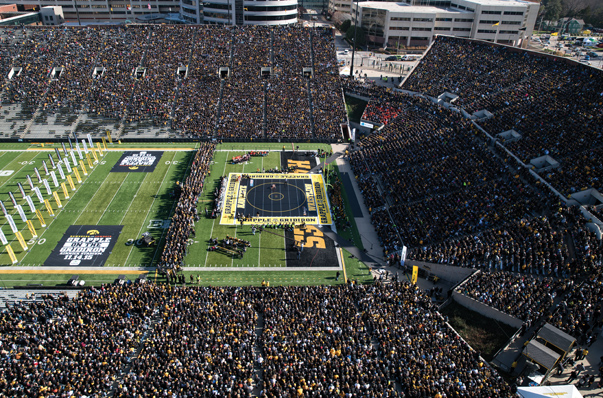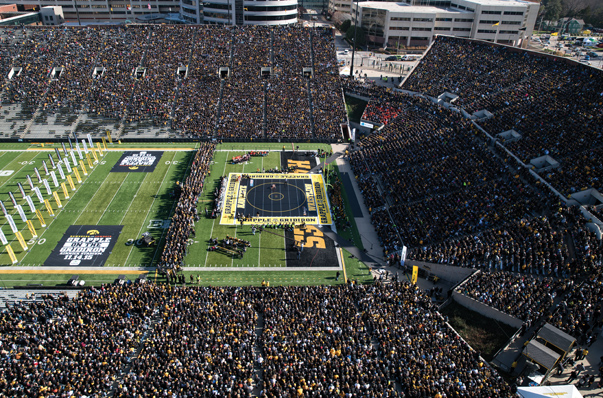 In the Great Plains, the big cities have small-town charm and the small towns have big-city amenities, but nowhere will you find "big-city attitudes." Visitors are sometimes surprised by locals' welcoming nature, known simply as "Midwestern nice." Wrestling has a stronghold in several states, and BMX is an up-and-coming sport. Residents love their ice hockey, but they're also diving into swimming. Although brand-new arenas, world-class stadiums and specialty sports complexes help attract events, it's the people—from convention bureau staff members to club volunteers—who keep event organizers coming back to destinations in this hospitable region.
Iowa City: Grappling for Events
Iowa City's reputation is largely built around the University of Iowa. And the university's reputation is largely built around its world-renowned Iowa Writers' Workshop, which prompted UNESCO to designate it as a City of Literature—the only American city to have earned that title.
Thanks to the university, there's also "a lot going on here with athletics," said Michael Rooney, manager of sports development for the Iowa City/Coralville Area Convention & Visitors Bureau. The combined area, which includes the communities of Iowa City, Coralville and North Liberty, has a total population of about 160,000.
Wrestling is the city's No. 1 sport, and after hosting the 2012 and 2016 U.S. Olympic Trials, NBC dubbed Iowa City "Wrestling Town, USA." In fall 2015, the university set out to break the NCAA dual-meet attendance record by organizing Grapple on the Gridiron, both a university dual and a spectacle showcase between Iowa and Oklahoma State that was held at Kinnick Stadium. More than 42,000 fans came out, smashing the previous record. United World Wrestling, the sport's international federation, also recently awarded Iowa City the 2018 Freestyle World Cup, and Dan Gable, an Olympic wrestler and former coach at Iowa, helps cultivate the homegrown wrestling community. "In the mind of wrestlers, (Iowa City) is the place to be," said Rooney said. "We have extremely involved fans who are excited about what's happening here."
Cycling and swimming events are increasingly finding a home in town. In September, Johnson County Fairgrounds hosted the International Cycling Union's (UCI) Cyclo-Cross World Cup, only the second North American city to do so, and organizers are hoping to lure the circuit back next year. The event drew an estimated 10,000 fans from around the globe and was broadcast around the world. "All the people who had never heard of Iowa City or even Iowa were able to be here and enjoy it," Rooney said.
The growing swimming market is driven by the university's natatorium. This competition facility is part of the Campus Recreation & Wellness Center and includes a 50-meter pool, spectator seating for up to 1,200, a diving well and a recreational pool. Although often used for youth meets, the facility welcomed the NCAA Division I Men's Swimming & Diving Championships in 2015.
Hockey will be a fresh focus when a new, 6,216-seat arena and sports complex opens in the summer of 2019 at the Iowa River Landing in Coralville. Construction is scheduled to start this spring on the city-owned facility, and plans include one sheet of ice to start (a second one is planned in a future phase); five indoor gymnasiums for basketball or volleyball; and an indoor turf field for baseball and softball. Three more courts can be added over the ice when needed. The university's volleyball program is interested in using the new facility for a more intimate setting in place of its 15,400-seat Carver-Hawkeye Arena, Rooney said.
Fargo:
Surprising Visitors
Mention Fargo, North Dakota, and it's always the first thing: the movie. The television show. Despite the fact that neither was actually filmed there, many think they know what they will find in Fargo: a sleepy, snowbound city that hibernates in winter. That's not necessarily the case.
"We're surprisingly unexpected," said Kali Mork, director of sports for the Fargo-Moorhead Athletic Commission. "We love that people have heard of it, but they have a preconceived notion of what the city will be like, and when they get here they're so surprised."
Visiting teams, fans and event organizers find that Fargo is vibrant, has a lot going on—no matter the season—and that it's actually a destination of three sister cities, which include West Fargo and Moorhead, Minnesota, something that enhances options. The Fargo metropolitan area is home to 230,000 people and three NCAA colleges bolster the sports scene: North Dakota State University, a Division I school; Minnesota State University/Moorhead, in Division II; and Concordia College, also located in Moorhead and part of the NCAA's Division III.
But one stereotype of the city does hold true: Fargo has lots of ice—14 sheets of ice in the greater area. The West Fargo School District is currently building two more, and the 5,000-seat Scheels Arena opened a second sheet in June. Scheels has hosted the 2009 IIHF World U18 Championships, the 2011 Men's & Women's National Curling Championships—an event that is scheduled to return in 2018—the 2014 Olympic Curling Trials and the 2015 NCAA Division I Men's Ice Hockey Championship West Regionals, which will return in March. Also popular is the F-M Curling Club, which has six ice sheets and hosted the 2017 USA Curling Junior National Championships in January.
"(The) youth hockey scene in our community is huge," Mork said. The Fargo Youth Hockey Association organizes the Squirt International tournament over three weekends every February. With 192 teams, it's one of the largest hockey tournaments in the country, she said.
Wrestling is another big market, with a team at NDSU and an active local community. FargoDome, an 18,700-seat indoor stadium on the NDSU campus, hosts the USA Wrestling Junior & Cadet Nationals, which has come to the city every July for the past two decades. The stadium also welcomes the annual state high school wrestling tournament and the youth Rumble on the Red Wrestling Championships.
Each June, a local soccer club hosts the Tri-City Storm Youth Soccer Tournament, which draws more than 160 teams to the 10-field Pepsi Soccer Complex in Fargo and the Moorhead Soccer Complex in Moorhead.
Perhaps surprisingly, considering Fargo's frosty temps, swimming is an area in which Mork said the Fargo-Moorhead Athletic Commission is focusing. The West Fargo School District is building the Hulbert Aquatic Center, set to open in August with six diving boards, a 54-meter competition pool and a therapy pool. The pool is actually being reassembled from the temporary competition pool used during the 2016 U.S. Olympic Team Trials at Omaha, Nebraska's CenturyLink Center; a local Fargo group bought and then donated it to the school district. The new center "is really opening up a lot of doors for us," Mork said, adding, "The kids who swim in that pool will be swimming in the same pool as Katie Ledecky and Michael Phelps."
Sioux Falls:
Ever-Growing 
Sioux Falls is the largest city in South Dakota, where the current population of 173,000 has more than doubled since 1980—but without feeling like it, said Krista Orsack, who is director of marketing for the Sioux Falls Convention & Visitors Bureau and also grew up in the city.
As part of its growth, Sioux Falls has opened several new sports facilities over the past few years: The Denny Sanford Premier Center opened in September 2014, the Scheels IcePlex a month later and the Sanford Pentagon a year before. All have resulted in a booming sports market. Sioux Falls has "now built up our resume from youth all the way to collegiate," Orsack said.
Before the 302,000-square-foot Denny Sanford Premier Center opened, Sioux Falls primarily relied on the 7,100-seat Sioux Falls Arena, but the NCAA's Summit League took a chance on the city and decided to host its men's and women's basketball tournaments there starting in 2009. Every game was sold out that year, Orsack said, noting proudly, "We filled the seats." In March, the 2017 Summit League Basketball Championships will return for the eighth consecutive time. The city also hosted regional competition of the NCAA Division I Women's Basketball Tournament for the first time last March and regularly hosts Augustana University home basketball games.
The Sioux Falls Arena is attached to the Sioux Falls Convention Center, which offers more than 70,000 square feet of event space, and the connected Denny Sanford Premier Center can seat up to 12,000.
A few miles north is the Sanford Pentagon, home to the Sioux Falls Skyforce, the 2016 NBA Development League champions. The venue has two professional-sized courts, six high school courts and the 3,200-seat Heritage Court.
At the youth level, softball and soccer are huge, and major tournaments rotate through every couple of years. Last year, Sioux Falls hosted the Amateur Softball Association of America/USA Girls' 14-Under Class A Fast Pitch National Championship tournament, and in June it will host the 2017 U.S. Youth Soccer Region II Championships, an event expected to fill most of the city's 5,000 guest rooms. Softball events use Sherman Park, with nine lighted fields, and Harmodon Park, which has eight lighted softball fields and seven baseball diamonds. The parks are used by the University of Sioux Falls' softball and baseball teams, respectively. Soccer tournaments generally use Yankton Trail Park, which has 21 fields.
Both volleyball and hockey are growing markets, thanks to new facilities. The Sanford Sports Complex is home to nine football fields, six indoor tennis courts and a field house with a 62,000-square-foot turf field. An 82-room hotel is just across the street. It's also home to the Pentagon, which hosted the NCAA Division II Volleyball Championship in December, and the three-sheet Scheels IcePlex.
Although hockey has never been as big as it is in, say, North Dakota, "there's definitely a love for hockey here," Orsack said. "For both volleyball and hockey, we're trying to find events we can bring here."
Lincoln:
Comeback Capital
Nebraska's capital city isn't necessarily known for sports or tourism, but one visit is all it takes to change that opinion. "It's hard to get people here sometimes, but it's very easy to get them to stay and come back once they see what Lincoln has," said Derek Bombeck, sales development manager for the Lincoln Convention & Visitors Bureau.
Bombeck said the city's sports-loving populace is the reason so many tournaments and teams return year after year. Lincoln is home to some 277,000 residents, and many are devoted Cornhusker fans. Both the University of Nebraska/Lincoln and Nebraska Wesleyan University also offer the use of their facilities to various events that draw local crowds.
In 2015, Lincoln hosted the State Games of America, and with more than 15,000 participating athletes from 48 states, it was the biennial event's largest gathering.
The event featured 67 sports and used UNL's 7,097-seat Bob Devaney Sports Center and its 90,000-seat Memorial Stadium as well as the 15,500-seat Pinnacle Bank Arena for opening ceremonies, competitions and the Athlete Village. "People from New York couldn't believe how clean the city was; people from California couldn't believe how safe it was to walk around at night; and everybody was impressed by the entertainment district and the venues," Bombeck said of the State Games.
Another successful event was the 2016 NORCECA Women's Olympic Qualifier, a three-day volleyball event that drew more than 10,000 spectators on the final day. It was held at the Pinnacle Bank Arena.
Although the city is a strong backer of traditional sports, "we're very diverse, and we're really doing well in some of the more non-traditional sports," such as bowling, BMX and rollersports, Bombeck said.
In July and August, the USA Roller Sports National Championship brought more than 4,000 athletes, coaches and officials to Lincoln's new Speedway Village to compete in roller derby, rink hockey, slalom, speed skating and figure skating competitions. Lincoln has now hosted the national championship 28 times in the event's 50-plus-year history, but last summer's event marked the first time all five roller sports were represented.
Speedway Village can host a variety of sports. It has nine soccer fields and a 100,000-square-foot indoor field house. With the new complex, Lincoln is bidding on a USA Ultimate college regionals event and more USA Football events, Bombeck said.
The World Youth Bowling Championships brought more than 300 bowlers from 37 countries to Lincoln's Sun Valley Lanes last summer. The XBowling Intercollegiate Team & Singles Championships are scheduled to return to Lincoln in 2018, and the city is a stop on the Professional Women's Bowling Association Tour.
Star City BMX, based locally, has been able to attract and host major events nearly every year—such as the DK Gold Cup Championship Final (a USA BMX event) in September and the Cornhuskers Nationals in 2014—thanks to the club's volunteers and members, Bombeck said.
According to John David, chief operating officer of USA BMX and BMX Canada, USA BMX keeps returning to Lincoln because of its partnership with local officials but also "from a visiting standpoint, it's a fun town," he said, noting the abundance of restaurants and entertainment options in the historic downtown. "It really just fits the bill," David said.
Springfield:
A Sports Hotbed
Springfield, Missouri, has more than a few things to brag about: It's home to nearly 170,000 residents; several universities, including Missouri State, Drury and Evangel University; and the original Bass Pro Shops as well as the company's headquarters.
And then there's the basketball scene. Southwest Missouri in general, and Springfield in particular, traditionally have been basketball hotbeds, said Lance Kettering, executive director of the Springfield Sports Commission. The city hosts the Bass Pro Shops Tournament of Champions, an annual high school basketball tournament that just marked its 33rd year in January with 26,979 spectators over three days. Six out-of-state teams and two local teams competed at the 11,000-seat JQH Arena.
That tournament's success over the years helped Springfield land the 2017–2018 state high school basketball championships, which had been held in Columbia for decades. "That was a big win for us," Kettering said. JQH Arena will host the boys' and girls' Final Four and title games for the next five years. (The city also won the
2016 state football championships, which were played at MSU's Plaster Stadium over Thanksgiving weekend.) Since 2009, the National Christian HomeSchool Basketball Championships has brought 350 teams to the city for a week, using about 30 courts at area high schools, park facilities, private venues, universities and colleges and even a church. Other basketball venues include a three-court facility called The Courts and the four-court Fieldhouse Sportscenter.
Kettering said that the popularity of soccer in St. Louis and Kansas City, Missouri, has "filtered down" to the Springfield market. Softball and baseball are also strong sports in the area. The Springfield-Greene County Park Board manages a great park system with great facilities, he said. Notable venues include the Killian Softball Complex, used by the MSU softball team, with a 1,080-seat softball stadium and five other fields, all lighted; the Cooper Park & Sports Complex, with five lighted baseball fields, 14 outdoor soccer fields and an indoor soccer field; the Cooper Tennis Complex, which has 17 outdoor lighted courts, 12 indoor courts and the 2,500-seat Mediacom Stadium Court. The tennis complex is next to Lake Country Soccer Complex, which has 20 fields. All of the complexes are within walking distance of each other. "That whole swath of land is a hub for sports," Kettering said.
Hockey is a growing market for the city and is primarily played at Mediacom Ice Park, which offers two sheets of ice. Springfield also will host the USA BMX Mid America Nationals this year at the Spokes BMX track.
Garden City:
Small-town Charm
Garden City, in western Kansas, is closer to Colorado (about 70 miles) than to Wichita, Kansas' largest city (about 200 miles away). With a population of about 30,000, the city can't claim bigness, and its residents don't want to; instead, they claim kindness, thoughtfulness and helpfulness. "Once you're here, you're home," said Roxanne Morgan, executive director of the locally based Finney County Convention & Visitors Bureau.
That's not to say the city doesn't have much to offer sports-event organizers. Garden City is home to two championship-level golf courses, making it "the golf mecca hidden out here on the Plains," Morgan said. Buffalo Dunes is an 18-hole, par-72, municipally owned course that was designed by Frank Hummel. Four miles north is the private Golf Club at Southwind, designed by Donald Sechrest and originally opened in 1980 as the Southwind Country Club.
The Garden City Charity Classic is a Symetra Tour tournament—a developmental feeder for the LPGA—that has been an annual stop in recent years. The 2017 NJCAA Men's National Championships is a new event for Garden City and will bring about 20 teams to Buffalo Dunes in May for the first time. Buffalo Dunes was the host course for the American Junior Golf Association Kansas Junior in June, and both Southwind and Buffalo Dunes also hosted the Kansas Golf Association's Kansas Amateur Match Play championships in July—the fourth time the tournament has been held in the city.
The city's sports markets are as diverse as the city, where residents speak 35 languages other than English. Wrestling, soccer, rugby, softball and baseball are all popular and growing.
The Rocky Welton Wrestling Invitational is not only one of the longest-running events on the city roster, but also one of the toughest, perhaps because "around the entire region, wrestling is a very strong sport," Morgan said. The annual tournament, which just marked its 59th year with some 400 wrestlers, is held the last weekend in January at Garden City High School, whose gymnasium seats up to 2,500. The popular invitational is getting to the point where there isn't room enough for all the teams that want to participate, she said.
Garden City has nine turf soccer fields, including those at the Garcia Soccer Complex and the Martin Esquivel Soccer Complex, which is also used for rugby tournaments. The Garden City Jackalopes Rugby Club organizes the Beef Empire Days Rugby 7s tournament every summer for men's and, for the first time last year, women's teams, several of which come from the surrounding states. Last year's event drew 10 teams.
Garden City Community College has a full athletics department, and its facilities include Williams and Broncbusters stadiums, used for baseball and football, respectively. The school's football team won its first NJCAA national championship in December, scoring in the last 30 seconds to beat Arizona Western at the El Toro Bowl in Arizona.
Great Plains:
Great Partners
In the Great Plains, event organizers will find great partners at every level, be it sports commission and CVB staff, city officials or club volunteers. The region also offers every kind of sports venue, from sprawling outdoor complexes with space for hundreds of teams to intimate indoor facilities that help energize competitors. Whether it's at a multipurpose arena or a massive stadium, teams and athletes will feel like everything comes together in these states, setting the stage for outstanding performances.