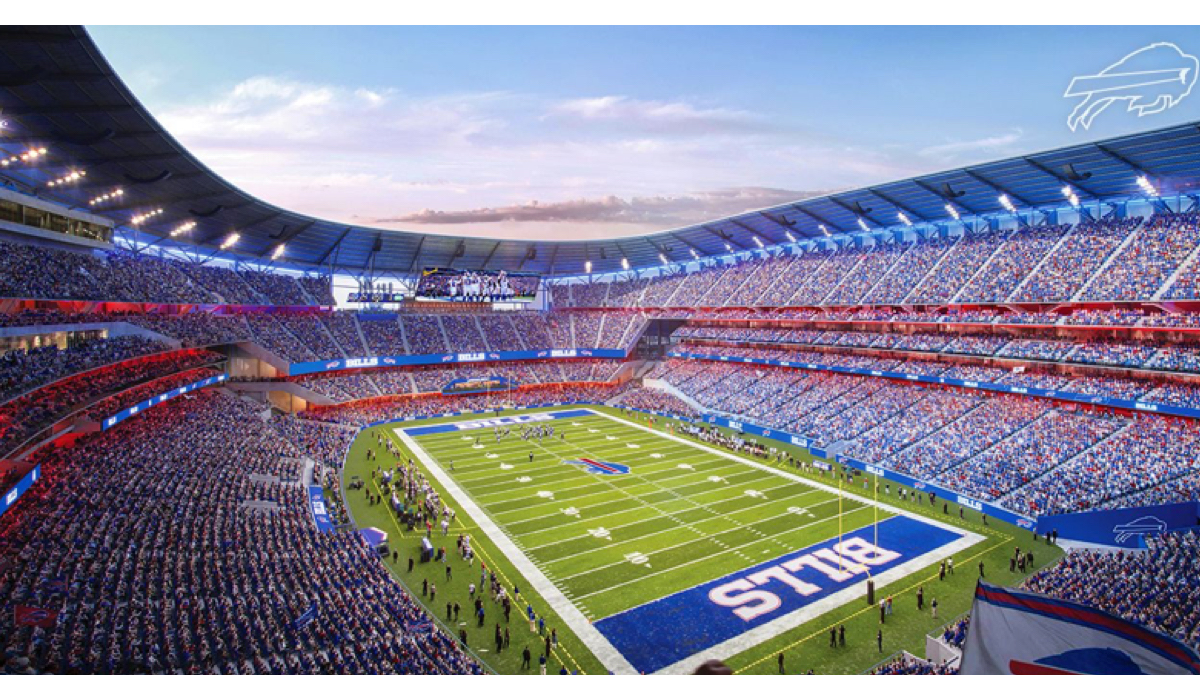 The Buffalo Bills' new stadium will be called Highmark Stadium, the team announced during Monday's groundbreaking ceremony for the stadium that will open in 2026.
For now, the new stadium will be referred to as 'New Highmark Stadium' until the completion of the construction in 2026 before switching over to 'Highmark Stadium' — the same name of the current Bills home across the road since 2021. Buffalo's new canopy covered stadium will be the largest project built in Western New York, holding approximately 63,000 people.
The formal agreement between the team, Erie County and New York state includes a 30-year lease that essentially helps secure the Bills to continue playing in one of the NFL's smallest markets, something that was a concern in 2014, following the death of Hall of Fame owner Ralph Wilson, who founded the franchise in 1960.
The combined taxpayer cost with the state committing $600 million and the county $250 million was at the time the largest public commitment to an NFL stadium in league history. The projected cost of the stadium has already gone up from $1.4 billion, with the Bills responsible for any over-runs; the NFL and the Bills agreed to commit $550 million in financing. The Pegula's share came in at $350 million, with much of that made up by the team introducing seat licenses for season ticket holders.
"We felt like that was important to the authenticity of the franchise in the community," said Bills Executive Vice President and Chief Operating Office Ron Raccuia. "Organizations and teams lose some of that value of the importance of a naming right partner when it changes a lot. So it was really important for us to have that continuity."
Highmark Blue Cross Blue Shield of Western New York is the region's largest health plan. On game days, the Bills and its corporate sponsor have partnered to recognize and support over 30 community partners.
"Like the Bills, we have deep roots in Western New York, and share a vision that the "New Highmark Stadium" will serve as a center of engagement and improvement for our entire region," said Dr. Michael Edbauer, president of Highmark Blue Cross Blue Shield of Western New York.