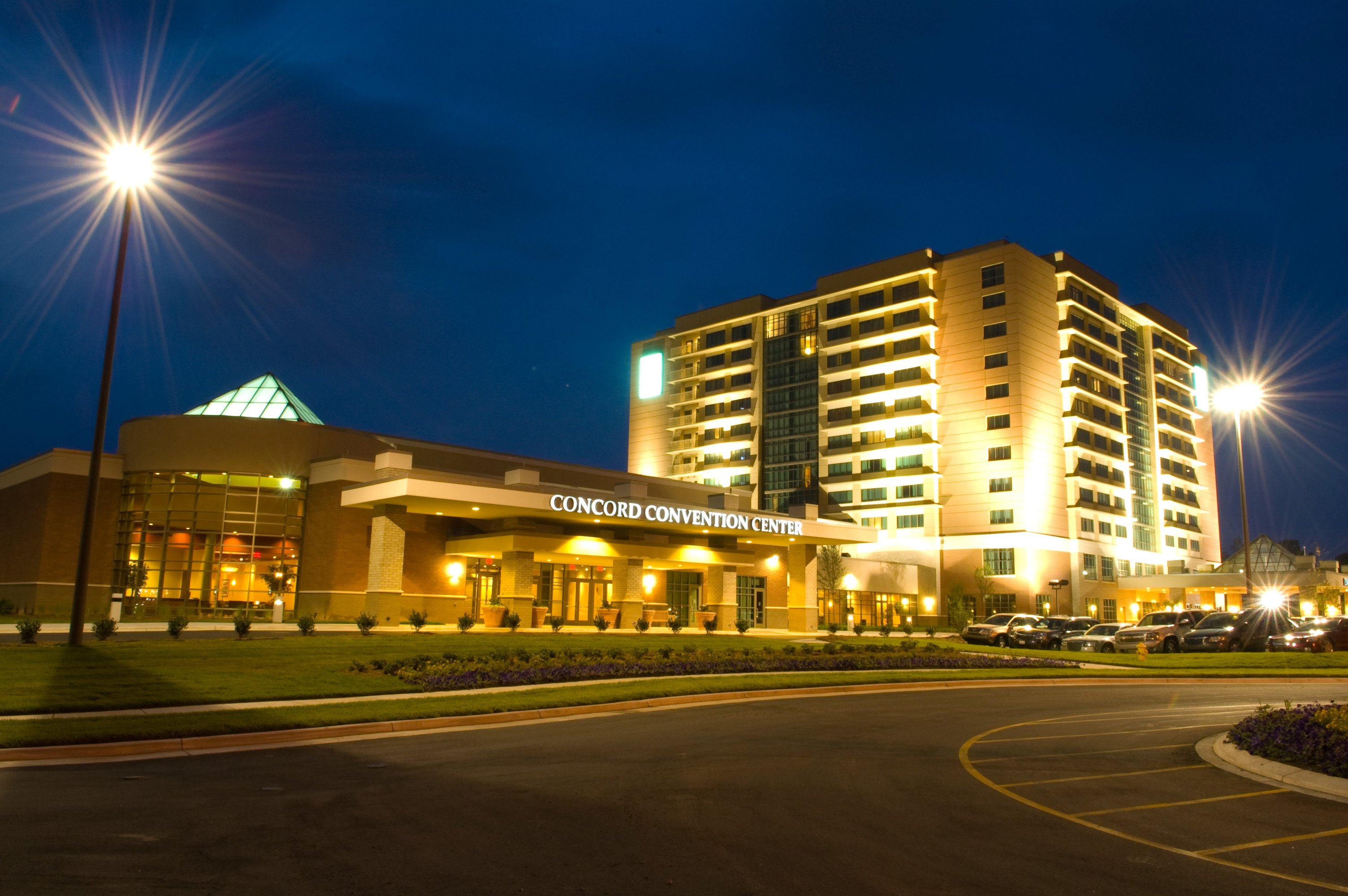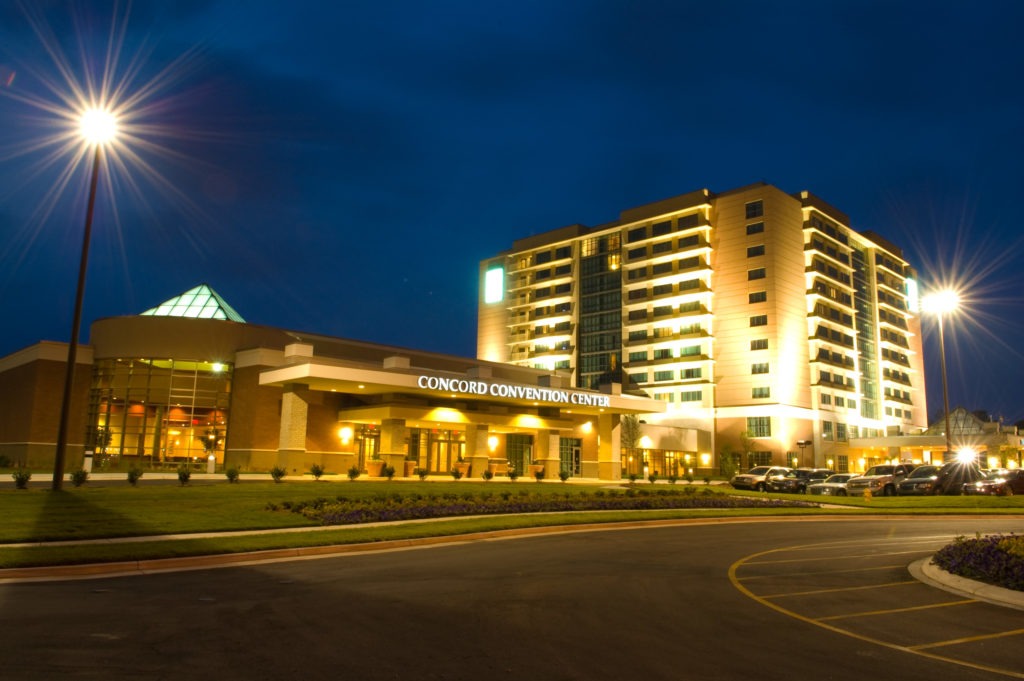 Small town charm meets big city adventure in North Carolina's southern piedmont. Located just minutes north of uptown Charlotte, Cabarrus County is easily accessible via Interstate 85, Amtrak, Charlotte Douglas International Airport and Concord Regional Airport.
Superb facilities, a favorable climate and many top Charlotte area attractions make Cabarrus County a winning combination for sports events. Find venues fit for champions from a versatile 150,000 square-foot arena to legendary race tracks.
Known as "Where Racing Lives," this destination is home to an unmatched motorsports attractions including Charlotte Motor Speedway. The legendary 1.5 mile superspeedway hosts major NASCAR series races in May and October as well as over three dozen other events for automotive and motorsports enthusiasts of all ages including the Summer Shootout short-track series, national and regional car club competitions, World Karting Association races and three of the nation's largest car shows and swap meets at AutoFair in the spring and fall and the Goodguys Southeastern Nationals street rod spectacular.
Next door, zMAX Dragway is the "Bellagio of Drag Strips" and the only all-concrete four-lane drag strip in the world. In April and September each year, engines roar and the grandstands rumble when the best drag racers in the world compete for all the glory. At The Dirt Track, fans witness the World of Outlaws battle at the World Finals in November or catch the Monster Truck Bash in August. Typically 11-feet tall and weighing in at nearly five tons, these giants put on one powerful show.
A short drive from the speedway, the Cabarrus Arena has played host to a variety of sporting events from fitness competitions to wrestling, dance and basketball. Along with 5,000 seats and 150,000 square-feet of event space, the Cabarrus Arena also offers on-site parking and camping.
In Historic Downtown Concord, Carolina Courts offers over 47,000 square feet of multi-use courts. Perfectly suited for events from basketball to gymnastics, this venue is within walking distance of boutique shopping, art galleries, cozy eateries and independently owned businesses with local flair.
Unique, home-cooked Carolina cuisine isn't hard to find in Downtown Concord. For international flavors, try gems like Havana Carolina Café & Bakery—authentic Cuban cuisine inspired by family recipes in the Carolinas, and at Gianni's Trattoria, taste European Italian cuisine and hand-tossed pizza. Or, sample North Carolina barbecue just minutes from downtown at The Smoke Pit where the line extends out the door for smoke-to-perfection prime cuts and essential southern sides.
Craft breweries have popped up around Cabarrus, and many tell the story of this destination through their brews. Sip at Cabarrus Brewing Company and High Branch Brewing, then stroll next door and browse endless aisles of antiques at The Depot. In Downtown Concord, Red Hill Brewing resides above the famous Cabarrus Creamery, and Lil' Robert's Place boasts over 500 craft and micro beers with 20 rotating taps. Quench your thirst at Twenty-Six Acres Brewing if you're near Concord Regional Airport.
In addition to amenities of traditional facilities, the team at the Cabarrus County CVB helps to identify creative solutions when seeking locations for nontraditional sporting events. A wide range of options are available from 200-acres and 18-hole disc golf course at Frank Liske Park to a 4,700 seat Intimidators Stadium located in Kannapolis, the hometown of Dale Earnhardt Sr. Visitors can explore the life legendary NASCAR champion Dale Earnhardt at the ballpark and 19 other stops along The Dale Trail self-guided tour.
After the main event, Cabarrus County's 28 hotel properties with price points for every budget help visitor rest and refuel. Among them, Great Wolf Lodge Charlotte/Concord is the largest indoor water park in the Carolinas reserved exclusively for hotel guests. The 84-degree water park has rides and slides for all ages and has been host to athletic events including summer cheer camps. Nearby Embassy Suites offers 42,000 square feet of event space at the Concord Convention Center which includes a 28,800 square foot ballroom and is adjacent to one of North Carolina's Top 100 Golf Courses at Rocky River Golf Club.
With 90% of NASCAR race shops located in Cabarrus County and the surrounding area, there's never an idle moment in the heart of racing country. Channel the spirit of teamwork during a look inside top NASCAR team race shops including Stewart-Haas Racing, Hendrick Motorsports, Roush Fenway Racing and more. Go behind the scenes to see what makes these teams well-oiled machines.
Then, try your hand behind the wheel! Whether you prefer the split-second adrenaline rush of a dragster or whipping through the banked corners of a superspeedway in a stock car, the opportunity to drive or ride along is yours. Options include the Richard Petty Driving Experience, NASCAR Racing Experience, Roy Hills Drag Racing School, Pure Speed Drag Racing Experience, Mario Andretti Racing Experience and more.
Keep your crew entertained at Concord Mills, the largest shopping and entertainment destination in the Carolinas. Concord Mills is home to over 200 stores including manufacturer and retail outlets, off-price retailers and unique specialty stores. Designed like an oval racetrack, pit stops along this circle of savings include the Charlotte area's largest H&M, Tommy Bahama Outlet, Build-A-Bear Workshop and more. The adventure continues with the state's only Bass Pro Shops Outdoor World and entertainment from SEA LIFE Aquarium, AMC Theatre, The Speedpark and Dave & Buster's.
Plan to stay a few extra days and go on an adventure at Reed Gold Mine. The first documented discovery of gold in the continental United States happened in Cabarrus County in 1799 when 12 year old Conrad Reed found a 17 pound golden nugget on the family's property. Today, Reed Gold Mine is the only underground mine in North Carolina open to the public. Visitors can tour the museum of mining exhibits, walk through several hundred feet of mine tunnels and experience panning for gold.
Put your event where it belongs: Winner's Circle in Cabarrus County, North Carolina – "Where Racing Lives!" For more information, visit www.VisitCabarrus.com or contact Katie Eagle at 704-456-7972 or Katie@VisitCabarrus.com.