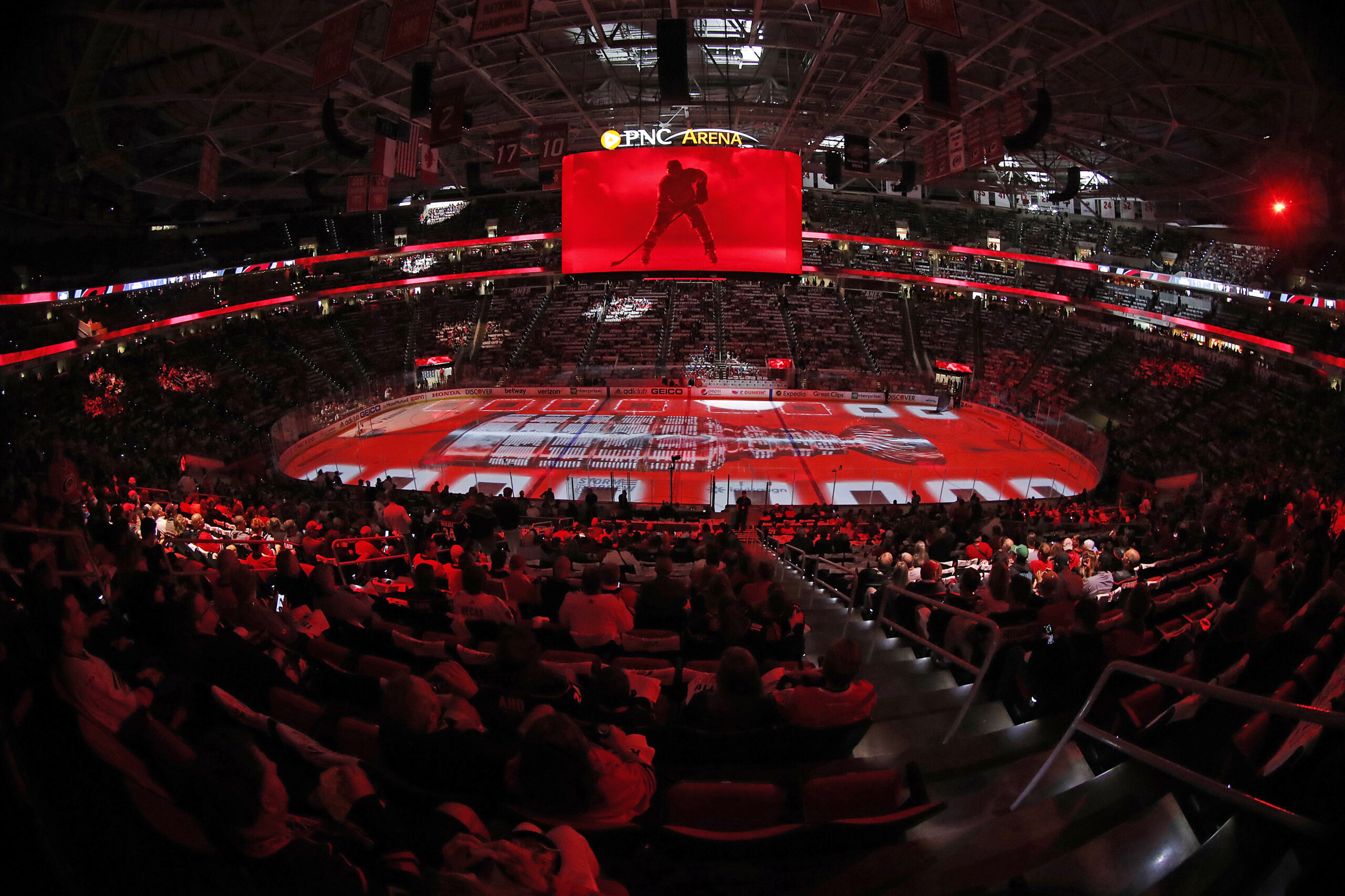 The Carolina Hurricanes will stay in Raleigh, North Carolina, through the 2043–2044 NHL season after the club signed a 20-year lease extension at PNC Arena, which owners Centennial Authority says will undergo major renovations including the development of a sports and entertainment district and public gathering space around the arena.
"This is an exciting day for the Triangle," said Tom Dundon, owner and governor of the Hurricanes. "This development will transform PNC Arena into a year-round destination for residents, while also improving the event day experience for Hurricanes fans, NC State fans and concertgoers alike. North Carolina is the home of the Hurricanes and I am proud to say that the Hurricanes will continue to call PNC Arena home."
The new lease extension includes a combined $300 million investment from the city of Raleigh and Wake County. As a part of the development, the club's ownership group will enter into a ground lease to develop the land surrounding PNC Arena in a phased approach. Gale Force will commit to a minimum $200 million in Phase 1 development within five years, $400 million within 10 years, and $800 million within 20 years. Additionally, Gale Force will pay for 100% of all private renovations to PNC Arena.
The Phase 1 commitment includes developing at least 100,000 square feet of retail/dining space, 150,000 square feet of office space, 200 multi-family residential units, a 150-room hotel and a 3,000–5,000-capacity indoor music venue.
"Our goal is to transform PNC Arena into one of the most comfortable, versatile and fan-friendly experiences in the country," said Don Waddell, president and general manager of the Hurricanes. "This project will completely revitalize PNC Arena to make it a state-of-the-art facility at a fraction of the cost of a new arena."
The Hurricanes, the first major professional sports franchise in region, have called PNC Arena home since the building's inception in 1999. The arena is also the home for North Carolina State men's basketball. The venue seats 18,680 for hockey and 19,500 for men's basketball.
"We are excited to extend this lease with the Carolina Hurricanes through the 2043–44 season," said Philip Isley, Centennial Authority Board Chair. "This renovation and development of a sports and entertainment district around PNC Arena will represent one of the biggest economic development projects in the history of the region."
PNC Arena contributes an estimated economic impact of $262 million annually to the Wake County economy.
"NC State is proud to call PNC Arena home to our Wolfpack men's basketball team and we are excited to collaborate on a comprehensive renovation strategy that will enhance the overall experience for our fans and student-athletes," said Randy Woodson, NC State Chancellor. "We feel fortunate to have significant investments from city and county leaders, and we value our long-standing partnership with the Carolina Hurricanes."