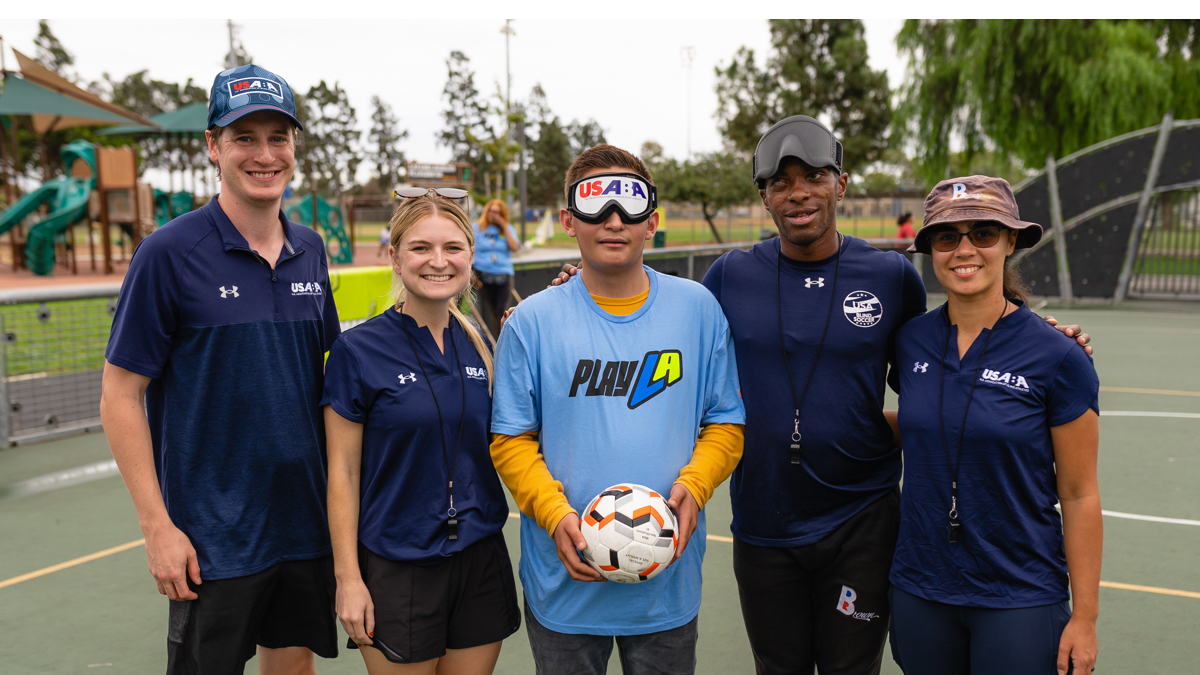 The U.S. Association of Blind Athletes will support the city of Los Angeles Recreation and Parks Department to offer visually impaired and blind soccer clinics as part of the PlayLA Adaptive Youth Sports Program.
The free clinics are designed for blind and visually impaired youth ages 5 to 17. All skill levels are welcome to participate and those who do will be taught blind soccer fundamentals, drills, game play and communication by coaches and members of the USA Blind Soccer Men's National Team. The clinics will be held every Saturday from September 16 through October 7 at Mar Vista Recreation Center and October 14 through November 4 at Hubert H. Humphrey Recreation Center.
"We are excited to be back for our second year of building blind soccer in Los Angeles," said USABA Chief Executive Officer Molly Quinn. "Through our continued partnership and engagement with LA RAP, we aspire to provide access to sport and recreational opportunities for blind and visually impaired youth and possibly identify a future Paralympian who will compete for Team USA at the LA28 Games."
Helping lead the clinics will be Paralympic Gold Medalist and USABA Blind Soccer Sport Ambassador David Brown. A three-time Paralympian in track and field and the 2016 gold medalist in the 100 meters, Brown is a member of the USA Blind Soccer Men's National Team.
"The amazing feedback we received from last year's clinics was incredibly fulfilling," said Brown. "For these clinics to be in the LA area raises awareness of the sport being part of the LA28 Paralympic Games and that there is a sport for the blind in which individuals can participate and feel part of a team. What participants can learn from this sport is teamwork, communication, confidence and the feeling of acceptance."
The sport of blind soccer has been part of the Paralympic Games since 2004. Out of the 22 sports represented in the Summer Paralympic Games, blind soccer is the only sport without U.S. representation. At the LA28 Paralympic Games, the U.S. team receive an automatic bid as the host country.
The United States Olympic and Paralympic Committee recognized USABA in January 2022 as the National Governing Body for blind soccer and USABA started a men's national team later in 2022. In collaboration with U.S. Soccer, USABA has launched seven Building Blind Soccer sites across the country, including Los Angeles, to help to grow the sport.