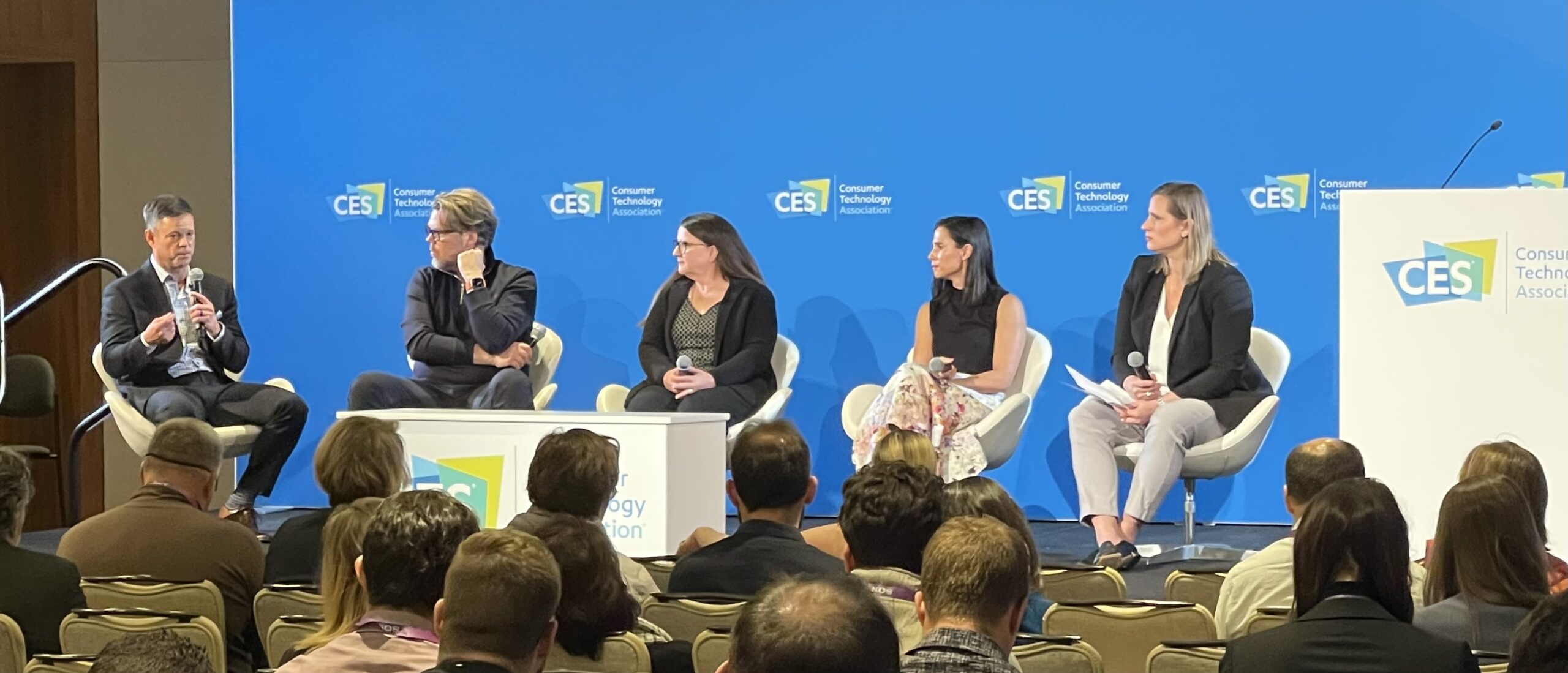 CES 2023 has invaded Las Vegas, with thousands of exhibitors and patrons spread out across the city as it celebrates its 25th year in Sin City.
The sports industry is always a topic of discussion among the 200 conference sessions. The session "Technology and Acquiring the Fluid Fan: The Sports Industry's Path to Growth" brought together a panel to converse on how technology has radically changed fan behavior.
The group, moderated by Angela Ruggiero, chief executive officer and co-founder of Sports Innovation Lab, discussed how companies are acquiring the next generation of fans — The Fluid Fan — and what challenges they're facing.
The Panelists
Heather Brooks Karatz, United Talent Agency: Brooks Karatz is the executive vice president of growth and operations at United Talent Agency, where she oversees initiatives to expand its businesses, especially across the sports industry. Prior to joining UTA, she served as president of the XFL's Los Angeles Wildcats. She also previously served as the executive vice president and general counsel of the Los Angeles Football Club.
Skarpi Hedinsson, Los Angeles Rams: Hedinsson joined the Los Angeles Rams in February 2017 as the organization's first chief technology officer. He oversees the team's technology strategy, shared service delivery and management of both football and corporate technology activities. Hedinsson was a member of the team driving the vision for and overseeing the implementation of technology throughout SoFi Stadium and Hollywood Park.
Katee LaPoff, Oak View Group: LaPoff is the senior vice president of project management and technology for Oak View Group. Her work experience also includes time at Madison Square Garden for more than a decade in various roles along with six years as an executive advisory board member for the Sports & Entertainment Alliance in Technology.
Ken Martin, Cisco Systems: Martin serves as managing director of sports, media and entertainment at Cisco. In his role, Martin has responsibility for accelerating development and adoption of Cisco technology utilized in hundreds of venues and by leagues, organizations and events in the sports industry.
What They Said
Brooks Karatz: "We are seeing a ton of investment in sports. We're seeing team valuations skyrocketing. Whether it's … purchase of Chelsea for $3 billion or the potential sale of the Washington Commanders for $7 billion. Let's talk about math. To get those valuations, you really need to have a strong conviction about your monetization opportunities around your brand. When it comes to the venue, you need to know that you're going to sell tickets for X number of games and then drive tons of other events into your venue.
"And that's not just about selling a ticket — it requires all the major technological advancements that experts are putting together for their properties. It's about how do you get people to spend their discretionary income and their time, which is the most valuable thing that we have, inside a sporting or entertainment venue. So that's the challenge. How to get people to come spend time in your venue instead of, say, going to the beach for free in LA. Even if you get that part right, then you have to think about how else you can connect to a fan who has different consumption and engagement habits. There may be fans in an international territory who can't come to my games, so how do I make sure they feel connected? How do I sell them a jersey or connect them to a fan loyalty program? So that's where I spend a lot of my time thinking."
Hedinsson: "SoFi Stadium is instantly recognizable because we built this massive screen for the purpose of not just informing the fans but entertaining them as well. We started five or six years ago with this concept and then the stadium was built and the first season had no fans because of Covid. So now we're in the second season with fans and we're seeing how we can activate the capabilities the screen provides to engage the fans, but also our partners and sponsors. We did an activation with Disney and Avatar a few games ago and it's a great example of how things are changing. We did what we call a 'full takeover,' which means every screen — 2,500 screens and 80,000 square feet — went Avatar.
"We then took the technology that SNAP developed for us to create lenses on our broadcast system and we were able to overlay Avatar characters with the fans. It was an incredibly cool activation and those are the types of things we're starting to tap into now because we have that foundational platform. The stadium was designed for two NFL teams, so there's no static signage in the building and everything is digital. It gives both teams a lot of autonomy in how they want to activate it and project their brand to the fans. And you see a stark difference when you go to a Rams game as opposed to a Chargers game."
LaPoff: "We have implemented a lot of technologies in our venues. If you would've told me five years ago that all of our venues would be cashless, I would've thought you were crazy. Self-checkout and digital tickets, which now are also in all our buildings, were very abrupt things that happened. These were things that the consumer began expecting, but it was also accelerated by Covid. Because Covid was an accelerator of spending and it forced the adoption of these technologies very fast. We don't want consumers to go home and then we send them an email or a text and hope that they do something.
"We want to have technologies in the building that have a call-to-action right now. On your screen, or scan this QR code, so that we can engage with you now and later. It's personalized and we get something out of it, like some data or interesting statistics or information, but the fan also gets something they want and is meaningful to them. There are also things that are now more important to people, like the environment, recycling, cleanliness of the arena, crowd control and security. Things are much different today than they were in 2007 when I started in this business and we as venue operators have to be cognizant of that."
Martin: "From a sponsor's point of view, it's no longer a brand association. It's no longer, 'I'm putting my logo up and hope that fans interact with that brand during/after the game.' It's more of an immersive and personalized experience and they want to be able to measure their success in the venue. And they want to know if they change something, how affective is it going to be with the fans. Upstairs versus downstairs; main concourse versus the suites; pregame versus after the game.
"The ability to tailor your messages and then give that information back to the venue and the partnerships teams, changes the whole thing. Then you can measure how successful the brand campaign is and have the technology to enable you to be fluid with regard to making changes to the campaign. Digital is a three times more powerful way of advertising than anything else. The ability to put screens inside the venue and connect with the fans enhance the experience. It's not just advertising and sponsorships, it's also way finding and what's available to me as a fan, and when can I consume it."