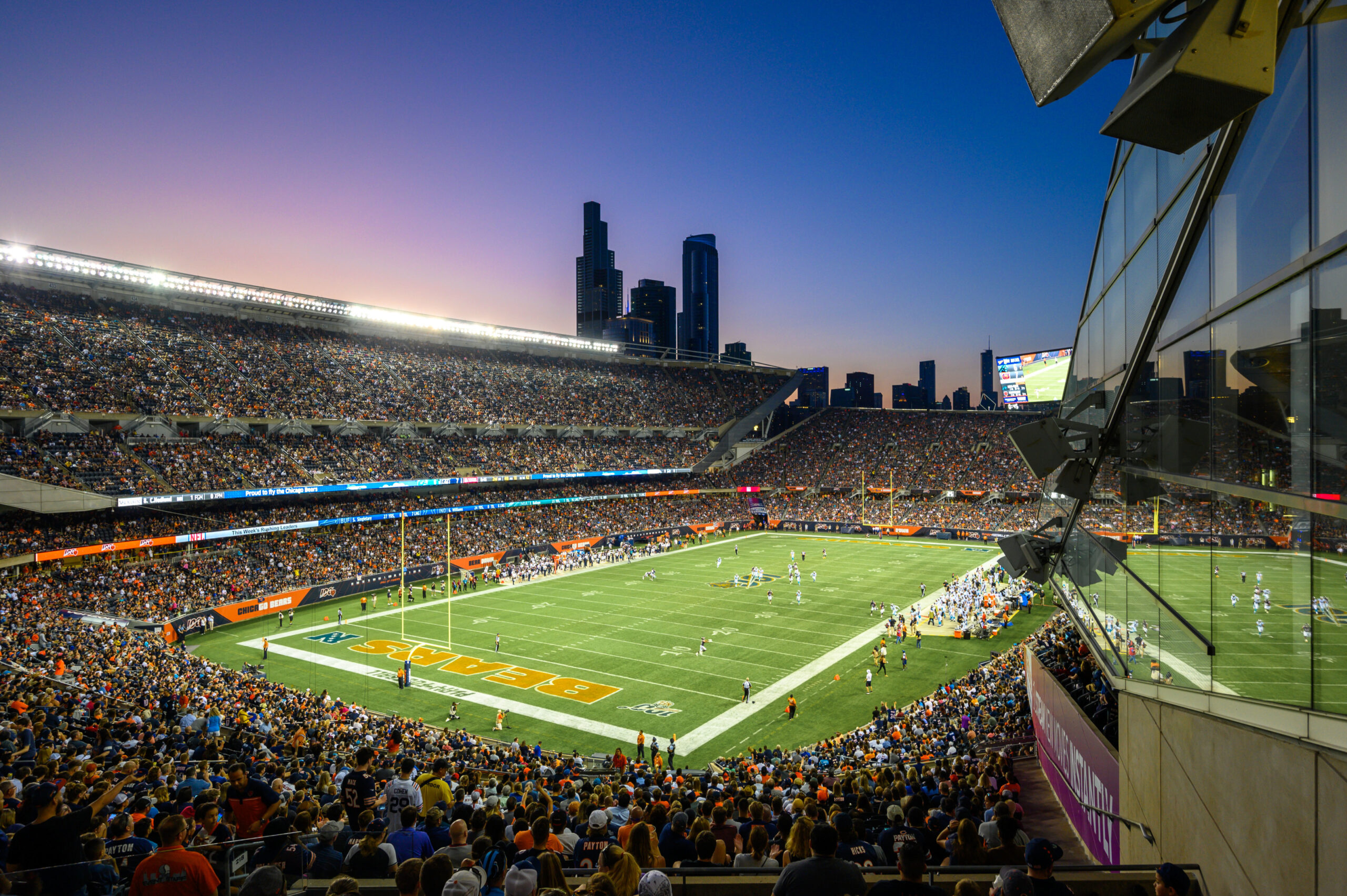 The city of Chicago's mayoral committee is attempting a Hail Mary when it comes to keeping the Chicago Bears in the city.
Weeks after the committee recommended a dome atop Soldier Field along with other stadium enhancements, Mayor Lori Lightfoot unveiled the $2.2 billion plan on July 25 as part of her mission to keep the Bears in the city limits of Chicago.
Lightfoot's presentation, delivered at Soldier Field to a group including top city business leaders, said that her administration "wants the Bears to stay in Chicago but also make improvements to the Museum Campus it sits on even if they leave." The first option would be to enclose the stadium with a dome. Another option would "rebuild the stadium to make it 'dome ready' with columns at both end zones," while the third would "modify the venue at a multipurpose facility better suited for soccer 'while improving its flexibility' for other events."
However, it's most likely too late to keep the team at its current location — a stadium the team has played in since 1924.
Soldier Field remains an incredible asset for City residents & visitors. These proposed renovations allow Soldier Field to retain its role as an economic engine for Chicago for years to come, allowing us to keep bringing sports, music, & other events to our world-class city. 🧵 pic.twitter.com/wPfsSRU4C7— Mayor Lori E. Lightfoot (@chicagosmayor) July 25, 2022
The Bears are expected to close on the Arlington Heights racetrack property the team won the bid for in September 2021. The closing of the Arlington Heights deal is expected to happen in late 2022 or early 2023.
The team's only comment in response to Lightfoot's presentation was, "The only potential project the Chicago Bears are exploring for a new stadium development is Arlington Park."
The organization is under contract to remain at Soldier Field through 2033, however the Bears could terminate the contract with a penalty of $84 million if they do it before 2026.
Lightfoot seemed to call the team's bluff in June of 2021 saying, "In addition, this announcement from the Bears comes in the midst of negotiations for improvements at Soldier Field. This is clearly a negotiating tactic that the Bears have used before. As a season ticket holder and longtime Bears fan, I am committed to keeping the 'Chicago' name in our football team. And like most Bears fans, we want the organization to focus on putting a winning team on the field, beating the Packers finally, and being relevant past October. Everything else is just noise."
The new proposal also includes upgrades to the existing stadium, including rebuilding certain parts of the facility. These would be the second round of renovations for Soldier Field, as it underwent an extensive facelift in 2002–2003.