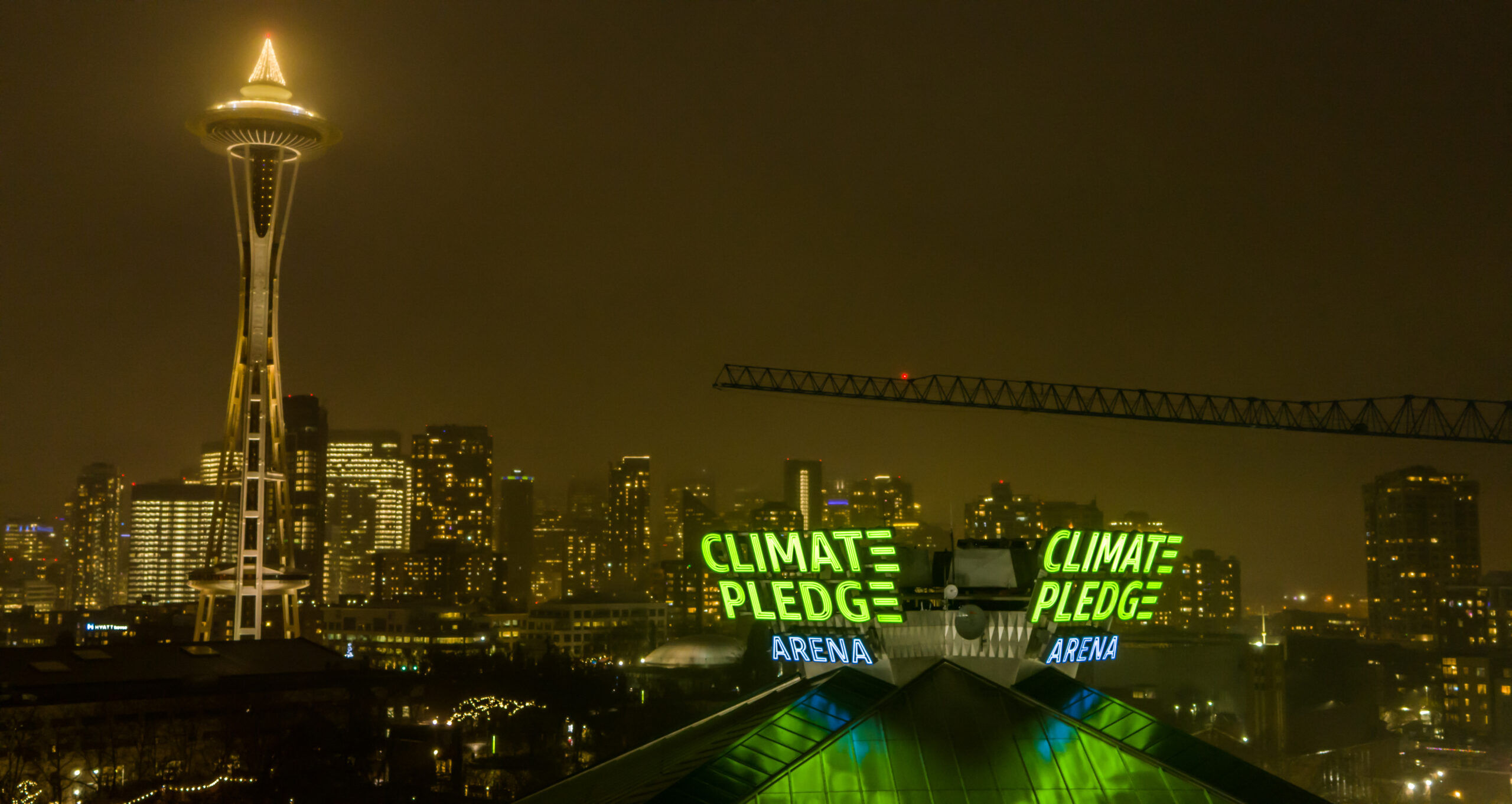 Building any new major sports venue would be a time-consuming task potentially fraught with issues during the best of times. Working on a nearly $1 billion renovation to a local landmark during a pandemic would appear to be even more challenging.
Instead, the good-as-new Climate Pledge Arena is on track to host one of the most eagerly awaited professional team launches in recent history as the former home of the Seattle SuperSonics will have the same iconic roof and exterior glass façade but little else that looks the same.
The new venue will seat 17,100 for the National Hockey League's Seattle Kraken when the team starts this fall and 18,600 for the WNBA champion Seattle Storm. Oak View Group will operate the arena, which has been reimagined by Populous to a reported cost of $930 million. There was a small time frame during which the project was shut down for a full sanitization but otherwise, with a series of health and safety protocols in place, construction was able to stay on schedule.
"We could watch what was happening and monitor the pandemic, monitor the new protocols and procedues and take feedback from our family of Oak View Group venues and facilities, then look at the industry as a whole and see what people were doing," said Don Graham, senior vice president for event services and assistant general manager at Climate Pledge Arena.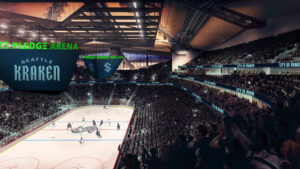 What people will be doing at the venue once it opens to the Kraken and Storm is make noise — lots of it. No matter the Seattle sports team, the region's various fan bases are known as one of the loudest at events. With the Storm coming off its fourth WNBA championship and the Kraken prepared for its first season, one of the tightest seating bowls of any indoor venue in the United States is guaranteed to bring both teams a home-field advantage.
"You have Madison Square Garden and the Forum in Inglewood that are very tight seating bowls with low ceilings. We have a pitched roof but the way we did the seating grade, the way we cantilever our seats, they're tighter to the action," said Graham of the arena, which will have 59 suites. During the renovation, the arena's square footage was essentially doubled by having a design that dug 15 feet deeper into the ground and wider. The lower bowl is actually below grade so fans will have to take escalators down to their seats.
Even with the additional square footage, "it feels so tight that it's different than any venue I've seen," Graham added. "We have a lot of quality premium products but also a great amount of general admission seats that are close to the action. There's a good sense of community in the upper and lower bowls."
Preparing for the Kraken
No matter what bowl of seating they're in, the Kraken fan base may already be the best in the NHL. Climate Pledge Arena will seat just over 17,000 for hockey — and 35,000 deposits of interest for season tickets were submitted before the team was even officially announced. The Kraken will have 6,118 full season ticket plans with a minimum three-year commitment and are also selling a variety of half-season and special-game plans — and now the wait list for tickets has grown to 60,000, Graham said.
"It's a tremendous success story," he said. "You look at what the Seahawks have done with the '12' logo and motto. You have the Sounders who sell out the stadium for MLS games. We have the same dedication here for the Kraken."
And don't dare forget about the Storm, the city's most successful pro franchise. Graham said when arena staff had a call with their sales team and showcased the amenities that they can offer fans, "they're so jazzed up because they didn't have that type of seating capacity of amenities at the old Key Arena. They were averaging about 5,000 but now they're looking at 10,000 per game automatically because this arena will attract even more fans for a team that deserves to have a huge fan base with all the success they've had on the court."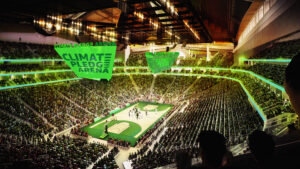 Sustainability a Key
The venue's sustainability is the standout part of Climate Pledge Arena. It aims to be 100 percent powered by renewable electricity with features such as zero waste compostable containers and reclaimed rainwater storage tanks that will be used for the Kraken's ice system. Nearly three-quarters of the venue's food program is locally sourced to support regional farmers and producers. Tickets for the Kraken and Storm will double as free public transit passes to promote public transportation on the Seattle Monorail. Oak View Group and Populous also worked with local historical commissions to add solar panels onto the atrium's roof.
Sustainability was the reason why Amazon, when it bought the naming rights to the arena, decided to have it named Climate Pledge Arena.
"We could have gone to anybody and put any sponsorship name on the venue," Graham said. "Working with Amazon and naming it Climate Pledge Arena, instead of AWS or Amazon, shows that we mean business when we talk about sustainability. We work with them every day on things that they see that can be an asset to climate change and we then implement things."
"Working with Amazon and naming it Climate Pledge Arena, instead of AWS or Amazon, shows that we mean business when we talk about sustainability."
—Don Graham, Oak View Group
The emphasis on sustainability is inspired, Oak View Group CEO Tim Lewieke said, by the singer Billie Eilish. While she is not the first music act that the arena will host, part of the new arena's attraction is being able to host concerts and community events as well as sports. While so much of the focus is how the arena will look inside, one of the outside improvements is additional truck loading areas so that concerts can be moved quickly in and out of the arena.
"From the very start, it's just the vision of Tim Lewieke," Graham said. "The SuperSonics had left and it was a venue that was in a great, growing city with a tech boom and lots of great music and sports. This project was something that not a lot of companies want to take on because you had a little bit of project construction restraints with holding up that 40 million-pound roof. Oak View Group saw that this was something that we could overcome, we got great construction companies and engineers here and built one of the best arenas in the world under an existing iconic roof. Not many people have that vision."