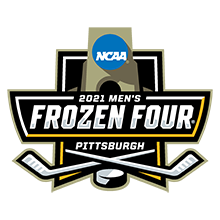 SportsPittsburgh and Robert Morris University are moving ahead with plans to host the 2021 NCAA Division I Men's Frozen Four at PPG Paints Arena. The event, scheduled April 8 and 10, will be one of the first NCAA championships hosted since events were paused in March 2020. No decision has been made yet on spectators at the event and because of state capacity restrictions on indoor events, ticket purchase opportunities remain on hold.
"While the Men's Frozen Four may look different this year, the NCAA has the utmost confidence in SportsPittsburgh, Robert Morris University and the City of Pittsburgh to host a safe, competitive and memorable championship at PPG Paints Arena," NCAA Director of Championships and Alliances Kristin Fasbender said. "Pittsburgh has developed a well-deserved reputation of hosting NCAA Championships and ensuring that our students-athletes have a great experience."
The 2021 event will be the fifth NCAA championship held in Pittsburgh since 2019. It will also mark the first championship in the city since the 2019 NCAA Division I Women's Volleyball Championship, which was also staged at ASM Global-managed PPG Paints Arena.
"The entire Pittsburgh community is grateful to the NCAA for its continued confidence in our city to host championship events," SportsPittsburgh Executive Director Jennifer Hawkins said. "A lot of planning and teamwork have taken place throughout the last few months. Backed by the Pittsburgh Global Health (PGH) & Safety Commitment, we continue to work with state, county and city officials on an event plan that allows us to safely welcome the student-athletes, coaches and families to Pittsburgh.
"We are proud that the NCAA continues to choose Pittsburgh and PPG Paints Arena for championship events, and we very much look forward to providing a safe environment and a memorable experience for everyone involved in the Frozen Four," said Gary Desjardins, general manager of PPG Paints Arena for ASM Global.