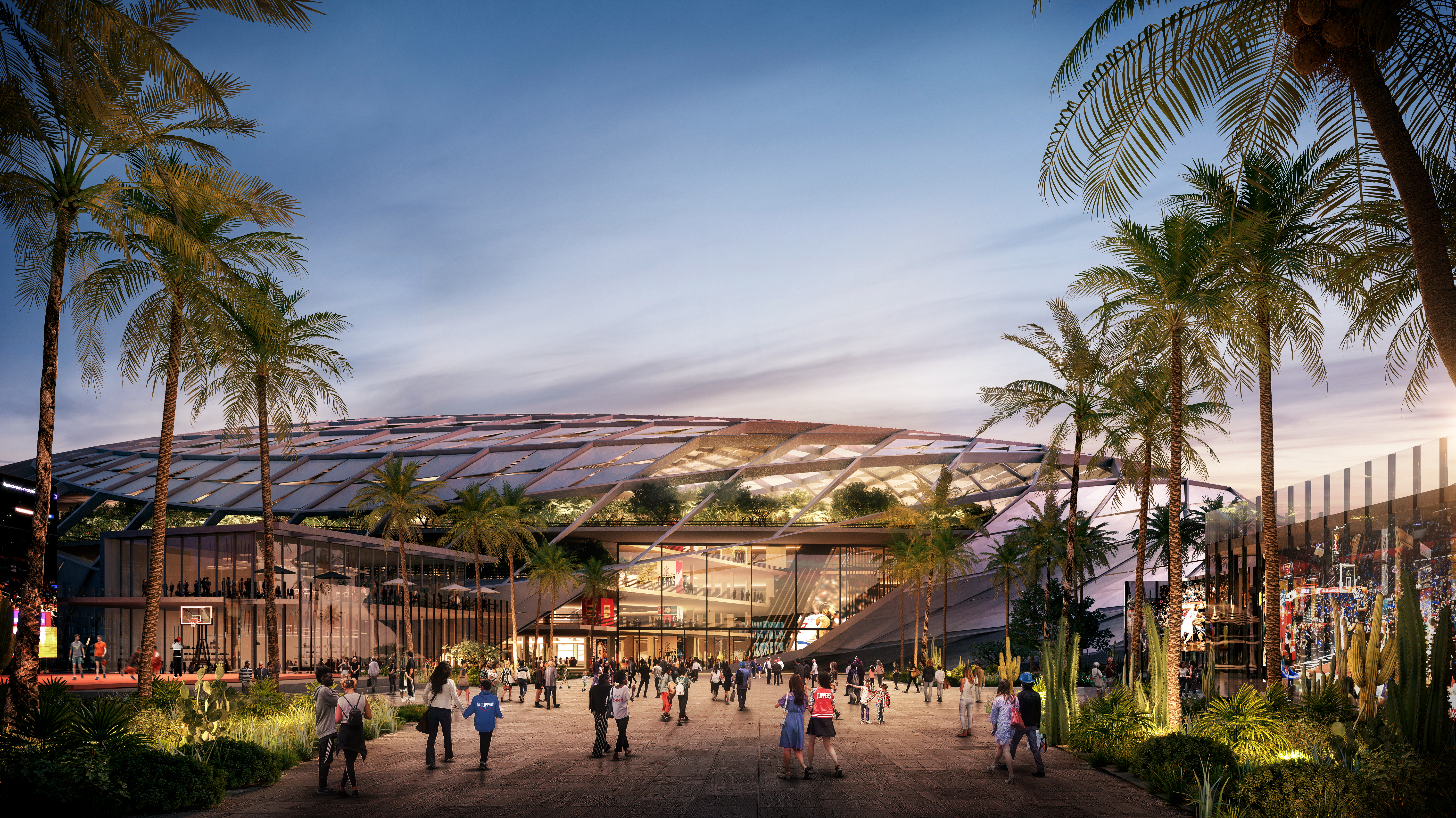 On the heels of signing two superstars in Paul George and Kawhi Leonard, the Los Angeles Clippers on Thursday built on their on-court success by revealing plans for a privately financed arena in Inglewood that would set them apart from the in-town rival L.A. Lakers even further.
The complex would be down the street from the Forum in Inglewood, and would include the Clippers new arena plus the team's business and basketball offices, training facility and spaces for retail and community use. The project, named the Inglewood Basketball & Entertainment Center, is targeted to be completed by fall 2024, right as the Clippers' lease at the Staples Center expires.
"My goal is simple. I want the Clippers to have the best home in all of sports," said Clippers Chairman Steve Ballmer. "What that means to me is an unparalleled environment for players, for fans, for sponsors and for the community of Inglewood. Our goal is to build a facility that re-sets fans' expectations while having a transformative impact on the city we will call home."
The Clippers currently play in the Staples Center along with the Lakers and the NHL's Los Angeles Kings, which sometimes means the Clippers play games at undesirable times such as weekend afternoons when crowds are lower.
The proposed arena would have a three-dimensional oval design, with diamond-shaped metal panels designed to provide solar benefit as part of the overall design that is inspired by the idea of a basketball swishing through a net.
The facility would also have indoor/outdoor "sky gardens," which are landscaped areas for food and beverage that can be accessed from each concourse level, along with a multi-purpose plaza with concert stage, community basketball courts and a community space.
The Clippers said in a release that the project would create more than 1,500 permanent jobs and generate an estimated $268 million in economic activity and $190 in new tax revenue for Inglewood annually.
"Inglewood is a diverse, dynamic community blessed with a skilled workforce, emerging infrastructure and a bold economic blueprint for the future," said Gillian Zucker, Clippers president of business operations. "In addition to the thousands of jobs this facility will create for the local community, we are equally committed to working with our new neighbors in the continuing renaissance developing in the city of Inglewood."