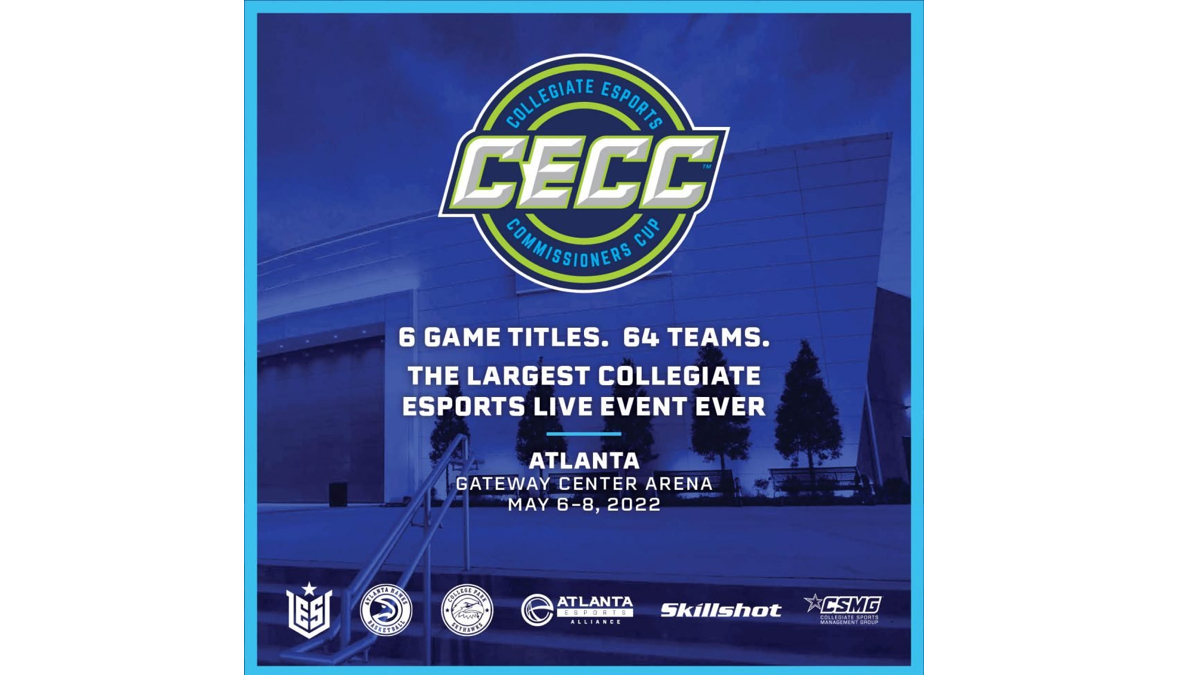 The Collegiate Esports Commissioner's Cup, an event started by the Collegiate Sports Management Group's ESPORTSU, will be held May 6–8, 2022, at the Gateway Center in Atlanta in partnership with the NBA's Atlanta Hawks, the NBA G League's College Park Skyhawks and Atlanta Esports Alliance.
Branded as ESPORTSU, the initiative from CSMG is aimed at building community, content and events across the scholastic esports environment with the goal to enhance property rights of more than 3,000 academic institutions to support content development, revenue opportunities and exposure through regional and national events.
"CECC is dedicated solely to the development of collegiate esports and student athletes, which we believe are the workforce and talent of the future," said Angela Bernhard Thomas, executive vice president of ESPORTSU at CSMG. "We will put students center stage to not only showcase their competitive skills, but through alliances and partnerships with other industry leaders, create an electric festival atmosphere to celebrate them and all things gaming and esports."
The event will offer competitors, fans and brand partners an immersive festival experience including food trucks, live music, career fair, professional networking, Cosplay costume contest and onsite activations. Competition will be held in Overwatch, Rocket League, NBA 2K, Super Smash Brothers Ultimate and Valorant.
"We are thrilled to work with ESPORTSU to bring the premier collegiate esports event to Atlanta," said Todd Harris, Skillshot chief executive officer and chair of the Atlanta Esports Alliance. "After two years of virtual events, the collegiate community deserves an in-person, over-the-top, arena celebration of esports competition and career development. We are thankful for our partners at the Hawks, ATL FaZe, Reign, Ghost and other amazing Georgia-based companies who are supporting these 64 qualifying college teams and the thousands of fans."
Students from any four-year or two-year college or university can earn a spot through a series of regional invitationals for a chance to be crowned the winner of the Commissioner's Cup and various prizes. Eleven collegiate esports conference partners and more will be announced in the coming weeks.
"We are excited to join forces with the Collegiate Esports Commissioner's Cup for the largest esports event this city has ever seen," said Atlanta Hawks Executive Vice President and Chief Revenue Officer Andrew Saltzman. "We believe that this three-day showcase will provide the next generation of esports competitors many opportunities beyond the virtual playing field and provide them with a fun, memorable and highly competitive experience."