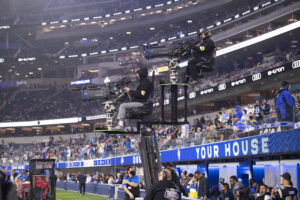 Sports inspire passions all over the globe, particularly as the world comes out of COVID lockdowns. The return of live sports in front of fans also lifts viewership and more ways for fans to stay attached to favorite teams, athletes and leagues. But much like avid watchers of television sitcoms and dramas have altered the way they consume the content they love, broadcast television is no longer the only way for fans to view live sports.
Entertainment, in general, is now at viewers' fingertips. That impacts live event managers as well. Live events and in-person attendance have always been the centerpiece of the broader sports and fandom ecosystem. Over the past few years, the outside-of-stadium ways people watch live sports has shifted from strictly broadcast television in their living rooms to streaming live events on any device, anywhere in the world.
Sports networks must find additional channels to provide live sporting events coverage. Over-the-top or OTT services and streaming platforms are now the most effective new ways for networks and content owners to reach their audiences. These trends will substantially impact stadiums, local sports and tourism authorities and other stakeholders as this pandemic shifts form, but future health crises continue to threaten large public gatherings.
The live sports experience is evolving
We all now know that global pandemics are not just a sci-fi plotline, but realistic threats in modern life. That overhang has particular relevance for venue and live event managers. They're also concerned with ever-changing sports economics. For instance, are there too many choices from too many providers, making in-person live sports attendance less valuable to the fan?
OTT can be pivotal to help teams and leagues lower production costs, open up new channels of distribution for games, reach bigger audiences and provide a stop-gap solution if public health removes fans from the stands again in the future.
OTT can be a hedge or response for venue managers, too. Teams will have to make better use of digital tools to enhance the overall fan viewing experience — tools that can also be deployed for fans in the arena. For example, venues might consider creating their own content to share at live games and to stream outside of the venue before and after the event. Look no further than the content produced at this year's Super Bowl featuring players backgrounds, lifestyles and community engagement, or how Maple Leaf Sports and Entertainment uses digital production to enhance the in-stadium experience.
Rather than a threat to venues, OTT becomes an opportunity. It will assist rights-holders to increase the teams' profiles and earn additional revenue to compensate for the declining linear audience, making it easier for rights-holders to keep paying their home venues. OTT can be a tool for the venues themselves. While venues generally don't control the rights to games played in their stadiums and arenas, they can enhance their booking chances by offering rights-holders connections to local crews, on-site production space to shoot shoulder programming and additional distribution for that programming on their own local or regionally focused digital properties.
Creating content on their own
Many arenas are taking content creation into their own hands, often with affiliated regional sports networks. Madison Square Garden Network's shows go beyond pre- and post-game offerings to their series "Connections," which features one-on-one conversations with athletes, Hollywood celebrities and other entertainment figures coming through the venue or having past connections with it.
Washington D.C.-based Monumental Sports and Entertainment's Network produces By the Book from its Capital One Arena, a betting-oriented series sponsored by Michelob Ultra coming live from the arena and in coordination with the Caesars Sportsbook there.
Venues and their partner trade and tourism authorities that aim to delight fans further — and create a vehicle to spotlight the entertainment and dining options around the facility or in the neighborhood — will thrive.
Identity Tampa Bay, a sports and lifestyle property associated with Vinik Sports Group (owner of the Tampa Bay Lightning and the Amalie Arena) has created content and aggregated it from others in that community.
Opportunities for similar content creation exist for all venues. OTT offers the technology backbone to offer this material to a local, regional or even global distribution footprint.
As the future of live sporting events continues to evolve, OTT will increasingly become a tool and not a threat. Understanding viewer content consumption patterns will be imperative in making the live experience more valuable. Live event managers should embrace OTT to earn success this year and beyond.
---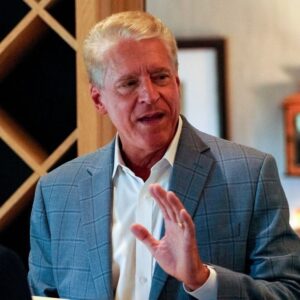 Rick Allen is the co-founder & CEO of ViewLift. He has been in the sports, entertainment and digital industries for over 30 years, including as chief executive officer of Sporting News, chief executive officer of National Geographic Ventures, and senior vice president of Discovery. He served in the Clinton White House. Allen has authored two bestselling books on Robert Kennedy and produced three award-winning films. He is a frequent speaker and media guest.