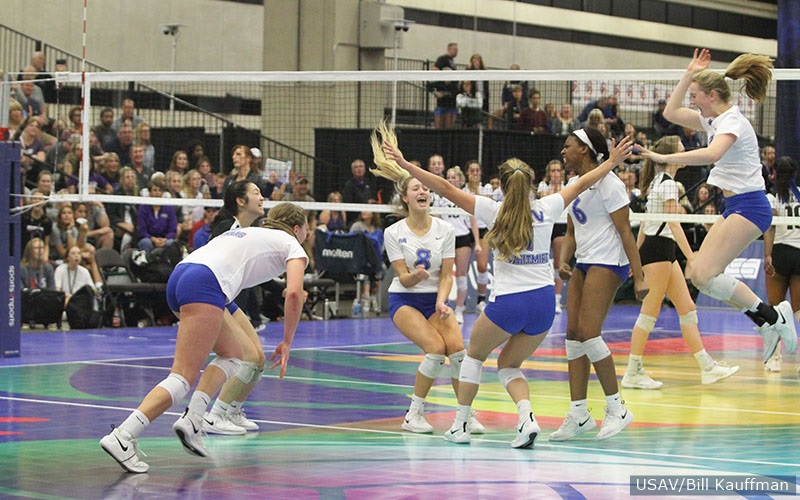 Columbus, Ohio, and Kansas City have been selected by USA Volleyball to host two of the national governing body's largest championships in 2021. Columbus will serve as host of the USA Volleyball Girls 18s Junior National Championship (GJNC18), April 23–25 at the Greater Columbus Convention Center. Kansas City, meanwhile, will host the Boys Junior National Championship (BJNC), June 30–July 7 at the Kansas City Convention Center.
For Columbus, the girls event is expected to attract about 300 teams, nearly 3,000 players and over 5,000 family and friends of the players. The event crowns champions in five age divisions: Open, National, USA, American and Patriot Divisions.
"Columbus has proven to be a great destination for USA Volleyball National Championship events," USA Volleyball Director of Events Kristy Cox said. "The Columbus community has always welcomed our players and spectators with open arms, going out of their way to make their experiences a lasting, positive memory."
Columbus has hosted four USA Volleyball National Championship events since 2012.
"The Greater Columbus Convention Center was a proud host to 5,500 athletes that competed in the Ohio Valley Region of USA Volleyball's 2020 American Challenge Tournament in late February before limits on mass gatherings were imposed," said Linda Logan, Greater Columbus Sports Commission executive director. "Columbus has a storied history of passionate and knowledgeable volleyball fans that love hosting national volleyball events, and now more than ever we are so excited to announce the USA Volleyball Girls 18s Junior National Championship next year and celebrate the athletes, coaches and fans when they come to our city."
Kansas City Hosts Again
The boys event in Kansas City is expected to attract nearly 550 teams and 6,000 athletes. There will be 16 championships decided in age groups from 12-and-under to 18-and-under.
"Kansas City has become a premier host city for junior volleyball events over the last decade," Cox said. "The city has a strong volleyball community, and that includes a growing boys volleyball base. USA Volleyball is proud to have Kansas City host our 2021 Boys Junior Nationals."
Kansas City has hosted three previous USA Volleyball National Championship events. It also hosted three National Collegiate Volleyball Federation National Championships in conjunction with USA Volleyball in 2012, 2015 and 2017.
"Kansas City is proud to host a consistent roster of events in partnership with USA Volleyball. The Boys Junior National Championship is an exciting addition," Visit KC President and CEO Jason Fulvi said. "We look forward to welcoming athletes and attendees as they take part in high-caliber competition and experience everything that makes KC an incredibly convenient, accommodating destination."