The Winter Dew Tour has figured that it should not mess with success … too much, at least.
The tour will stay in Colorado for the 2020 and 2021 events, with one adjustment — it will be hosted at Copper Mountain after having spent the past 11 years at Breckenridge.
"Physically, our move is just down the road in Colorado, but we feel the Dew Tour will take on new life at Copper, which has long been a preferred destination for elite action sports athletes," said Courtney Gresik, Dew Tour vice president and general manager.
The free four-day event will include the world's best male and female skiers and snowboarders competing in individual halfpipe, slopestyle and para snowboard competitions along with a team challenge competition. Beyond the athletic events, there are industry award shows, a special invitational competition and a calendar of fan-based activities.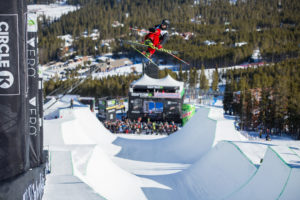 Copper Mountain's Center Village is where the event footprint, sponsor activations and team challenge will take place. Slopestyle will be held at Central Park, a mountain park facility, and the halfpipe events will sit above the base of Center Village. The Dew Tour festival experience will include live music on the Dew Tour main stage as well as a sponsor village, pro athlete photo-ops, poster signings and more.
"Copper, and its parent company POWDR, truly get the vision of Dew Tour, which is to bring together the world's best skateboarders, snowboarders, skiers, artists, brands and fans in a celebration of creativity and style," added Gresik. "Athletes know Copper Mountain and the quality of its parks and pipe. We are ready to get started on taking the event to a whole new level in terms of event progression and service to the athletes and fans."
The annual event will have six hours of coverage on NBCSN and NBC, with the entire event streamed online at DewTour.com. Past Dew Tour competitors include Olympic gold medalist and Dew Tour champions Chloe Kim, Nick Goepper, Shaun White, Red Gerard, Gus Kenworthy, Ayumu Hirano, and Amy Purdy.
"Copper is excited to be the new home to the Winter Dew Tour," said Dustin Lyman, Copper Mountain president and general manager. "Between our investments in enhancing the overall ski and ride experience to our designation as an official venue for U.S. Ski & Snowboard teams early-season training, Copper's areas of expertise are providing world-class facilities for athlete progression and a lively atmosphere for spectators."