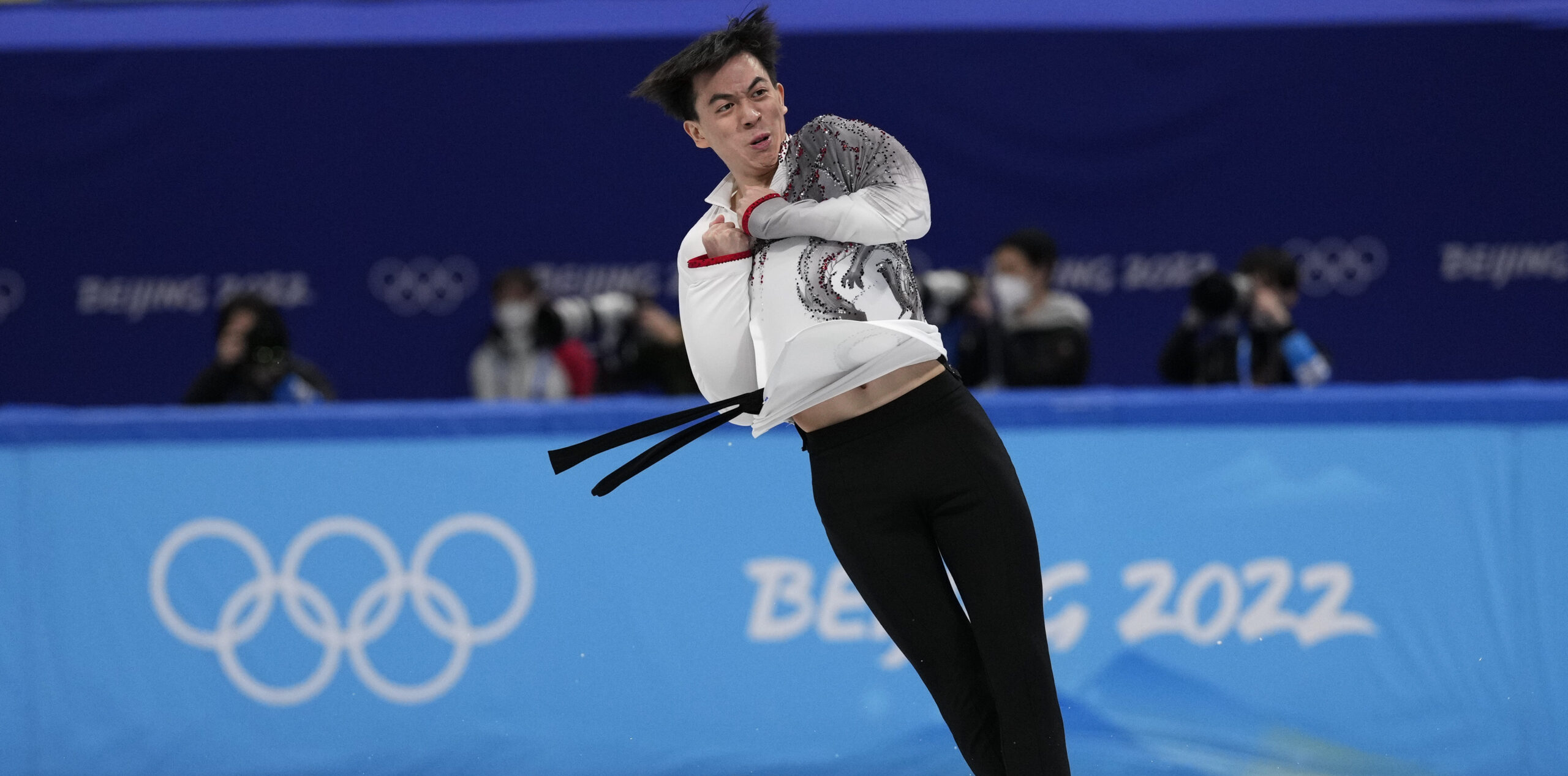 U.S. men's figure skater Vincent Zhou, less than 24 hours after winning a silver medal in the team figure skating competition, announced that he will miss the singles competition after testing positive for COVID-19 at the 2022 Olympic Winter Games in Beijing.
Zhou was often in tears during his Instagram video announcement. He had tested positive as part of a routine COVID-19 screening before additional testing. The 21-year-old had struggled through a poor free skate during the team event.
"I have tested positive for COVID-19 and unfortunately I will have to withdraw from the individual event starting tomorrow," said Zhou. "It seems pretty unreal that of all the people it would happen to myself, and that's not just because I'm still processing this turn of events but also because I have been doing everything in my power to stay free of COVID since the start of the pandemic. I've taken all the precautions I can. I've isolated myself so much that the loneliness I felt in the last month or two has been crushing at times."
Zhou's positive test comes days after bobsledder Elana Meyers Taylor was forced to skip the Opening Ceremony, having been elected as one of the two U.S. flag bearers, for her own positive test. Meyers Taylor was released from isolation on Monday and will be able to compete.
U.S. speedskater Casey Dawson, meanwhile, is hoping to compete after arriving in Beijing from Salt Lake City after testing requirements kept him in Utah last week. Having tested positive for COVID three weeks ago, Dawson thought he would need two consecutive negative tests to begin his journey to Beijing before he found out that he needed four consecutive negative tests. He missed the 5,000-meters and landed just hours before the 1,500-meter event. Dawson will also compete in the men's speedskating team pursuit beginning February 13 with Emery Lehman and Joey Mantia, reuniting the trio that broke the world record in December.
COVID, regardless of the IOC's and Beijing's wishes, has remained the dominant storyline in the opening days of these Games. A sample of the issues since Friday's Opening Ceremony include;
Sunday's women's hockey game between Russia and Canada was delayed for an hour because Canada refused to take the ice until Russian COVID test results were processed. The International Ice Hockey Federation reached a compromise to have players from both teams wear masks. The Russians, in the midst of a 6-1 loss, were allowed to remove their masks at the start of the third period after test results showed no one was positive. Finland's players also wore face masks during its game on Tuesday against Russia, which had forward Polina Bolgareva test positive the day after playing against Canada.
Polish speedskater Natalia Maliszewska, who was forced to miss the 500 meters short track event on Saturday, said "I cry until I have no more tears" while in an isolation ward after testing positive for COVID. Maliszewska tested positive for coronavirus on January then was released from isolation on the eve of the 500, only to test positive a few hours before it started and was put back into quarantine. The next day, she was released after again testing negative. "People got me out of my room at 3am," she said on social media. "This night was a horror, I slept in my clothes in my bed because I was afraid that at any moment someone would take me back to isolation. Then a message that unfortunately they were mistaken, that I am a threat, and should not have been released from isolation. … To me this is a big joke, I hope whoever is managing this has a lot of fun. My heart and my mind can't take this anymore."
Finland men's ice hockey player Marko Anttila has been confined to his room for two weeks after testing positive upon arrival to Beijing. Reuters reported that Anttila tested negative before leaving to the Games but more sensitive tests used by Chinese health authorities have produced positive tests. Finland coach Jukka Jalonena said Anttila was "not getting good food" and was suffering with mental stress. "We know he's fully healthy and ready to go and that's why we think that China, for some reason, they won't respect his human rights," Jalonena added.
Russian biathlete Valeria Vasnetsova posted on Instagram from a quarantine hotel: "My stomach hurts, I'm very pale and I have huge black circles around my eyes. I want all this to end. I cry every day. I'm very tired." She posted a picture of what she said was "breakfast, lunch and dinner for five days already," a tray with plain pasta, an orange sauce, charred meat and a few potatoes. Vasnetsova's post was deleted after it circulated in Russian and international media; Russian team spokesperson Sergei Averyanov later shared a photo of a new meal given to Vasnetsova, with salmon, cucumbers, sausages and yogurt.
For its part, the International Olympic Committee has said the issues have been addressed. IOC Olympic Games Executive Director Christophe Dubi said Sunday. "it's a duty, a responsibility we have, to make sure that the expectations are met. … the situation has been addressed. The conditions were not good enough that night and it should not happen. We want to make sure that it does not."
Beijing organizers were more succinct: "We of course pay very close attention to these issues and will respond quickly and effectively and address all these problems," BOCOG Vice President and Secretary General Han Zirong said. "That concludes my remark."
Dr. Brian McCloskey, chair of the Beijing 2022 Medical Expert Panel, said Tuesday morning that the number of cases within the closed loop system is doing down and "the situation inside the closed loop is extremely safe and there is no signs of infection spreading." He added that the average length of isolation for positive individuals has been just under seven days.
In regard to Russian and Canadian women's hockey players wearing masks, McCloskey said "the medical evidence of the risk of infection on the field of play is such that masks are not necessary and probably will not help. But wearing them is an individual choice."