Detroit's convention center, one of the 20 biggest convention centers in the country, has been renamed as part of a 22-year naming rights deal worth $33 million.
The former Cobo Center is now known as the TCF Center after an agreement between the financial corporation and the Detroit Regional Convention Facility Authority. With 723,000 square feet of exhibit space, TCF Center boasts one of the largest contiguous exhibit floor spaces in North America, with a 40,000-square-foot Grand Riverview Ballroom that has a stage lift and more than 100 meeting and banquet rooms comprising 225,000 square feet meeting space.
It has welcomed more than 1.5 million visitors annually and underwent $279 million in upgrades in 2016. In 2018, it had 244 events and claimed a 564 percent increase in revenue since 2009.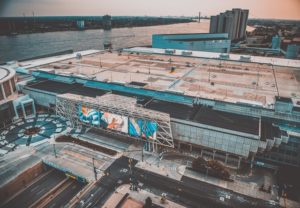 "I can't think of better partners than (TCF Bank Executive Chairman) Gary Torgow and the team at TCF Bank to help secure the future of our region's convention center," said Detroit Mayor Mike Duggan. "Today's announcement, combined with TCF's commitment to build its new headquarters in downtown Detroit and Gary's leadership building our Strategic Neighborhood Fund, shows TCF Bank is truly invested in our city and its people."
The center was originally named after former Detroit Mayor Albert Cobo and cost $56 million when it was opened in 1960. It hosts the annual North American International Auto Show; Cobo Arena, part of the complex, was the home of the NBA's Detroit Pistons from 1961–1978 and in 1994 was the practice site of the U.S. Figure Skating Championships, where Nancy Kerrigan was assaulted by a man connected to rival Tonya Harding.
Having Cobo's name on the center became a source of controversy in 2017 when his tenure as mayor was reexamined with allegations of mistreatment of African Americans. Duggan disavowed Cobo's policies in 2018 and said at the time that renaming the center was a possibility given his past.
"This naming rights agreement has been a goal of the DRCFA since it was formed in 2009 and TCF Bank is the perfect partner," said Larry Alexander, chairman of the DRCFA and president and CEO of the Detroit Metro Convention & Visitors Bureau. "Our partnership with TCF Bank will help to cement the convention center's strong financial future. We continue to dedicate ourselves to providing world‐class service to our customers, maximizing positive economic impact, creating region‐wide jobs and expanding business opportunities for the benefit of business stakeholders and the local community."
Chemical Bank, now a division of TCF Bank following its merger on August 1, was selected and awarded naming rights earlier this year by the DRCFA. Both Chemical Bank and TCF Bank brands will continue until mid‐2020, when Chemical Bank branches will be rebranded TCF Bank with more than 500 branches in nine states. The bank will soon build a landmark tower to serve as its headquarters in downtown Detroit.
"We couldn't be prouder or more honored to partner with the authority on this unique opportunity to support our hometown and state. It helps ensure a continued strong, vibrant future for the world‐class Detroit convention center that connects our city to the world," Torgow said. "It's an important part of our larger, intentional effort to marry inclusion with investment across the city and its neighborhoods, region and state. We look forward to reaching new heights."