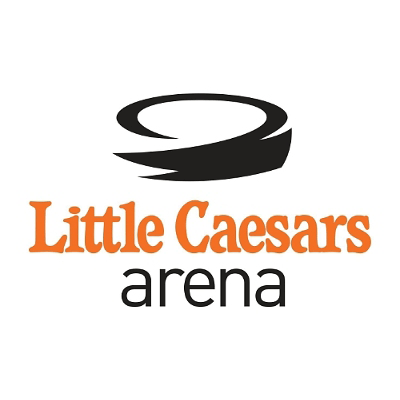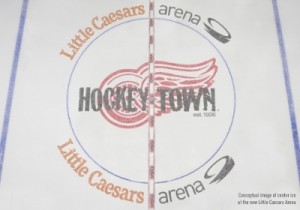 Detroit's new downtown arena that will serve as the home of the Detroit Red Wings will be called Little Caesars Arena. The 20-year naming rights agreement, averaging more than $6.25 million per year, was announced by Olympia Entertainment and the NHL franchise, both of which are owned by Mike and Marian Ilitch.
The deal includes Little Caesars branding on the arena roof, on the exterior, at entrances and at center ice, among other opportunities. In addition, Little Caesars will become the official Detroit Red Wings website and social media presenting sponsor starting with the 2017–2018 NHL season. The agreement is estimated to be the largest investment in a naming sponsorship for a building whose sole professional sport is hockey. The arena will be part of The District Detroit, a 50-square-block area of downtown that is slated for mixed-use development of sports and entertainment venues, retail, office and residential space.
"Little Caesars has experienced incredible growth over the last decade," said David Scrivano, president and CEO of Little Caesars. "We were founded in the Detroit area 57 years ago as a family company and grew to become the world's largest carryout-only pizza chain from right here in the city. As we continue to add stores in more countries across the globe, and as we prepare to expand our world headquarters campus right here in The District Detroit to accommodate our growth, now is the perfect time to sign on as a naming rights partner for what is going to be one of the world's premier sports and entertainment destinations."
Little Caesars joins a list of sponsors for the new Detroit arena, including Landmark Sponsors Comerica Bank, Saint Joseph Mercy Health System and Meijer, Inc.
"We've experienced an incredible response from our fans, our partners and the community as the vision for this new facility and The District Detroit have begun to come to life," said Tom Wilson, president and CEO of Olympia Entertainment, the sports and entertainment organization that oversees business operations for the Detroit Red Wings. "There's been quite the buzz about what company would have its brand aligned with this best-in-class facility and the storied Detroit Red Wings franchise, and we know that Little Caesars is the perfect fit for this arena and everything it represents for our hockey club, our organization, this community and our great city."
Construction is on schedule, with completion expected in the fall of 2017, prior to the NHL hockey season.
"This sponsorship is another major investment by the Ilitch companies in Detroit, its great people and its comeback story. It's a proud day for Little Caesars, the Detroit Red Wings, our community, and for my parents Mike and Marian Ilitch," said Christopher Ilitch, president and CEO of Ilitch Holdings, Inc. "To have their first business as the namesake of this building in their beloved hometown is an amazing tribute to their careers and their love for the people here."