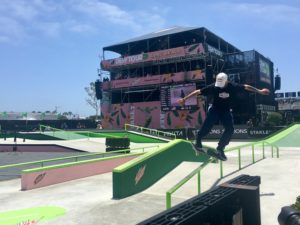 Let the Games begin … or, at least, the game that is qualifying for the Games.
The qualifying process for skateboarding's Olympic Summer Games debut was unveiled as part of the Dew Tour's stop in Long Beach, California, this past weekend. The 2020 Games in Tokyo will have four events — men's and women's street, and men's and women's park.
A points system will be used for qualifying, with the world championships weighed the heaviest. The qualifying for street started in May at a World Skate/SLS Pro Tour stop in London, and continued with the Dew Tour in Long Beach. Remaining qualifiers this year are the World Skate/SLS stop July 23–28 in Los Angeles, plus the International Skateboarding Open event September 3–8 in Qingfeng, China, and the World Championships from September 17–22 in Mexico City. Along with the Dew Tour, Olympic park event qualifiers in 2019 will be July 14–19 at the ISO in Nanjing, China, and the World Championships, September 10–15 in Sao Paulo, Brazil.
There will be one athlete per continent guaranteed a spot in each event, and one athlete per event guaranteed for Japan as the host country. Each country will be allowed three skaters per event, maximum; a skater could qualify in both the park and street disciplines. Having been the first Olympic skateboarding qualifier in the U.S. in 2019, the 2020 Dew Tour event will be the final qualifier before Olympic teams are set.
There has not been an announcement yet for what city will host the Dew Tour in 2020. The bid process is underway, said Dew Tour VP Adam Cozens.
"Dew Tour's home will need to be in a strong skateboarding community, and obviously Southern California really being the Mecca of that in the U.S. anyway, you may find us back here," Cozens said. "Or there's other great cities that would be fantastic hosts as well. … Long Beach has been a fantastic host. The community here has embraced it, the city council, everybody involved here and the community of skateboarding is really strong. They've embraced us, this is year four of us being here and if we came back for a fifth year, that would be fantastic as well."
During a press session on Thursday, World Skate skateboarding commission chairman Gary Ream got ahead of the game when he good-naturedly ribbed Kit McConnell, the International Olympic Committee's Director of Sport, about increasing the number of skateboarding events when the Olympics come to Los Angeles in 2028.
"It's really important at this stage that we see how Tokyo goes," McConnell later said when asked about an expanded 2028 skateboarding program. "(If) we see success of the two events we do have with street and park, we know there's a good argument for vert and maybe others in the future as well. The best way that skateboarding can push for that is to make Tokyo as successful as possible, have the best athletes there put on a show like we see in Long Beach this weekend, and really (put) the question back to us: How can we get more skateboarding? Not which events, but how do we get more of it?"
McConnell also noted any decisions on a 2028 Olympic program will not be made until after the 2024 Games are completed in Paris. At the end of June, an IOC session will vote on the provisional inclusion of skateboarding in the 2024 Paris Olympics along with breaking, sport climbing and surfing.