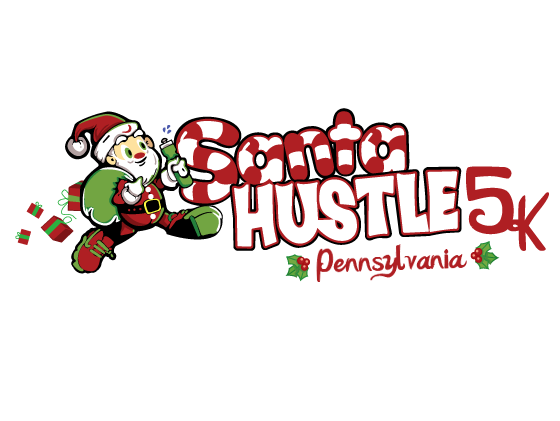 The Erie Sports Commission has announced that the Santa Hustle 5K, a national fun run and race series, will host its first race in Erie, Pennsylvania, on December 8. Held in coordination with the city of Erie and the Erie Downtown Partnership, the Santa Hustle 5K run and walk will start and end in Perry Square. A one-mile Rudolph run will also be open to children ages 12 and under.
Operated by Adrenaline Sports Management, Santa Hustle has been traveling to cities across the United States since 2008. All 5K participants will receive a Santa hat and beard, a Santa-themed performance hoodie and a finisher medal. Rudolph Run participants will receive a Santa hat and beard and a finisher ribbon.
"We're thrilled that after 10 successful years of hosting Santa Hustle, we can continue to bring the holiday spirit to a new city in such a fun way," said Aaron Del Mar, founder of Adrenaline Sports Management. "Erie is the perfect destination for this event, and I'm looking forward to seeing thousands of Santas run through beautiful downtown Erie."
"This run is a perfect fit for Erie, and I'm so glad that Aaron (Del Mar) saw that as well," said Ron Sertz, executive director of the Erie Sports Commission. "This event is an experience like none other, to run alongside thousands of other Santas in downtown Erie. I truly appreciate Mayor Schember's office and the city of Erie's willingness to host the event downtown. I hope holiday enthusiasts will join together and embrace Erie in the winter to enjoy this spectacular event."
Santa Hustle also partners with a charity that will receive a portion of the proceeds. Make-A-Wish Greater Pennsylvania and West Virginia will serve as the charity partner for the Eerie race.
"Make-A-Wish is honored to be included in the Santa Hustle, which will be a great family-oriented event," said Jan Stork, vice-president of development for Make-A-Wish. "As an organization, we are committed to bringing joy to children living with a critical illness, and this event will bring joy to everyone who participates. The money raised will allow us to continue to provide life-changing wishes for children with critical illnesses."
Registration for the Santa Hustle 5K is open now.