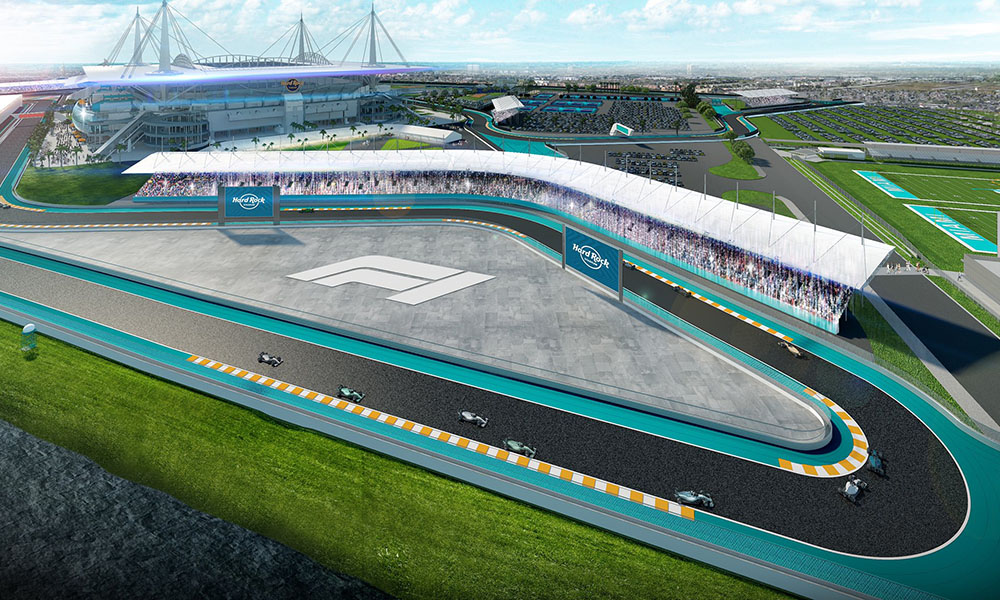 Formula 1, which has seen a surge in U.S. television ratings among the success of its Amazon show and broader coverage on its broadcast partner ESPN, will have its second U.S. stop on the 2022 schedule in early May with the inaugural Miami Grand Prix joining Austin on the calendar.
The 10-year deal for the event focuses on a course that will have 19 turns surrounding Hard Rock Stadium, which has hosted six Super Bowls and two World Series in its history.
"We can confirm that the much-anticipated Miami Grand Prix will happen in the first half of May, and demand for tickets is high, even though sales have not officially started," F1 Chief Executive Officer Stefano Domenicali told RACER.com.
Formula 1 has been in Austin since 2012 at the Texas-based Circuit of the Americas. This year's U.S. Grand Prix will be October 24 in Austin near the end of the calendar, which is where it traditionally has been since joining the circuit. The 2021 calendar in May was focused on European stops in Portugal and Spain before the traditional Memorial Day weekend event in Monaco.
The international series has a long though uneven record of holding races in the United States, a market it has chased relevance in for decades. Miami will be the 11th spot in the U.S. that Formula 1 will race at since 1950 — including Sebring, Florida, but also tracks ranging from Watkins Glen, New York, and Indianapolis to spots in Long Beach, California, Detroit, Dallas and Phoenix.
The original plan for a Miami race included a track that crossed a bridge over the city's bay before local politicians and residents objected to the plan. Miami's city council approved the final plan with a series of measures to lessen the impact on the local population and environment.