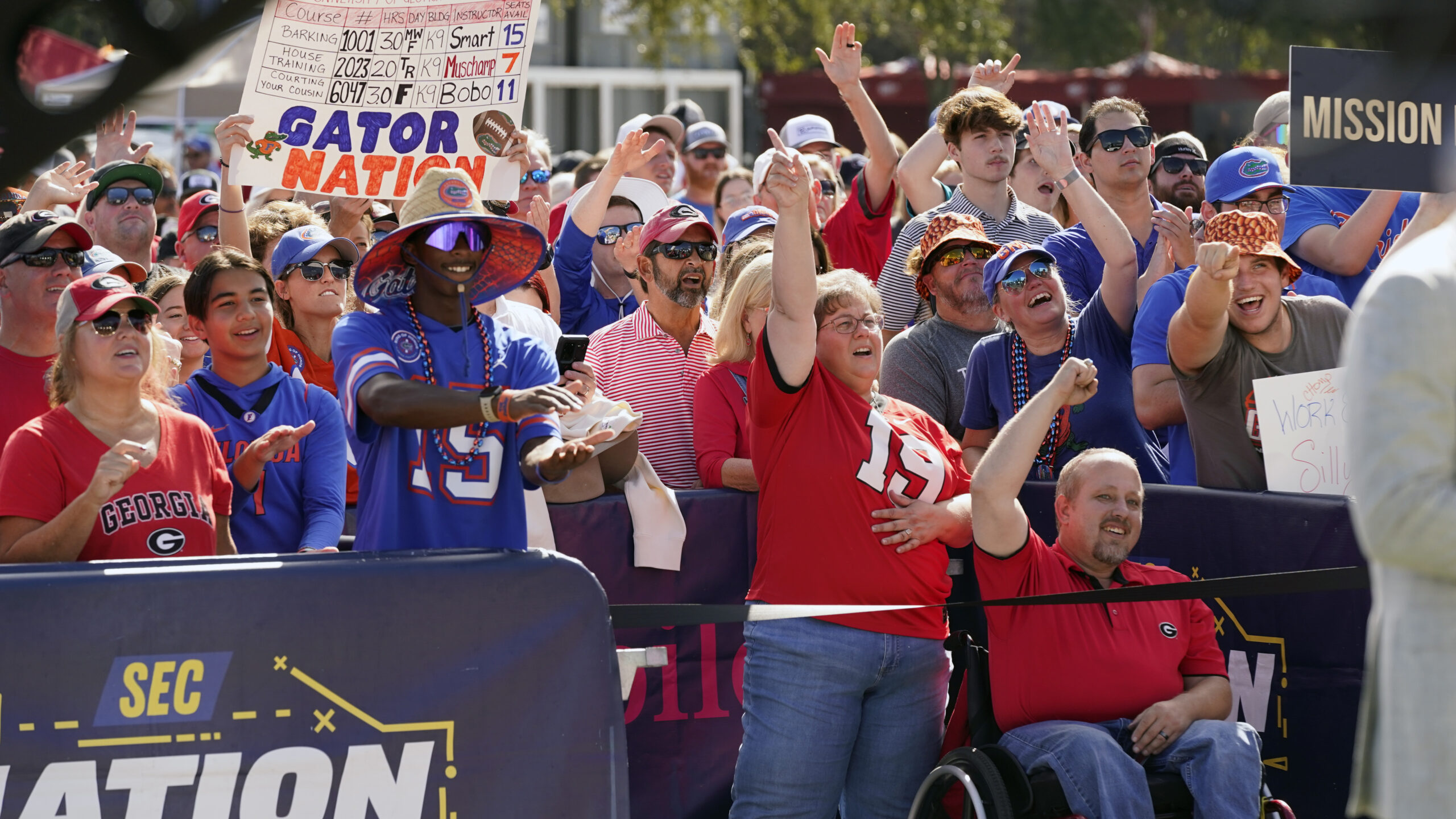 One of the biggest traditions in college football will have to change in the near future with "The World's Largest Outdoor Cocktail Party" at other neutral-site venues during the two years that Jacksonville, Florida, is expecting a $2 billion renovation to EverBank Stadium and the surrounding area.
The annual Georgia-Florida football game has been played annually in Jacksonville since 1933, with a two-year hiatus while the Gator Bowl was being renovated before the Jaguars' inaugural season. The "Cocktail Party" moved to Gainesville in 1994 and Athens, Georgia, the following year.
While the game was played on campus sites during the previous two-year hiatus in Jacksonville — and the idea was originally supported by Georgia coach Kirby Smart — administrators are focused on letting cities with NFL-ready stadiums bid on the game in 2026 and 2027, reported The Associated Press over the weekend.
Jacksonville's city council is close to approving plans for a stadium overhaul that also would force the NFL's Jacksonville Jaguars to play home games in front of a reduced capacity (roughly 40,000) in 2026 and elsewhere in 2027. The payout from Jacksonville is roughly $3 million for each school in 2023, a figure that includes $1.25 million guaranteed plus a split of ticket revenue and concession sales. The guaranteed payout for each school increases to $1.5 million in 2024 and 2025, the final two years of the current contract.
In 2026, with Georgia scheduled to be the home team, the AP reports the game likely would land at Mercedes-Benz Stadium in Atlanta, with a 50-50 ticket split as usual. The following year, with Florida as the home team, it could end up at Camping World Stadium in Orlando, Raymond James Stadium in Tampa or Hard Rock Stadium in Miami.
Smart's desire to have the game on campus sites is driving by recruiting. Coaches cannot have contact with recruits at neutral sites, although the home team can leave tickets for them.
"I firmly believe that we'll be able to sign better players by having it as a home-and-home because we'll have more opportunities to get them to campus," Smart said last season, although last week his tone shifted: "I don't really think about it anymore. We are where we are. That really has not crossed my mind besides the offseason when I get asked about it. A lot more concerned with how we play than where we play."