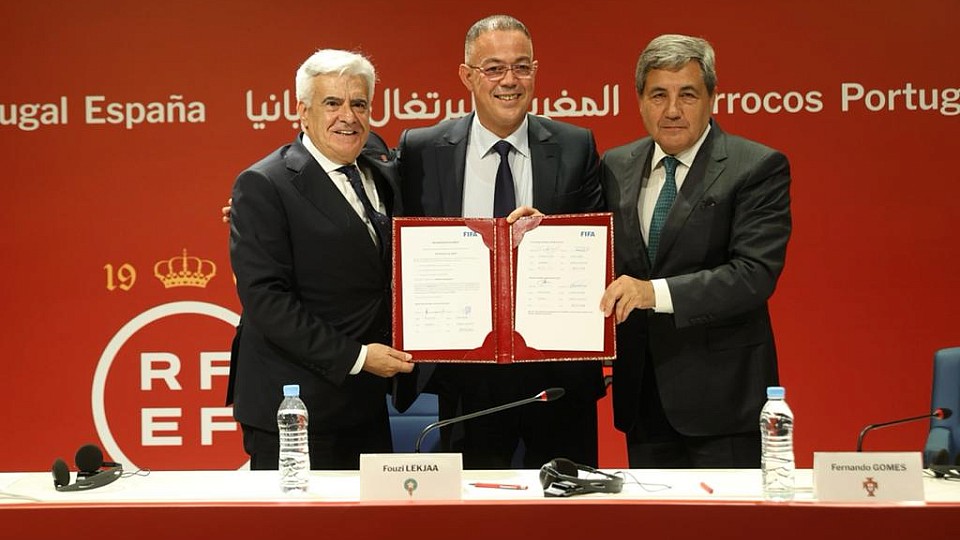 With the bidding process officially launched by FIFA (and a decision already made), the presidents for the football associations of Morocco, Portugal and Spain met over the weekend to launch the official bid application.
The next step after the initial meetings would be to submit the bid agreement to FIFA by the end of November. The work is detailed by also in a way ceremonial with FIFA already agreeing to have the 2030 World Cup split between the three countries as part of an overall six-country, three-continent World Cup that will start with one match apiece being held in Paraguay, Argentina and Uruguay.
"This candidacy is a message of hope and unity because this World Cup will be a demonstration of uniting cultures and the promotion of inclusion, diversity and respect," Spanish Football Federation President Pedro Rocha said. "It will be a World Cup with a significant social legacy that will remain in Morocco, Portugal, Spain – and around the world."
One of the most intriguing issues will be how the games are divided between the three countries; at the weekend meeting, no announcement was made "as the studies and assessment work of technical teams is ongoing."
"It is a World Cup that will help us further unite our common civilizations established more than ten centuries ago," Royal Morocco Football Federation President Fouzi Lekjaa said. "The three countries share a common history, a common present and are looking forward towards a common future. All of this demonstrates, from both shores of the Mediterranean, that collective success is possible and that prosperity can have a shared and collective perspective."
Spain previously hosted the World Cup in 1982 while Morocco's role will make it the second African country to host World Cup matches after South Africa in 2010. It will be the first time World Cup matches are held in Portugal.
"This is a historic moment because it officially begins our process with FIFA to be able to organize the FIFA World Cup in 2030," said Portuguese Football Federation President Fernando Gomes. "This is great occasion for us, and highly symbolic given it will be the centenary of the first ever edition of the tournament. We believe this tournament will mark a paradigm shift in how major events are delivered in the future."
FIFA also announced on Monday that former Spanish Football Federation president Luis Rubiales has been banned from all football-related activities for three years because of his behavior after the 2023 Women's World Cup final. Rubiales was suspended for 90 days after kissing forward Jenni Hermoso on the lips and other actions after Spain's 1-0 win over England in Sydney on August 20 and he initially refused to bow to calls to resign, but after FIFA suspended him, the Spanish government attempted to have him removed from his post and he eventually stepped down on September 10.