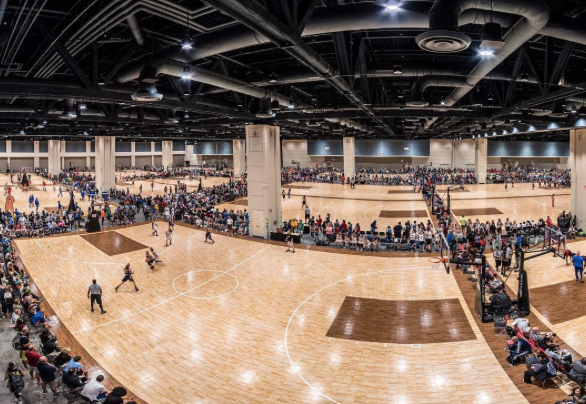 A Premier Sports Event Destination
When you're game-planning for your next sporting event, let Greater Raleigh top your list. North Carolina's capital city area has world-class venues and first-rate hotels, a convenient Southeast location and Southern hospitality, all set in a part of the state that is known for its woodsy natural beauty. No wonder Greater Raleigh is widely considered one of the leading sports event destinations in the country!
Superb, state-of-the-art venues add to the roster of what makes Greater Raleigh the choice destination for college, high school, youth and amateur sporting events–not to mention major professional sporting events like NHL All-Star Weekend in 2011. Venues like the PNC Arena (home of the NHL's Carolina Hurricanes) and the 500,000-total-square-foot Raleigh Convention Center offer multi-sport capabilities with hundreds of thousands of square feet of usable space for sports like cheerleading, wrestling, gymnastics and volleyball. The Raleigh Convention Center itself also offers state-of-the-art amenities, stunning artwork including the Cree Shimmer Wall, the latest technology for sound and lighting, as well as a 150,000-square-foot exhibit hall with flexible configurations.
Next-door to Raleigh, the town of Cary, officially designated as an NCAA Championship City, is home to world-class venues like WakeMed Soccer Park (home of the Carolina RailHawks NASL soccer franchise), the USA Baseball National Training Complex, Cary Tennis Park and Triangle Aquatic Center. Throughout the Raleigh and Cary area, smaller venues in neighboring towns supply numerous fields, courts and sporting complexes for area-wide tournaments. No matter the sport, Greater Raleigh's got a venue!
Between your games in Greater Raleigh, there's no doubt you'll experience the energy here, a range of senses engaged, from visually stunning artworks to the smell of Southern favorites cooked by some of the region's top chefs. World-class museums like the North Carolina Museums of Art, of History and of Natural Sciences, as well as a Nature Research Center (all of which are free), make our area the "Smithsonian of the South."
Concerts at some of the best venues in the region prove why the Raleigh area is also a music lovers' dream come true. A commitment to preserving the area's past while embracing the future is evident as well, with historic sites and world-renowned gardens mingling with cutting-edge culture. This is why our area consistently makes news media lists of best places in the country to live, work, play–and we think, host a sporting event.
Let the dedicated professionals of the Greater Raleigh Sports Alliance (GRSA) prove why this area is an incredible sports event destination and one of the most supportive and sports-friendly markets in the nation. The GRSA team is happy to help you plan and prepare for your new event, as well as provide support and hosting services for existing events. Working with the GRSA staff, you can be certain you're getting the knowledge and expertise of some of the most respected sports marketing professionals in our business.