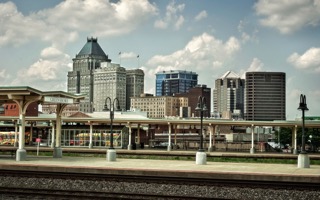 Compete in the Center of it All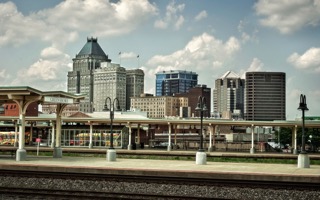 Greensboro offers exceptional athletic venues, affordable accommodations and recreational opportunities. These all make Greensboro a winning sports city.
The Greensboro Aquatics Center (GAC) is a 78,323 square-foot, state-of-the-art facility featuring leading edge concepts in aquatic design. The GAC brings together all major aquatic sports – competitive swimming, diving, water polo, synchronized swimming and other unique sports. Features include a competitive pool, diving well and warm-up pool.
The Greensboro Coliseum Complex offers 23,500 arena seats, over 150,000 sq. ft. of exhibit and meeting space and a 5,000 seat general setup for basketball, wrestling and other sporting events.
The Greensboro Sportsplex is a 106,000 sq. ft. multi-sports facility offering hockey, basketball, volleyball, badminton and soccer. Suspended hard wood floors on eight basketball and volleyball courts offer the premier playing surface for both sports
The Irwin Belk Track at N.C. A&T State University seats 23,000 and is noted for its Mondo surface and IAAF certification. The track features eight 48" running lanes, dual direction runways for long jump, triple jump, pole vault, multidirectional high jump and brushed concrete for shot and discus circles.
The Bryan Park Soccer Complex MacPherson Stadium seats 2,000 and features 20 beautiful Bermuda grass fields with great observation areas. Home field of the Carolina Dynamo, Macpherson Soccer Stadium is the crown jewel of the complex. The stadium has a European style roof, accommodates 3,000 and is complete with adjacent locker-room and concession.
The Carolyn S. Allen Athletic Complex is a 38-acre park that includes a state-of-the-art complex with four combination softball/baseball fields, surrounded by beautifully-landscaped concourse and a concession stand/press box and picnic shelters just outside of the park.
Proehlific Park is a multi-purpose venue that offers 3 lighted baseball/softball fields; 3 multi-purpose fields for soccer, lacrosse and football; 3 full size basketball courts; 3 volleyball courts; and a 70 yard by 45 yard turf field for. Its 65,000 square feet of indoor space can accommodate multiple activities.
The Spencer Love Tennis Center offers 12 lit outdoor, championship composition courts which meet USTA specifications.
The Greensboro Icehouse is a 36,000 square foot structure that features a standard 200 by 85-foot ice surface, a viewing mezzanine, four enclosed locker rooms with showers, a full-service snack bar and pro shop. Enjoy daily public skating sessions, figure skating and hockey lessons/clinics.
With over 9,500 hotel rooms in Greensboro and 16,000 in the immediate area, Greensboro is well suited to host sporting events of all sizes. A long time site of the Men's and Women's ACC basketball tournaments, Greensboro is accustomed to hosting events which require community support and assistance.
Contact Info:
Brian Ambuehl, Sports Sales Manager
Greensboro Area Convention & Visitors Bureau
1-800-344-2282