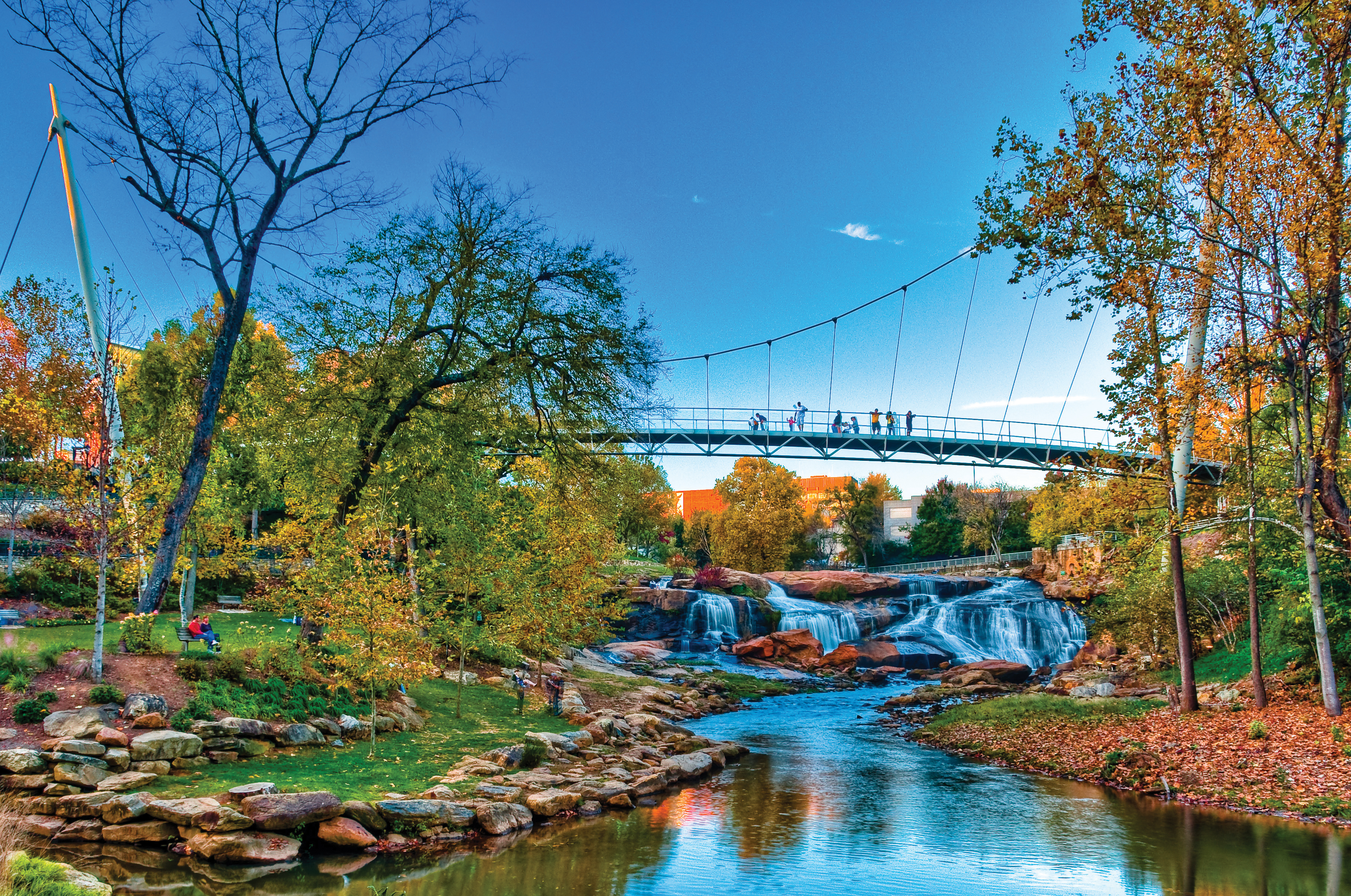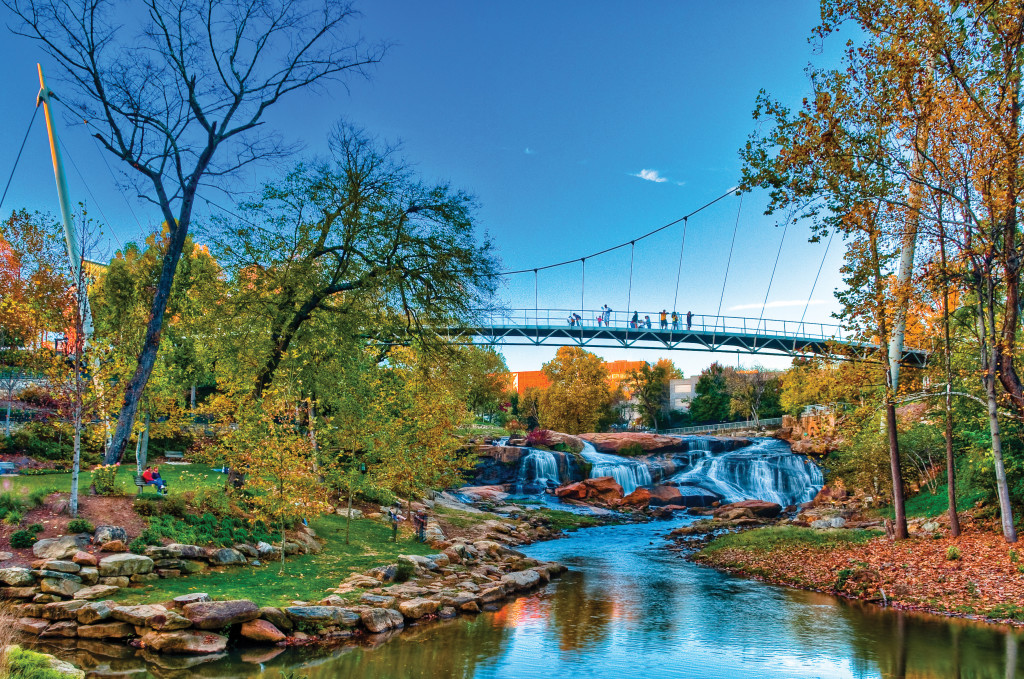 When it comes to sports destinations, Greenville's a home run.
"2nd Best Town Ever" – Outside Magazine
"Top 6 Hots Spots for Travel (in the World) 2015" – CBS This Morning
"Best Small City for Cycling" – Cycling Magazine
"Top 10 Best in the U.S. 2015" – Lonely Planet
Greenville hits all of our marks when we're looking for an event, a site to host our events. It has the accommodations we need, it has the facilities, and it has the night life.
Christian Smith, Director of Division II, National Club Baseball Association
The staff here is amazing. I can't even say there were problems they solved because they made sure we didn't have any problems.
Brody Burns, Director of Events, USA Karate
You know, I can't tell you how many people have told me, "Wow, I didn't realize Greenville had such a great downtown." We hear that comment all the time. It's also an important part of why our administrators wanted to bring the tournament here.
John Lamarino, Commissioner, Southern Conference
When it comes to hosting local, regional and national sporting events, everyone seems to think Greenville is bringing its "A" game! We've become one of the Southeast's hottest destinations for all things sports, o­ffering a friendly, 4-season climate that's ideal for athletes, spectators, families and friends alike. With a remarkable collection of restaurants, theatres, outdoor entertainment, shops and museums and hotels to meet every budget, Greenville, SC has earned a track record of success. That's why we're not just any Greenville – we're that Greenville!
Yeah, THAT Location!
Easy by Car
Convenient Southeast location
Centrally located between Atlanta and Charlotte on I-85, with effortless Interstate access
Easy travel throughout destination
Convenient by Air
49 daily, non-stop departures to 15 major U.S. cities and 18 airports across the US
Service by five major carriers
$100 million expansion underway at Greenville-Spartanburg International Airport (GSP)
Located 20 minutes from downtown
Yeah, THAT Destination!
More than 80 places to rest your head. From luxurious full-service to budget-friendly and everything in between.
Accommodation Highlights
More than 8,500 convenient hotel rooms
850+ new rooms to be added by 2017
Destination Highlights
Vibrant, safe, walkable downtown
Countless big city amenities and things-to-do activities
600 restaurants, 100+ unique to downtown
Museums, galleries, theatres, shopping, guided tours, spectator sports and more
Expansive outdoor recreation playground
Golf, whitewater rafting, parks, hiking, biking
21-mile GHS Swamp Rabbit Trail welcomes walkers, runners and cyclists
Sports/recreational facilities and natural amenities county-wide
Yeah, THAT Venue!
Indoors, outdoors, or no doors, we've got the sports venue you need!
Bon Secours Wellness Arena
15,000-seat sports and entertainment arena
Recognized as one of the top 50 venues in the world
Excellent for mat sports such as martial arts, wrestling, boxing, or cheerleading and dance groups – arena floor measures 113' x 229'
A short walk from downtown
TD Convention Center
280,000 sq. ft. of available exhibition/competition space
Ideal for mat sports and sporting events with a tradeshow component
Additional 60,000 sq. ft. of meeting space
One of the Southeast's largest convention and meeting facilities
Westside Aquatic Complex
Dynamic, state-of-the-art facility with space for 1,000 spectators
(8) 50-meter lanes or (20) 25-yard lanes
Paddock Chloramine Evacuator System removes chlorine odor
Swimming, water polo, kayaking, triathlons
MeSA Soccer Complex
Premier 62-acre athletic tournament complex
16 multi-purpose, lighted rectangular fields
Concessions, restrooms, playgrounds
Home of the Carolina Elite Soccer Academy (CESA), the largest youth soccer organization in the state
Fluor Field at the West End
A mini replica of Boston's Fenway Park featuring a 30-foot-high "Green Monster" and a manual scoreboard
The host field of the Greenville Drive (Class A affiliate of the Boston Red Sox)
Seats more than 5,000 fans and the farthest seat is only 13 rows away from the field
Capable of hosting regional, state, and national baseball games
Conestee Park
Premier baseball facility featuring five diamonds
2-story press box, 200-seat covered event pavilion, and 430 paved, on-site parking spaces
Pavilion Recreation Complex
Principal indoor and outdoor sports and recreation destination
Sixteen-acre campus with 66,000 square foot indoor complex open to the public year-round
Indoors: Ice and inline skating rinks, table tennis, badminton, conference and meeting rooms, and volleyball
Outdoors: Soccer fields, a children's train, tennis courts, athletic fields, SC's first Boundless Playground, and a dog park
Furman University
Timmons Arena basketball courts seat 5,000
Eugene Stone Soccer Stadium seats 3,500
Paladin Stadium (football) seats 16,000
Latham Baseball Stadium seats 2,000
Minor Herndon Mickel Tennis Center
Furman Golf Course
Yeah, THAT Championship!
When we say we've hosted some major championships, we mean it. Take a quick look at this list of recent events we've welcomed (or are welcoming) to Greenville, SC:
2018 & 2019 USA Triathlon Duathlon National Championships
2016 & 2017 Southern Conference Baseball Championships
2015 & 2016 USA Cycling Professional Team Time Trial National Championships
2015 B.A.S.S. Geico Bassmaster Classic
2015 USA Swimming Southern Zone Age Group Championships
2015 US Youth Soccer Association Southern Regionals Premier League
2015 National Softball Association Girls World Series Fast Pitch Tournament
2013 USA Karate National Championship & U.S. Team Trials
2013 Men's Collegiate Lacrosse Association (MCLA) National Championships
Greenville, SC has played host to many different activities and sports, but the most popular include:
Cycling
Baseball
Softball
Lacrosse
Mat Sports/Martial Arts
Soccer
Swimming
Ultimate
Learn more at VisitGreenvilleSC.com/meetings/sports/ or by calling Robin Wright, Senior Sales Manager for Sports, at 1-800-351-7180.