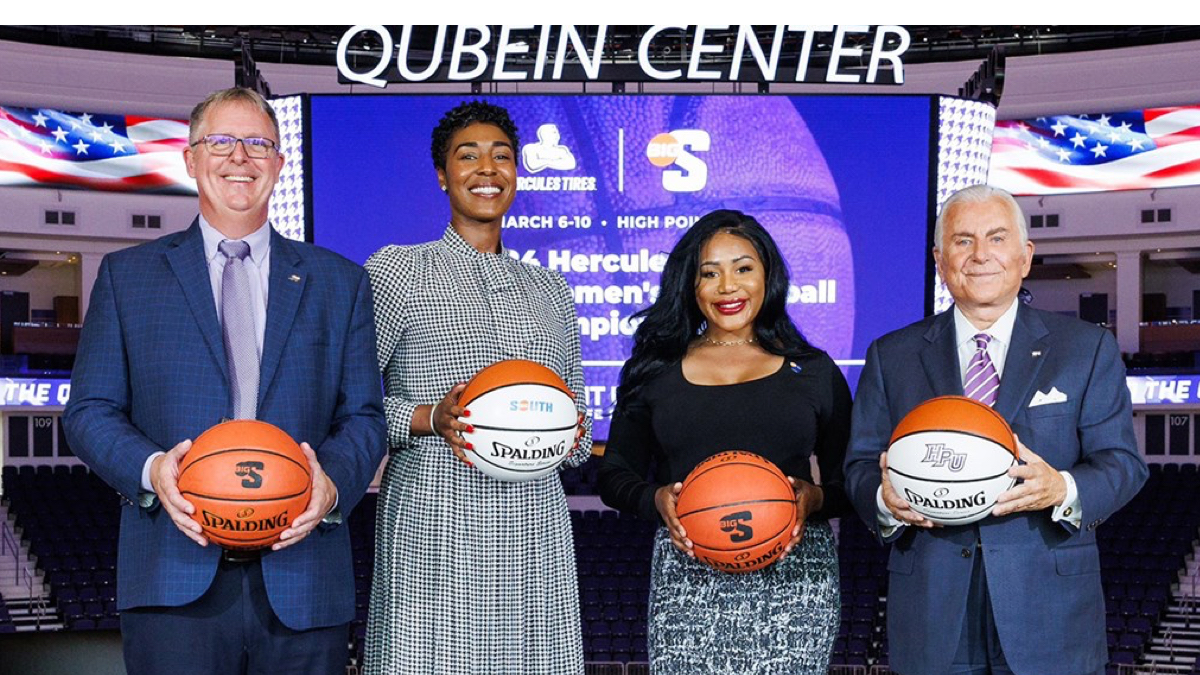 The Big South Conference will hold the 2024 Hercules Tires Big South Men's & Women's Basketball Championships at the Nido and Mariana Qubein Center at High Point University.
High Point will host the combined tournament for the first time, which will be March 6–10. It will be the the sixth time that all rounds of the Big South tournament will be held in the state of North Carolina, with the most recent being 2021–2022 in Charlotte.
"We are absolutely elated to partner with High Point University in hosting the 2024 Hercules Tires Men's and Women's Basketball Championships," said Big South Commissioner Sherika Montgomery. "I am confident our student-athletes, coaches, fans, administrators, and community partners will have a tremendous March Madness experience. We look forward to working with Dr. Nido Qubein, Dan Hauser and the High Point community in the coming months to create a supreme event and memorable experience for our student-athletes."
Opened in September 2021, the Qubein Center has a 5,000-seat capacity and is home to the second-largest videoboard in North Carolina.
"High Point University is proud and privileged to host the Hercules Tires Big South Men's and Women's Basketball Championships," said High Point President Dr. Nido Qubein.  We are investing generously in both financial and human capital to ensure a successful tournament environment. Hosting the Big South Championships is an enormous win for our city and the entire Piedmont Triad Region, with thousands visiting and staying multiple days in local hotels, shopping and dining."
HPU previously hosted the Big South women's tournament from 2009–2012 at the Millis Center. High Point also hosted various Big South men's and women's conference tournament games as part of the conference's home site/earned seed format utilized at times from 2003–2021.
"High Point University is thrilled to earn the opportunity to host the 2024 Hercules Tires Big South Basketball Championships," said HPU Vice President and Athletic Director Dan Hauser. "We look forward to welcoming Big South student-athletes, coaches and fans to the HPU campus and the High Point community. The Qubein Center will be rocking this March with exciting basketball action and we're ready to showcase an extraordinary event for the Big South Conference."