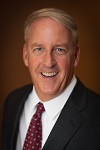 Sports-event industry veteran Hill Carrow has been inducted into the George Whitfield Baseball Clinic Hall of Fame. The 47th Hall of Fame Induction Ceremony was held at Wayne Community College in Goldsboro, North Carolina.
George Whitfield, a member of the North Carolina Sports Hall of Fame and an influential leader in high school, legion and college baseball in North Carolina, has taught thousands of young athletes the game at his annual baseball clinic.
Carrow, the CEO of Sports & Properties, Inc. and the Triangle Sports Commission, joins a list of other North Carolina sports leaders who have been inducted into the hall, including Steve Vacendak, Sylvia Hatchell and Phil Ford.
"I am deeply honored to be included among the highly distinguished members of the George Whitfield Baseball Clinic Hall of Fame," said Carrow. "I grew up in Kinston, where George is from originally so he has been a long-time sports hero to those of us from Eastern North Carolina. To be recognized by George is the ultimate tribute to me and the projects I have worked on in support of sports and economic development in our state, as well as the Olympic movement."
In 2017, Carrow was also inducted into the first class of the National Association of Sports Commissions Hall of Fame.