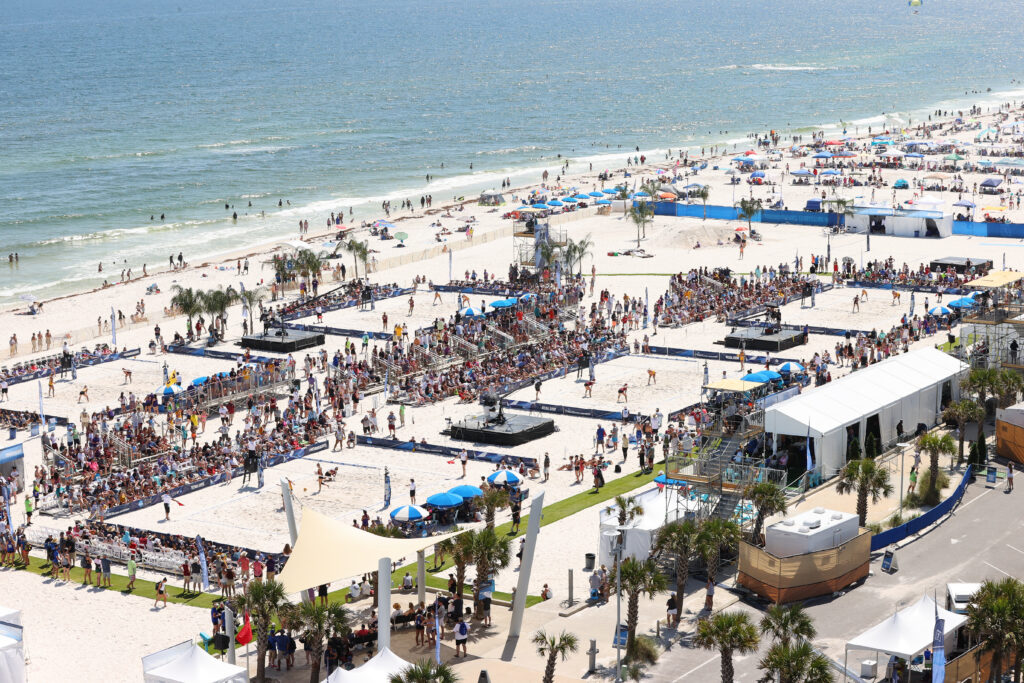 Alabama's location in the South is synonymous with religion – the religion of collegiate athletics. Celebrating state pride through college sports is a deep-seeded tradition that both unites and divides families but also lends itself to a "welcome wagon" for families, fans and student-athletes traveling to events in destinations across the Yellowhammer State.
College football tends to come to mind with powerhouse rival programs at the University of Alabama (Roll Tide!) and Auburn University (War Eagle!), but collegiate programs and events span the state from NASA hub Huntsville to the white-sand beaches along the Gulf Coast, sparking sports travel for families and fans from all over.
In the Huntsville area, creativity stands out among many collegiate events and having two NCAA schools in the region – Division I Alabama A&M and Division II University of Alabama at Huntsville. The Huntsville-Madison County Convention & Visitors Bureau spearheaded transforming Toyota Field from a minor league baseball stadium into a football field for the Jacksonville State vs. University of North Alabama game in 2022, bringing the first college football game to the city of Madison. The event generated more than $1 million in economic impact, drew 10,000 fans to the game and brought national attention from ESPN with a live ESPN+ broadcast.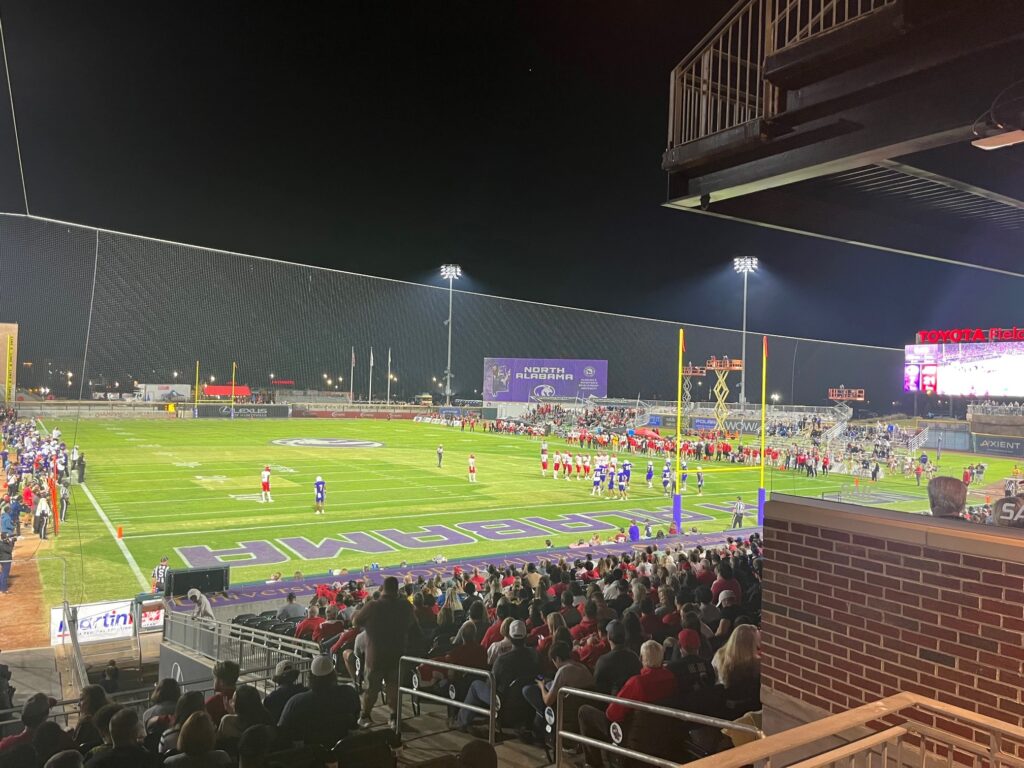 "College athletics are woven into the fabric of Alabama, so hosting these championship level events is part of our DNA," said Joel Lamp, sports convention sales manager for the tourism office. "These events provide Huntsville an elevated platform to tell our story, but also introduce our city to potential residents about the jobs and quality of life in our area. While everyone knows about Alabama and Auburn, we have so many other great college programs that are doing big things that combined make a massive economic impact on the state."
Home of world-renowned FAME Studios, Muscle Shoals, or "The Shoals" as the region is referred to, is steeped in music history but also sees major economic impact from sports travel. The Careco TV Boat U.S. Collegiate National Championship for bass fishing has taken place in Florence on Pickwick and Wilson Lake for the better part of the last decade, contributing greatly to the local economy.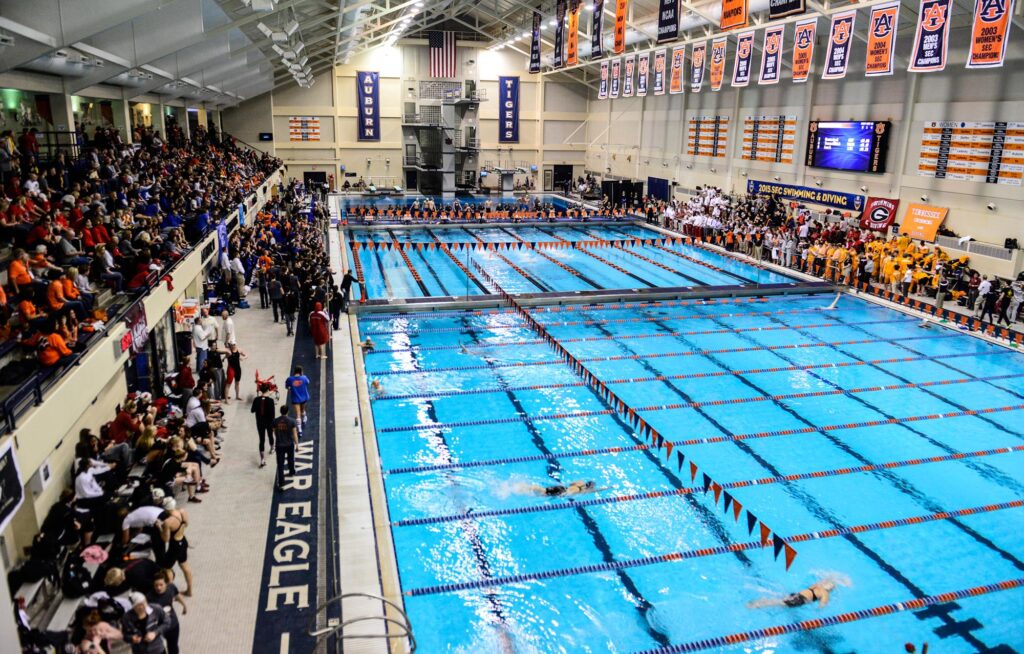 Meanwhile along The Plains, the "Auburn Family" welcomes droves of fans and sports travelers each year and has hosted many collegiate events from NCAA regional men's and women's golf championships, the NCAA Swimming & Diving Championships as well as a variety of SEC championships. With student-athletes like Olympic gold medalist Suni Lee and a variety of Olympic swimming medalists competing for the university as well as teams like six-time NCAA champion equestrian being consistently at the top of pack, Auburn's influence in bringing in sports tourism is key, but Auburn-Opelika Tourism's scope is vital.
"Part of hosting championship events is ensuring the experience extends beyond the competition, and that takes a collaborative effort with the community," said Auburn Athletics Director John Cohen. "Our friends at Auburn-Opelika Tourism as well as the city of Auburn, the city of Opelika and surrounding communities embrace our visiting teams when they compete on The Plains and provide a championship experience that is second-to-none."
Making your way down the state, Baldwin County, the 11th-fasting growing metro area in the country, relies on sports tourism, particularly outside of the peak summer season. Foley Sports Tourism hosts a variety of collegiate events and in 2021 secured a 10-year contract with the Sun Belt Conference having hosted its women's soccer, cross country men's and women's and volleyball championships.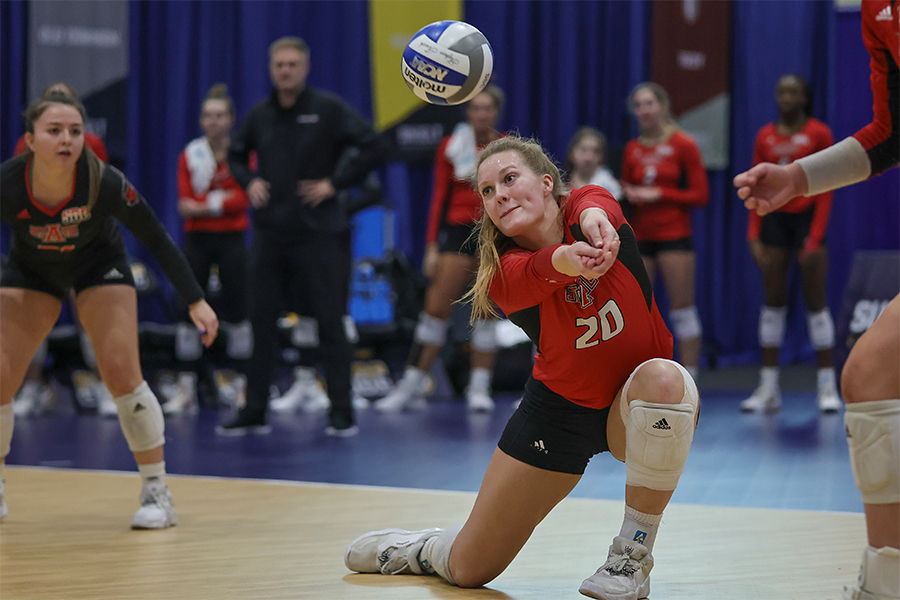 "The impact for our destination is not only vital from an economic standpoint, but yields a positive community environment as well," said Shellie Kichler, marketing and sales director for Foley Sports Tourism. "Hosting major championship events helps to grow interest, enthusiasm and encourages participation from our community and are key to successful development of youth athletes."
Gulf Shores and Orange Beach – Alabama's 32-mile white-sand beach destination – has been home to the NCAA Beach Volleyball Championship since its inception in 2016. Gulf Shores & Orange Beach Tourism/Gulf Shores | Orange Beach Sports & Events, the city of Gulf Shores and host institution University of Alabama at Birmingham have the championship through 2024.
"Gulf Shores | Orange Beach Sports & Events and the city of Gulf Shores have gone above and beyond when it comes to being the destination for the NCAA Beach Volleyball National Championship," said Ted Feeley, associate athletic director of communication and beach volleyball sport administrator at UAB. "They make this a special event for everyone involved and it is a bucket list item to see the sport of beach volleyball played at the highest level. The beautiful beaches, amazing food and first-class accommodations have made the NCAA championship a destination trip for the student-athletes, coaches and fans, and it is an event that continues to get better each and every year."
In 2022, sports tourism contributed 133,145 room nights and $93.82 million in economic impact in Gulf Shores and Orange Beach, and the NCAA championship is one of approximately 140 events the organization facilitates each year.
"Alabama is a vibrant state filled with diverse landscapes from the foothills of the Appalachian Mountains to the Gulf Coast," said Beth Gendler, president and chief executive officer of Gulf Shores & Orange Beach Tourism and GSOB Sports & Events. "We hope as sports travelers experience our beaches during athletic events, they will decide to explore other parts of the state for sports and leisure trips."
Alabama is shining as a collegiate sports draw, but the road trip doesn't stop there. Communities are growing through the state and the economic impact of sports tourism extends far beyond the initial visit. Student-athletes, families and fans come for sporting events but return for Southern hospitality and experience the "welcome wagon" again and again.
---
Born and raised in Montgomery, Alabama, Ally Mills Dorrough, APR, TMP, received her bachelor's in public relations at Auburn University in 2011. Dorrough joined Gulf Shores & Orange Beach Tourism in 2013 as its public relations coordinator and became the communications and marketing specialist in 2018. In 2023, she was promoted to communications and marketing manager for Gulf Shores & Orange Beach Tourism and Gulf Shores | Orange Beach Sports & Events. She is an elected member of the national PRSA Travel & Tourism Section Executive Committee (named the 2024 national chair), an active member of Alabama PRSA (previously served on the board of directors) and serves on the South Baldwin Chamber Foundation Board of Directors.