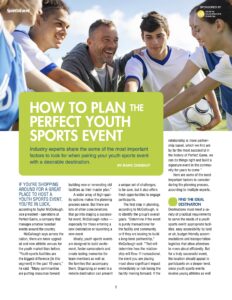 When looking to a plan a youth sporting event, there are a number of location factors to consider. For many families, away games also serve as the opportunity for a vacation. This is why it is important to ensure a sporting destination offers full-service sports facilities and services as well as a variety of family-friendly attractions. This desktop reference guide describes the top advantages a destination must have to ensure you score big planning your next youth sporting event — with the athletes and their families.
Among the topics covered in the guide:
Finding the Ideal Location
Engaging Local Support
Arranging Site Inspections
Vetting Accommodations
Considering Food & Beverage
Showcasing Other Activities
Fill out the form below to download this valuable resource, sponsored by Visit St. Pete/Clearwater.