Flash back 10 years.
USA BMX, the national governing body for the sport, was headquartered at its longtime home in Gilbert, Arizona. As the sport grew in popularity — one of the fastest-growing sports in the past decade, according to the Sports and Fitness Industry Association — so did the needs of the organization. More tracks meant more events, which meant more staff, which meant more space needed for an office where closets were being converted to office space to keep up with demand.
"As we grew," said John David, the chief strategy officer of USA BMX, "we basically outgrew the complex here."
Leaders of the organization issued a nationwide RFP to find a new home as they also tried to find a way to stay in Gilbert, a city southeast of Phoenix and an area where the sport has some of its deepest roots. But multiple drafts of an agreement to stay in their hometown failed to reach a conclusion for a variety of reasons that caused the NGB to rethink its plans.
As the process played out, the host city of the organization's largest annual event kept planting a seed: Why not just move here?
That city was Tulsa, Oklahoma, which has hosted the USA BMX Grand Nationals over Thanksgiving weekend for the past 24 years, an event that last year saw it largest edition — nearly 3,800 participants. One of the people most persistently raising the question was Ray Hoyt, who served as the president of Tulsa Regional Tourism since 2010 before recently leaving the organization. Seeing USA BMX look elsewhere for its headquarters was tough to watch. "It was kind of like those guys talking about dating somebody else," Hoyt said. "My question was why not Tulsa?"
David said Tulsa leaders remained persistent and focused on that question to the point where the NGB had to listen. "We really looked at it and said, you know what, why would this not be the perfect home for us? Why would this not be a perfect location to become the global capital of BMX racing?"
Flash forward to February 15, 2022.
In front of more than 500 people, the new USA BMX complex was officially opened, complete with a new headquarters building for a staff that has grown to 40, a permanent Hall of Fame with artifacts devoted to the sport and a spacious new arena capable of hosting the highest-caliber international events on an Olympic-sized, 8-meter starting hill with the latest technology embedded in its construction. What happened over a decade to reach that point is a story of one destination's perseverance, the importance of long-term relationships, the need for advocacy and the ability to turn one successful event into an even larger success in the community. It's also a case study in sports tourism about the importance for rights holders and destinations to communicate and understand what each one is looking to achieve.
"To me, the story line and the lesson in sports tourism is community buy-in," David said. "Before Ray came to Tulsa, we were looking elsewhere because we didn't feel that community buy-in. And we've watched the bureau and this town become transformed. They bought into the mission of tourism and sports tourism."
Taxpayers Light a Spark
While that transformation was one thing, getting funding approved for what started as a $15 million project was another. Fortunately, a proposal called Vision Tulsa — a six-tenths of a penny sales tax — won voter approval in part because of the chance to attract USA BMX as part of a package of civic improvements.
Once the money was lined up, finding suitable space proved to be the next challenge. The original proposal called for land to be used at Expo Square, home of the Tulsa State Fair and the annual USA BMX Grand Nationals. But problems immediately surfaced over sponsorship commitments in place on the site that conflicted with partners the NGB already had secured.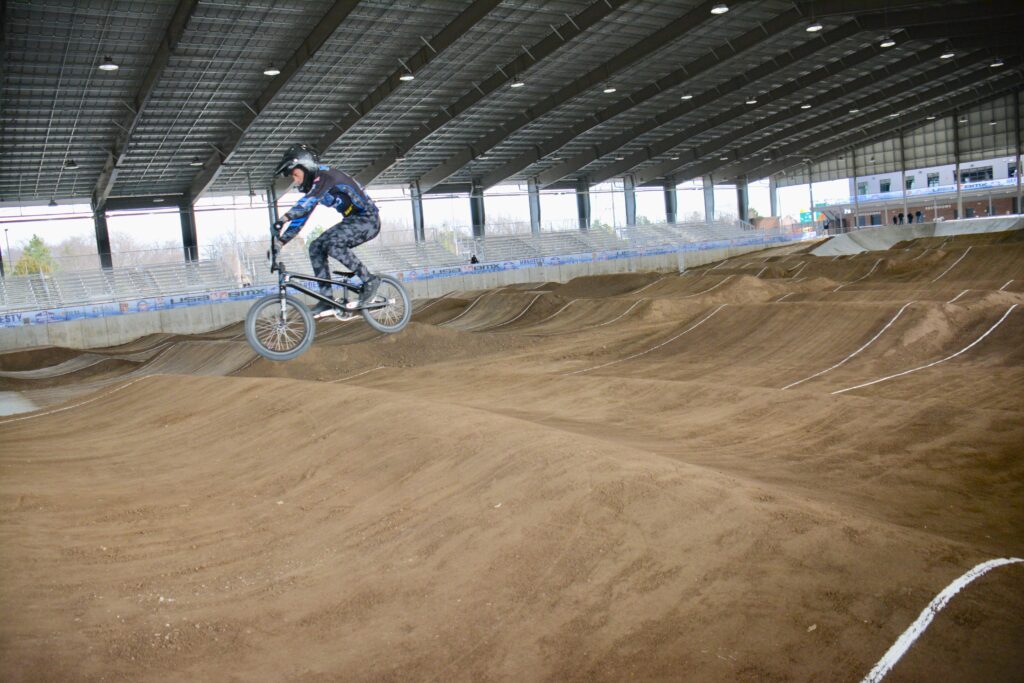 After considering multiple site proposals, Tulsa came to USA BMX with an intriguing option — a former steel manufacturing plant in the city's Greenwood District. That area of Tulsa was looking to emerge from the long shadow of a 1921 race massacre when Black residents were attacked and killed, and businesses in the area known as Black Wall Street were destroyed. It's an event the city is still coming to terms with decades later. The chance to bring a new catalyst for economic development to the area proved the perfect fit.
As time went on, though, so did the project's cost. To build the venue right and meet international competition standards for a sport that joined the Olympic program in 2008, the project's cost had risen to $23 million. To help fill some of that gap, city leaders approached the Hardesty Family Foundation, a local charitable foundation funded by a prominent Tulsa family.
But even that approval wasn't a guarantee.
"This isn't an art museum — this isn't something that everyone understands," David said. "Everyone knows it's a BMX arena and complex but Ray had these people understanding the value of sports tourism transformation, and seeing that vision and believing in it enough to where they came in and made an enormous donation to a sport that they didn't even know existed before."
Complete Community Buy-In
By that point, the Tulsa community was all in on the potential to bring the governing body of an Olympic sport to their destination. For the community, the BMX project is a long-term play and one that is seen as a potential spark for tourism.
Matt Pinnell, the lieutenant governor of Oklahoma, knows this well. In June 2020, USA BMX became the first sports organization in the country to bring back large-scale competitive events with a race in Mayes County, Oklahoma. Pinnell was on hand for the race launch and he was there in Tulsa on February 15 for the ribbon-cutting of the new headquarters. To him, the site is as much a tourism and economic development project as it is a sports attraction.
Tourism generates $720 million in state and local taxes for Oklahoma, making it the third-largest industry in the state. "My goal is to make it a $1 billion state when it comes to our tourism industry, which would make it first or second," he said. "That doesn't happen without having world headquarters like this in the state of Oklahoma. The other big reason this is such a big deal is it certainly is going to create a different narrative about the state of Oklahoma."
Tourism, he said, is economic development. "I mention it everywhere I go," Pinnell said. "The tens of thousands, hundreds of thousands of people that will come to this facility that have never been to Oklahoma before or to Tulsa before will have that magic moment where they say I can't believe Tulsa is this amazing."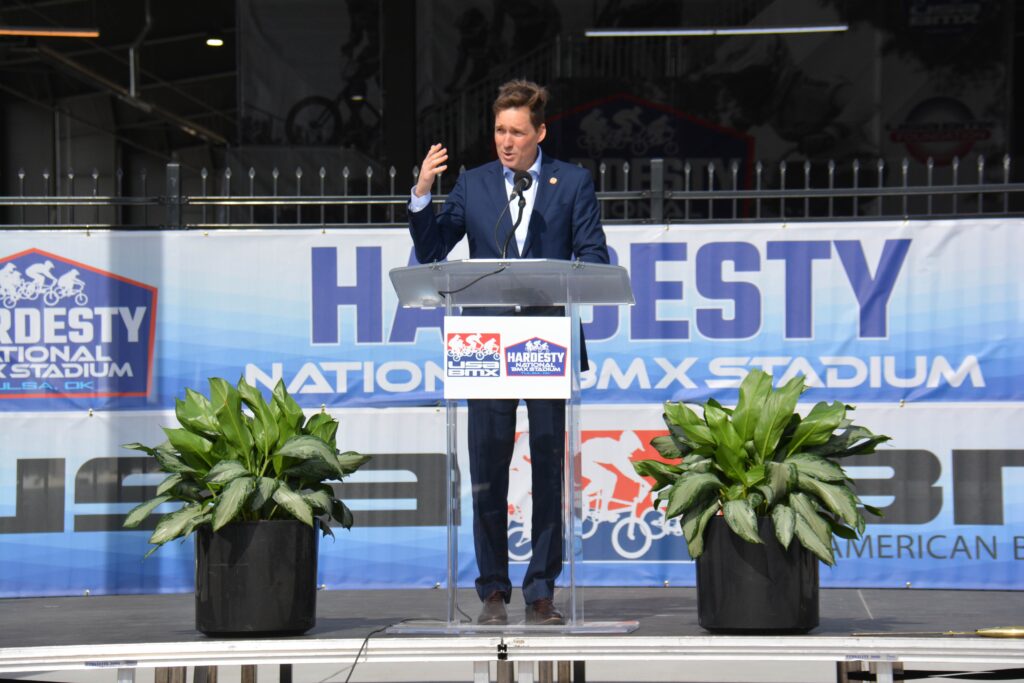 Locally, the NGB is already planning to immerse itself in the community by offering programs for local school districts. The governing body has had significant success in other communities by offering STEM programs focused on bike-building and the science behind the sport.
There is also the hope that future BMX stars may emerge from Tulsa simply by having access to the site. "This may be the best facility that's out there in the United States, custom-made to host major events," David said. "But at the same time, one of our biggest missions is that it is the place we want children to come in from the city of Tulsa to come learn how to ride a bike one day up there. You're trying to make this a facility that's the ultimate training facility for international teams for Team USA, but at the same time, really work within the fabric of the community."
And with the location of the headquarters in a portion of the city that has been underserved, the opportunities are significant.
"My team at the mayor's office brought this site forward to the team at USA BMX and they immediately got how transformative this project could mean to the Greenwood community — how it could mean so much more for Tulsa to be part of this sport but for a community that is looking to heal and revitalize," said Tulsa Mayor G.T. Bynum. "Where we are is sacred ground."
Sports Tourism Component
There is also a case to be made that the headquarters will help Tulsa attract future sports events even outside of BMX. The site is already tops on the list for other event organizers who come to the city for site visits and want to see what's been built, said Joel Koester, director of sports sales for the Tulsa Sports Commission, who has been sending selfies to USA BMX's David whenever those visits occur and who has a BMX photo on his business card.
Hoyt said the mere presence of the complex will attract visitors year-round but also make the destination more attractive to other event organizers. "If somebody did call and say, 'Hey, we're interested,' I think the discussion would be much simpler," he said. "And it wouldn't be this hill to climb like we had seven years ago."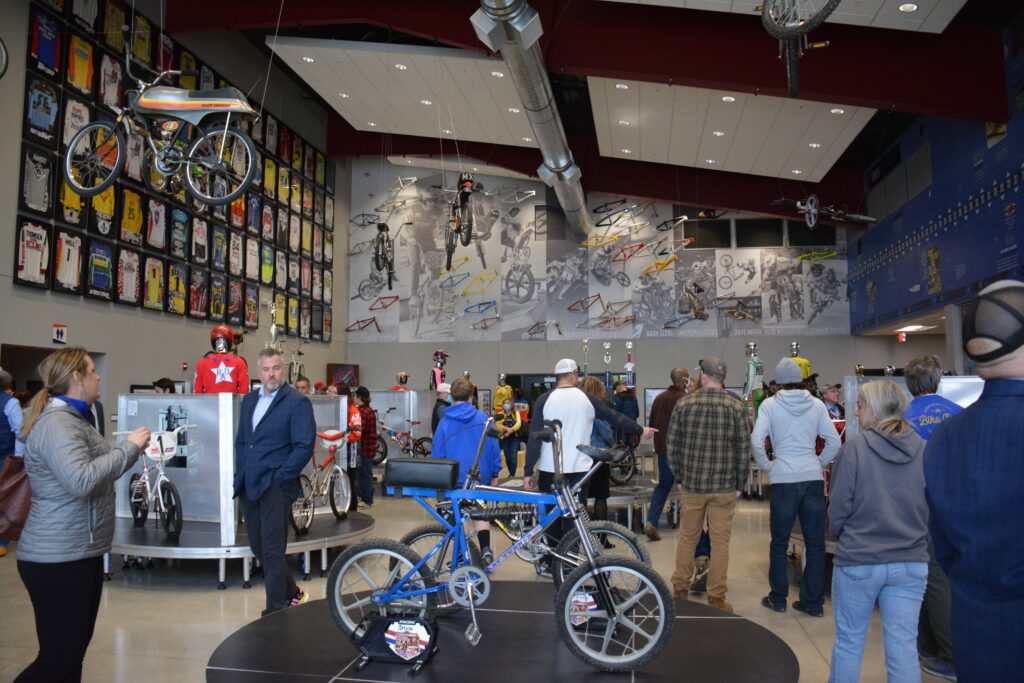 Even for USA BMX, the site is now something the organization is looking to replicate in other communities. As part of the effort that has come out of building the arena, the NGB has formed ABA Ethos, which will serve as a design firm that will aim to build similar venues in other destinations. The effort is being led by USA BMX Board President and Chairman Shane Fernandez, an architect who moved his family from California to Tulsa as the headquarters project got underway in earnest.
But before that happens, David said Tulsa has a compelling story to tell other event organizers just based on the development of the BMX complex. "The sports commission now has the ability to say these guys have been our partners for 24 years. Let us show you how committed we are to sports. We built them the most technologically advanced training center in the world for their sport — that's our commitment to sports. We'll do the same for you."
The Importance of Advocacy
Hoyt and other city leaders see some key takeaways from Tulsa's ultimate success in cutting the ribbon on the complex that will house many of USA BMX's employees and is home to what is now called Hardesty National BMX Stadium after the donation from the family foundation.
One of the lessons is the importance of advocacy. While many destination leaders try to stay out of politics, Hoyt's advice is to make sure you know who the people are who pull the strings, whatever you think of the politics. After all, the initial money for the USA BMX project came from convincing politicians to put an issue on the ballot that ultimately had to be sold to the public.
"Advocacy in the community and with the community leaders and the political leaders was important, clearly," he said. "And I would tell everybody, if you're not on a first-name basis with your mayor or your elected officials, whether it be local, state or federal, you should be. They can help get a lot done."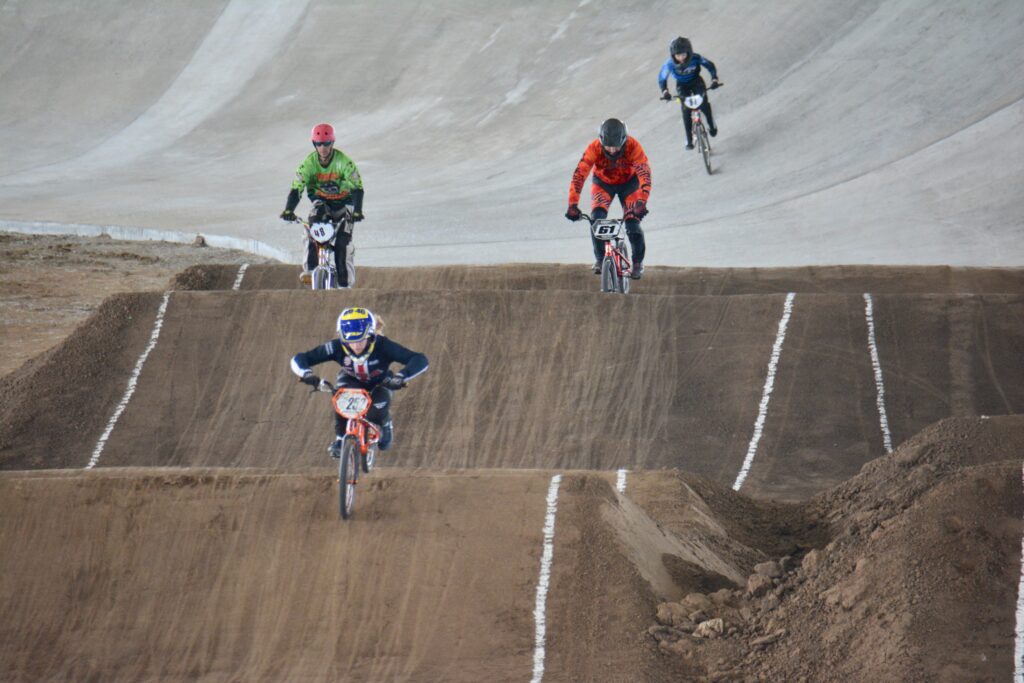 Hoyt points to his own relationship with Pinnella, the lieutenant governor, as an example. "He and I, we talk on mobile phones probably once a week or text each other about tourism or sports ideas. And if you don't have those relationships, you should be working on them."
David said that relationship even paid off for the NGB when it relaunched its 2020 series with Pinnella's assistance. "In the midst of the pandemic, his presence at that event was one of the biggest catalysts and the reason why we were able to go to other communities," he said.
'Find Out Where to Go'
B.A. Anderson knows the significance of the sport's new home as well as anybody. His father, Bernie, is considered one of the legends of the sport, purchasing the American Bicycle Association (which later merged with another group to form USA BMX) in 1985 after running tracks on his own. B.A. has been with the organization nearly 30 years, including as CEO since 1994.
At the grand opening, with his father in attendance, the younger Anderson told of his own start in the sport.
"When I was 6 years old, I saw a TV show called 'Kids' Timeout,'" he recalled. "There were kids on bikes imitating motorcycles," which he later learned was BMX. "At 6 years old I told my dad I wanted to race BMX. So, he handed me the Yellow Pages and said, 'Find out where to go.'"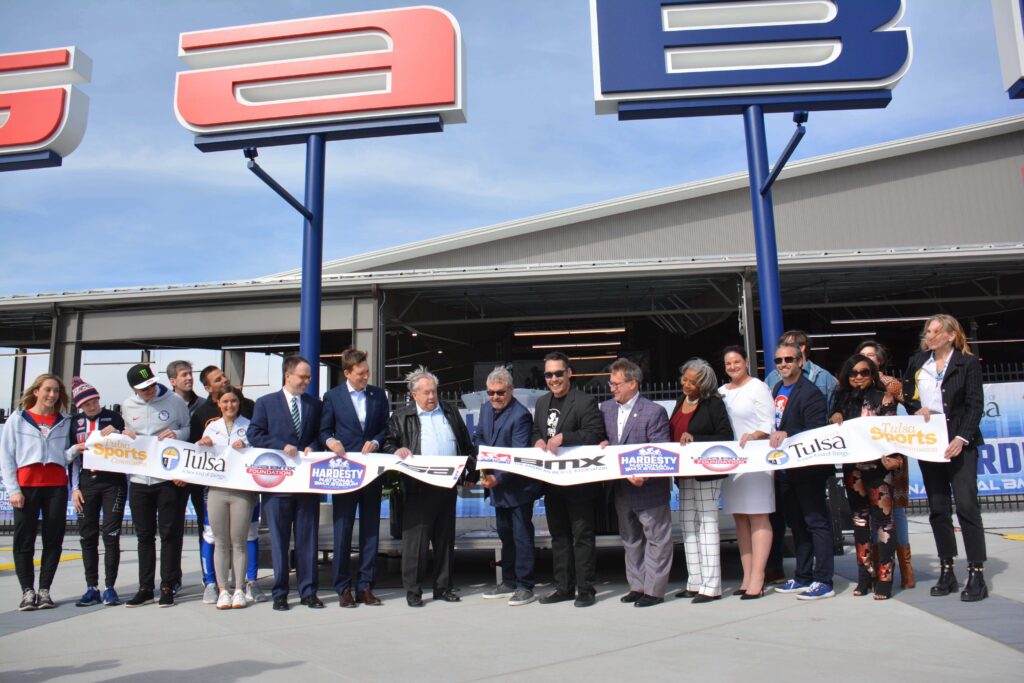 He ultimately discovered that the local Schwinn bicycle shop hosted an event on the first Saturday of October. But when he discovered this, it was November.
"We waited a whole year for our first BMX race," he said, pausing as he spoke in front of the crowd at the new headquarters. "That is something kids in Tulsa do not have to worry about."
Children in Tulsa will indeed be in a more fortunate situation if they are interested in getting involved in the sport. And for that, they can thank a concerted effort that began with city leaders turning one annual event into a much more significant commitment through persistence, advocacy and communication.
"I think the cool thing about this is nobody ever gave up on it," Hoyt said. "And it became a reality."