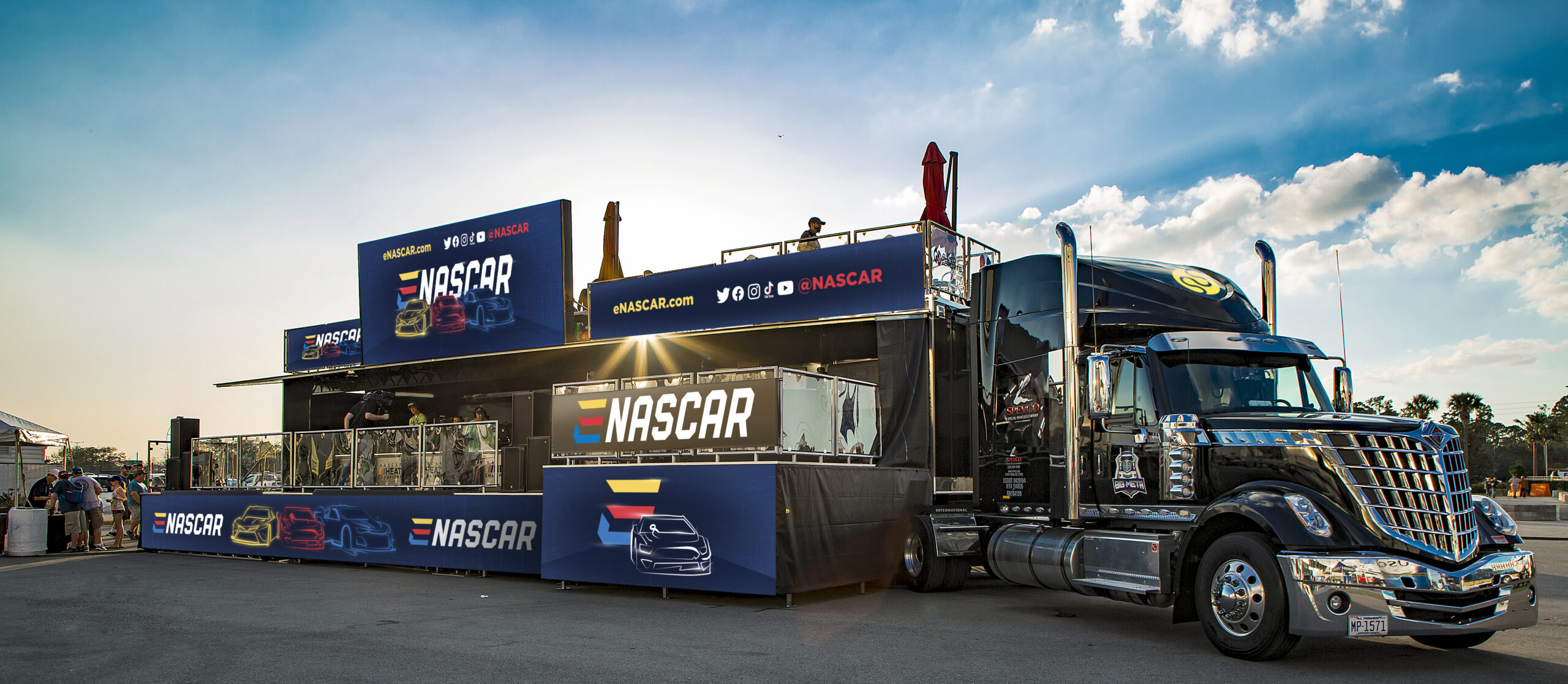 Allied Esports and NASCAR will once again bring the eNASCAR Arcade on the Allied Esports Truck to 17 race weekends across the 2022 NASCAR Cup Series schedule, starting at the Daytona 500 on February 19–20.
In the second half of the 2021 Cup Series schedule, the truck visited seven races with eNASCAR Arcade activations offering attendees the chance to race virtually at some of NASCAR's most iconic tracks via iRacing simulators on the truck's main stage. Select eNASCAR Arcade stops in 2022 will also include driver appearances, live radio and TV opportunities featuring NASCAR talent, prizes and giveaways.
"Last year's eNASCAR Arcade events were wildly popular, adding a new, exciting fan experience to what are already action-packed race weekends," said Jud Hannigan, CEO of Allied Esports. "The Allied Esports Truck continues to be a fan-favorite when it rolls into town, and we're thrilled to partner with NASCAR to provide even more race fans around the country the opportunity to take center stage and show off their driving skills."
The Allied Esports Truck is an 18-wheel gaming truck that made its sporting event debut at the 2018 Daytona 500. Since then, it has seen activation at other traditional sports and esports events including Super Bowl LIII, CES, DreamHack, WonderCon, KAABOO, E3, VidCon, Posty Fest and the Goodyear Cotton Bowl Classic.
"Gaming is an important part of who we are at NASCAR," said Nick Rend, managing director of gaming and esports. "The eNASCAR Arcade gives race fans a new way to interact with the sport and builds on the excitement that each race weekend brings to tracks across the country."
The eNASCAR Arcade will make appearances at the following 2022 NASCAR Cup Series racetracks:
February 19-20 – Daytona International Speedway in Daytona Beach, Florida
February 26-27 – Auto Club Speedway in Fontana, California
March 12-13 – Phoenix Raceway in Avondale, Arizona
March 26-27 – Circuit of the Americas in Austin, Texas
April 8-9 – Martinsville Speedway in Martinsville, Virginia
April 23-24 – Talladega Superspeedway in Talladega, Alabama
May 7-8 – Darlington Raceway in Darlington, South Carolina
May 14-15 – Kansas Speedway in Kansas City, Kansas
August 6-7 – Michigan International Speedway in Brooklyn, Michigan
August 13-14 – Richmond Raceway in Richmond, Virginia
August 20-21 – Watkins Glen International in Watkins Glen, New York
August 26-27 – Daytona International Speedway in Daytona Beach, Florida
September 3-4 – Darlington Raceway in Darlington, South Carolina
October 1-2 – Talladega Superspeedway in Talladega, Alabama
October 22-23 – Homestead-Miami Speedway in Homestead, Florida
October 29-30 – Martinsville Speedway in Martinsville, Virginia
November 5-6 – NASCAR Phoenix Raceway in Phoenix, Arizona