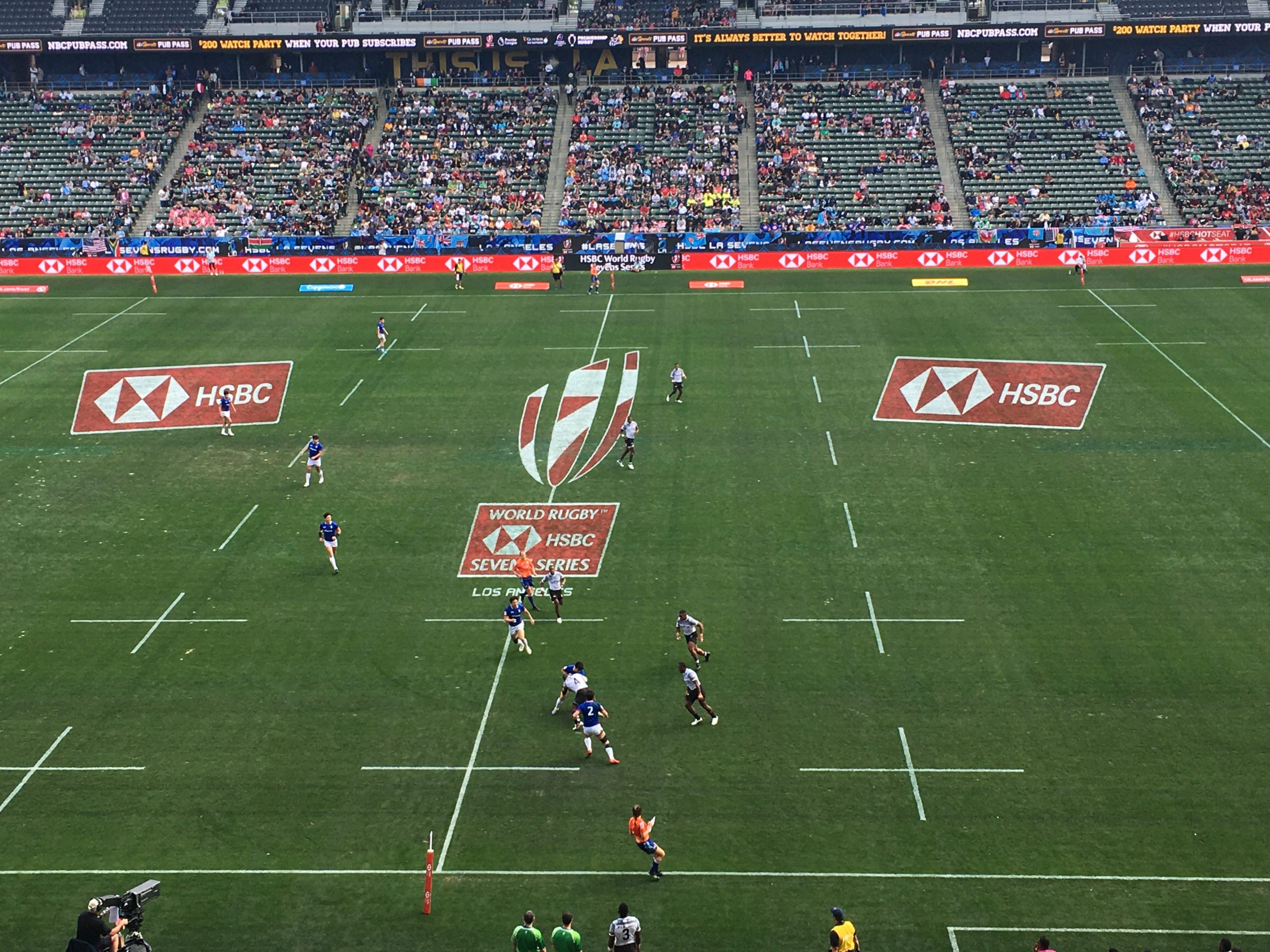 The HSBC World Rugby Sevens Series will return with men's action on March 5–6 at Dignity Health Sports Park in Carson, California, as part of the 2022 calendar released this week.
Dignity Health Sports Park hosted the HSBC World Sevens for the first time in February 2020 and in 2021 hosted a "Quest for Gold Sevens" international event with five men's teams and four women's teams with no fans in attendance.
The 2022 Series will feature 10 men's and seven women's rounds over six months, kicking off with a pair of combined men's and women's events in Dubai in November behind closed doors before an event December 3–4 at which fans will be allowed. The Series will then return to Europe as Spain plays host for the first time with combined men's and women's events in Malaga and Seville in January that temporarily replace traditional Series hosts Sydney, Australia, and Hamilton, New Zealand, who were unable to host in 2022 due to the logistical challenges associated with the COVID-19 pandemic in their region.
The men's series will also be in Vancouver on February 26–27 before heading to Los Angeles. A women's standalone event will take place in Langford, Canada, from April 30–May 1.
The 2022 schedule announcement follows the sport's second Olympic Summer Games appearance in Tokyo where Fiji's men and New Zealand's women topped the podium. The Games were followed by back-to-back HSBC Canada Sevens events in Vancouver and Edmonton in September which saw South Africa win the HSBC World Rugby Sevens Series 2021 title, while Great Britain were victorious in the women's Fast Four events.
"Alongside popular and traditional rugby sevens venues it will be exciting to take the Series to new venues in Spain and France as the game continues to expand and captivate new audiences around the world with its fast, skillful and thrilling format," World Rugby Chief Executive Alan Gilpin said. "Rugby sevens is a key driver of global growth for our sport, particularly in emerging nations, and it firmly remains a top priority for our organization."
There are changes with the competing teams. Japan join the men's Series as a core team. The 16 men's core teams after the Dubai events are Argentina, Australia, Canada, England, Fiji, France, Ireland, Japan, Kenya, New Zealand, Samoa, Scotland, South Africa, Spain, USA and Wales. The 11 core women's teams after the Dubai events are Australia, Brazil, Canada, England, Fiji, France, Ireland, New Zealand, Russia, Spain and USA.