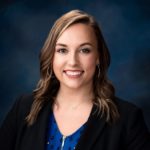 Hunter Hogan has been named sports coordinator for Visit Wichita (Kansas), joining Executive Director of Sports Development Brian Hargrove and Sports Sales Manager Josh Howell on the bureau's sports sales team.
"It is a thrilling time in Wichita for sports, and it's exciting to see this team capitalize on the momentum by putting Wichita in a position to host more sporting events," said Hargrove. "In 2019, Wichita will host major sporting events such as the NIRSA Championship Series, the United States Bowling Congress' Women's Championships, The Basketball Tournament's regional rounds and regional qualifying rounds of the Pro Football Hall of Fame World Youth Championships. Those four events combined are estimated to generate millions of dollars in local economic impact."
Hogan will assist Hargrove and Howell in efforts to bring sporting events to Wichita and maintain relationships with key industry stakeholders. She graduated from the University of Louisiana-Monroe in 2018 with a degree in communications with a concentration in public relations. She played Division I softball and has three years of previous experience with an event company.
"Being a Wichita native, I have grown up watching this city grow and change," said Hogan. "This role at Visit Wichita is an opportunity to make a professional impact in the city I call home, particularly in the sporting industry. It's exciting to be a part of Wichita's future, and I'm looking forward to seeing my hometown prosper."