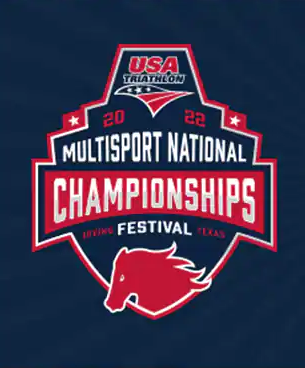 USA Triathlon has announced that Irving, Texas, will host the inaugural 2022 USA Triathlon Multisport National Championships Festival, scheduled for April 28–May 1, 2022, and encompassing six of USA Triathlon's National Championship events during the four-day event.
"This brand-new Multisport National Championships Festival has been a long time in the making and we are thrilled to head to Irving, Texas, a terrific host city with a long history of supporting triathlons, for the debut edition," said Rocky Harris, USA Triathlon chief executive officer. "We've long wanted to bring together several of our multisport national championship events as one, multi-day event where triathletes, duathletes and aquabike and aquathlon athletes can all come together to race at a fabulous venue. For the age group athlete looking to compete in multiple disciplines and qualify for Team USA, no longer will they have to travel to multiple events throughout the year – they can come to Multisport National Championships Festival and race several events over race weekend. These four days in Irving are really going to be a celebration of multisport racing."
The event will include the following National Championship events:
Draft-legal Triathlon National Championships
Duathlon (run-bike-run) National Championships (standard and draft-legal sprint distances)
Aquathlon (swim-run) National Championships
Aquabike (swim-bike) National Championships (standard distance)
Super Sprint Triathlon Time Trial National Championships
Age Group Mixed Relay National Championships
In addition to racing for age group national championships, athletes will have the opportunity to qualify to represent age group Team USA at 2023 World Triathlon Age Group World Championships. All races will be held at Levy Event Plaza. Athletes will swim in Lake Carolyn and the bike and run courses will take athletes on hills through the main thoroughfares of Irving, a 10-minute drive from Dallas/Fort Worth International Airport.
"We are excited to welcome the USA Triathlon Multisport National Championships Festival home to Irving for 2022," said Irving Mayor Rick Stopfer. "Our long and strong history with triathlons, and our award-winning reputation for hospitality will assure your competitors, their families and fans and your sponsors are in for a spectacular event, hosted in one of the most diverse communities in the country. We look forward to welcoming the world home to Irving."