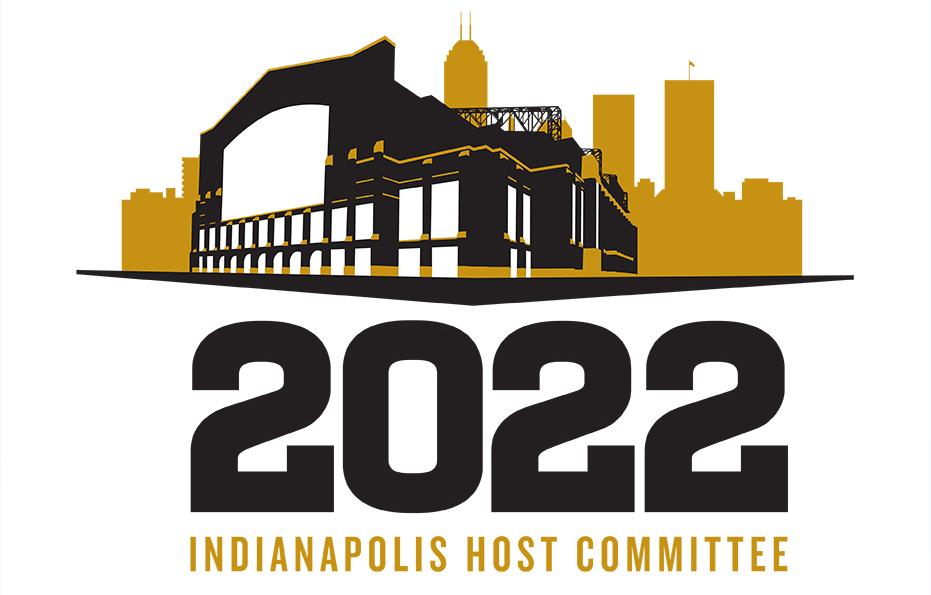 Indianapolis is two years out from hosting the College Football Playoff national championship game, but organizers in the city are preparing for the event, announcing a slate of officers and board members for the host committee and unveiling a logo for the committee itself.
The 2022 event will mark the first time the game is played in a cold-weather city and the first time a city without a bowl game will host the title event.
Select members of the host committee's board and staff plan travel to New Orleans—site of the 2020 matchup between LSU and Clemson—to research and observe fan activation areas, convention center and stadium set-up, media day festivities and details surrounding the CFP Foundation's legacy project, which includes an entertaining and educational summit for teachers, a 5k run/walk, and a culinary fundraiser. The committee also intends to observe operations while attending the game at Mercedes-Benz Superdome.
"We appreciate the opportunity for the representatives on the host committee who are directly responsible for executing this event to observe, participate and learn, well in advance of hosting the event in Indy," said Mark Howell, chair of the board. "We have a long history of successful execution of such events because we are continuously learning. We will gather information in New Orleans, which will better inform our decisions, and allow us to respond to the growth of the CFP in the best possible way."
The 2021 game will be staged at Hard Rock Stadium in Miami.
The logo for the 2022 event includes images of the Indianapolis skyline and Lucas Oil Stadium, which will host the game. The host committee staff and volunteers include many civic and sports leaders in the city, including Susan Baughman, the former senior vice president of events and strategy of the Indiana Sports Corp, who will serve as the organizing committee's president.
"Our CFP board features individuals who have demonstrated great leadership, a passion for the city and a proven commitment to serve our community," Howell said. "We are very fortunate to attract such board members with high energy, diversity and a results-oriented mindset."
The Indy College Football Playoff Executive Committee and Board of Directors includes:
Executive Committee (*Officers)
Susan Baughman, President – 2022 Indy College Football Playoff, Inc. (President)*
Mary Boelke, Indianapolis Managing Partner – Deloitte
Bill Brooks, Bill Brooks Consulting
Michael Browning, Principal and Chairman of the Board Emeritus – Browning Investments (At-Large)*
Murray Clark, Partner – Faegre Baker Daniels
Andy Conner, Executive Director – J.P. Morgan Private Bank
John Federici, Audit Partner – Ernst & Young LLP (Treasurer)*
Claire Fiddian-Green, President and CEO – Richard M. Fairbanks Foundation, Inc.
Jeffrey A. Harrison, President and CEO – Citizens Energy Group (Vice Chair)*
Mark Howell, President and CEO – Conexus of Indiana (Chair)*
Scott Kraege, Partner – Forty5 LLC
Joe Loftus, Partner – Barnes & Thornburg (Secretary)*
Carolene Mays-Medley, Executive Director – White River State Park Development Commission
Becca Polak, CEO – BP Consulting
Board of Directors
Mike Bobinski, Vice President and Director of Intercollegiate Athletics – Purdue University
Barry Collier, Vice President and Director of Athletics – Butler University
Joni Comstock, Senior Vice President of Championships & Alliances – NCAA
Thomas Cook, Chief of Staff – Office of the Mayor, City of Indianapolis
David Corbitt, Partner – Krieg DeVault, LLP
Bobby Cox, Commissioner – Indiana High School Athletic Association
Dennis Dye, Executive Vice President – Shiel Sexton
Fred Glass, Vice President and Director of Athletics – Indiana University
Scott Hallenback, CEO and Executive Director – USA Football
Leonard Hoops, President and CEO – Visit Indy
Cris Johnston, Director, Office of Management and Budget – State of Indiana, Office of Governor Holcomb
David P. Lewis, Managing Director – PwC WNTS Tax Policy Services (Washington, DC) and President – Indy Championships Fund
Danny Lopez, Chief of Staff and Senior Vice President – Strada Education Network
Teresa Lubbers, Commissioner – Indiana Commission for Higher Education
Tony Mason, President and CEO – Indianapolis Urban League
Allison Melangton, Senior Vice President of Events – Penske Entertainment
Gregory Porter, Senior Vice President External Affairs – Health & Hospital Corporation of Marion County and State Representative – State of Indiana
Sherry Seiwert, President – Downtown Indy, Inc.
Ron Stiver, President, System Clinical Services – IU Health
Stephen Starks, Vice President, Promoter & Media Partner Relations – IndyCar
Marsha Stone, Senior Director of Commercial Enterprise – Indianapolis Airport Authority
Ryan Vaughn, President – Indiana Sports Corp
Pete Ward, Chief Operating Officer – Indianapolis Colts