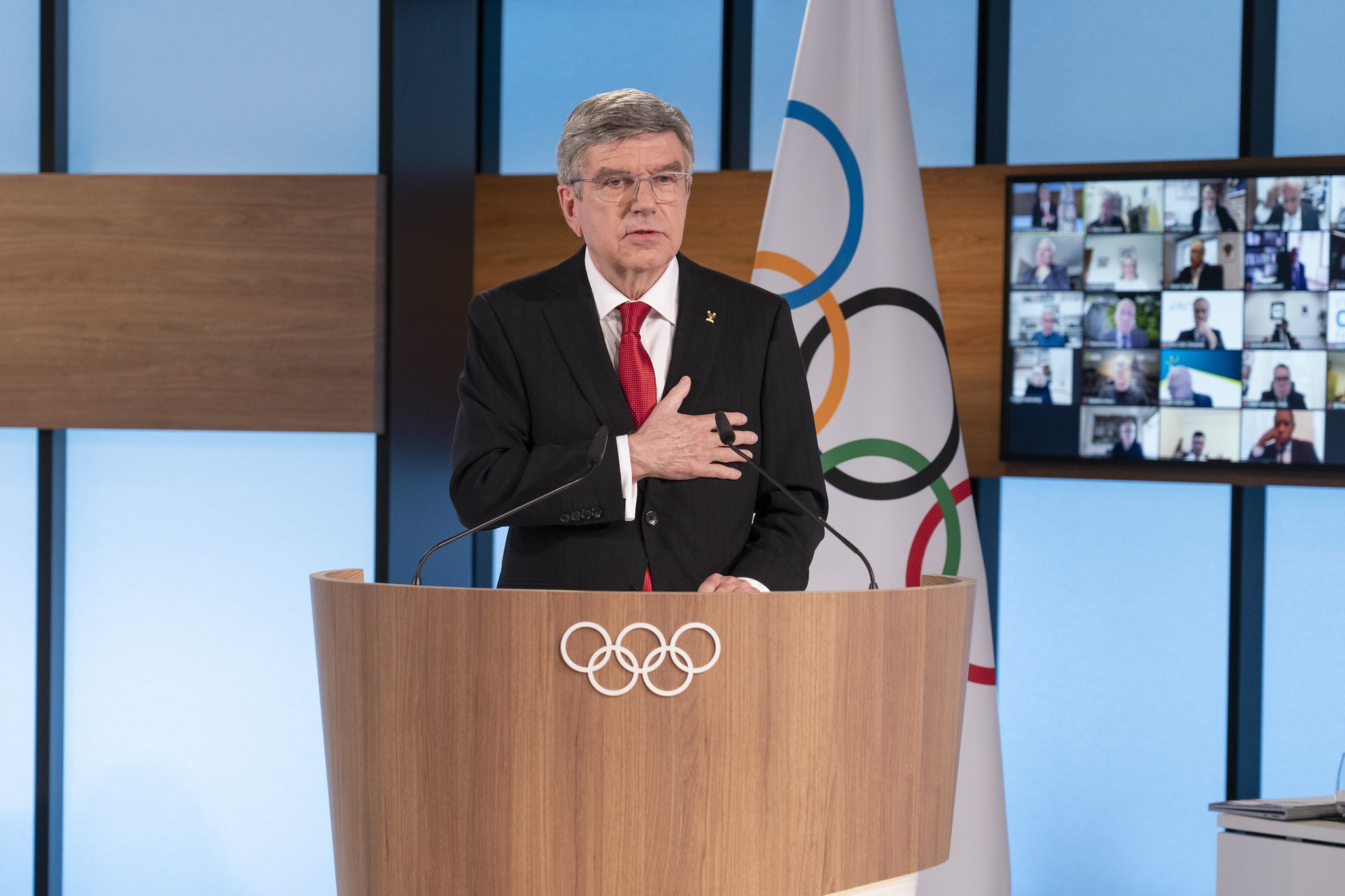 The International Olympic Committee will continue to study esports and virtual sports as part of an agenda adopted at its 137th Session, but stopped short of saying it was ready to include video gaming in any upcoming Olympic Games.
Under a provision of the wide-ranging Olympic Agenda 2020+5 that won approval at the session, the IOC has committed to "encourage the development of virtual sports and further engage with video gaming communities" through at least 2025. IOC members heard an update from Jean-Christophe Rolland, president of World Rowing, and Gianni Infantino, president of FIFA, outlining two approaches to the topic, both for virtual versions of sports where people compete on machines and for true esports competitions with people competing in video games.
But in statements following the presentations and after IOC members had a chance to raise questions — including one who encouraged the IOC to form a competition in popular titles such as DOTA or Counter-Strike — President Thomas Bach said any decision made in the future has to comport with the ideals of the Olympic movement.
"Any game where there is violence, glorified or accepted, where you have any kind of discrimination — they have nothing to do with the Olympic values and they may be commercially as successful as they want," he said. "This is a different world. We have to respect our values and there we have to be very consistent."
Rolland noted that his sport has recently held successful events where people are competing on the equivalent of rowing machines — a virtual experience but one that requires physical endurance akin to rowing on the water. "It is exciting," he said of the IOC's agenda. "This recommendation opens the possibility for international federations to look at respective proposals of virtual sport in their programs in the future." Any virtual sports, he said, should be treated as simply another discipline in those long-standing sports.
But Infantino noted a large universe exists for people who already compete in esports not necessarily tied to a traditional Olympic sport, noting League of Legends and Super Mario as examples. "This current generation has embraced video games and video entertainment," he said. "The objective of these recommendation is it will direct engagement to virtual sports and gaming to encourage sport participation and promote the Olympic values."
The element of using video games to encourage future participation in real sports remains a priority for the IOC. Bach said to the extent the IOC considers any kind of video game competition in future Games, the goal should be to encourage fans to perform the sports in real life as well on the screen. "It's a different way to get the couch potatoes off the couch," he said. "'Why don't you try to kick the ball yourself if you like it so much (in the video game),' to give one example."
Still, there was evidence some IOC members are willing to go further than the recommendations suggest. Yelena Isinbaeva, an IOC member and former pole vaulter from Russia, encouraged the IOC to consider DOTA, Counter-Strike and other game titles for consideration because the games appeal to a younger audience that the IOC is trying to attract. "If the Olympic movement doesn't take it under its umbrella, someone else will do it," she said, adding that Counter-Strike is "a huge competition with a huge amount of prize money and a huge number of participants around the globe." Competitors in those titles, she noted, train for hours each day before their competition, not unlike any other athletes at the Olympic Games.
IOC member William Frederick Blick, however, said the IOC should only consider video games as virtual versions of physical sports, similar to what rowing, cycling and others have done with athletes who compete on machines that simulate the real thing. "It needs to be linked to physical activity," he said.
That difference between virtual versions of sports and esports that center around a video game may be an issue that prevents esports from appearing at a Games any time soon. But Bach said whatever happens, the IOC should only consider adding a virtual or video element to the Games to further the ideals of the Olympic movement.
"This is not about revenue generation, this is about engagement," he said of the IOC's interest in esports. "We are not taking this on because this business has grown so much. We are taking this on for different reasons."