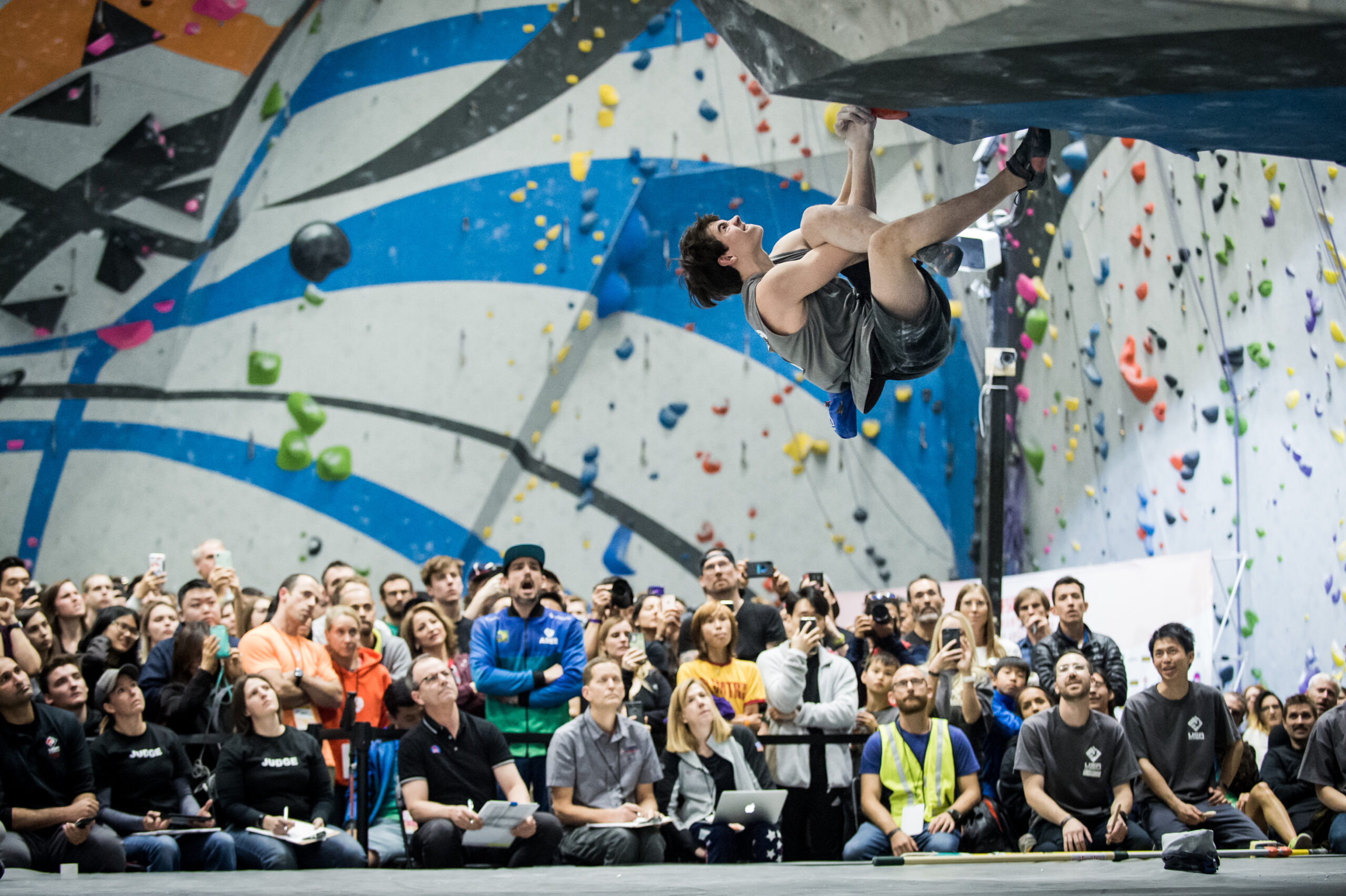 Alice Kao got into climbing at the end of a relationship 10 years ago that left her seeking an outlet for something new. "I walked into a climbing gym in London," she said, "and it changed by life."
In the decade since, that passion led to meeting her now husband and business partner, and the opening of Sender One climbing gym in Santa Ana, California, in 2013. That was followed by Sender One LAX in Los Angeles, minutes from the city's international airport. Before the pandemic shut down the sports world and society in general last March, Sender One had plans to open two more gyms in the Los Angeles area and successfully hosted the 2020 Pan-American Continental Championships at its LAX location.
"We always wanted to build these spaces where we could host large competitions," she said.
With climbing set to make its debut at the Olympic Summer Games last year, the sport seemed to have incredible momentum. Likewise, Kao's gym and hundreds of others around the country were gearing for an uptick in interest and participation on top of what industry data show has been an increasingly popular sport.
But as the pandemic reaches its one-year mark in the United States, Kao and other gym owners are struggling. California is the last state in the country that has not allowed gyms to reopen. The Climbing Wall Association, the industry association for gyms and their suppliers, reports that nearly 70 percent of climbing gyms are in jeopardy of failing or are unsure about their future.
Those challenges have sparked Kao to lead a lobbying effort in California to reopen gyms, which may be making some ground.
And the difficult situation for the climbing industry has led the CWA to launch a new initiative, Inside Voices, aimed at demonstrating why the sport may be one of the safest for participation during the pandemic. "It's basically our attempt to create some goodwill, some positive vibes and some buzz in the climbing community around the fact that climbing gym businesses are struggling," said Laura Allured, CWA's marketing and communications manager.
Gyms Built for Events
For Kao, the Pan-American Continental Championships marked the pinnacle of the plan for her venue to host major events. The event, which was staged February 27 through March 1, 2020, not only attracted a sizable crowd, it also resulted in one Canadian woman and an American man earning coveted qualifying spots for the Olympics.
Kao built the 30,000-square-foot gym near Los Angeles International Airport with big competitions in mind. The structure has a 65-foot ceiling and columns were limited to allow for as much open space as possible. "We did that intentionally so you have this huge spectator space so people can have good viewing of the walls," she said.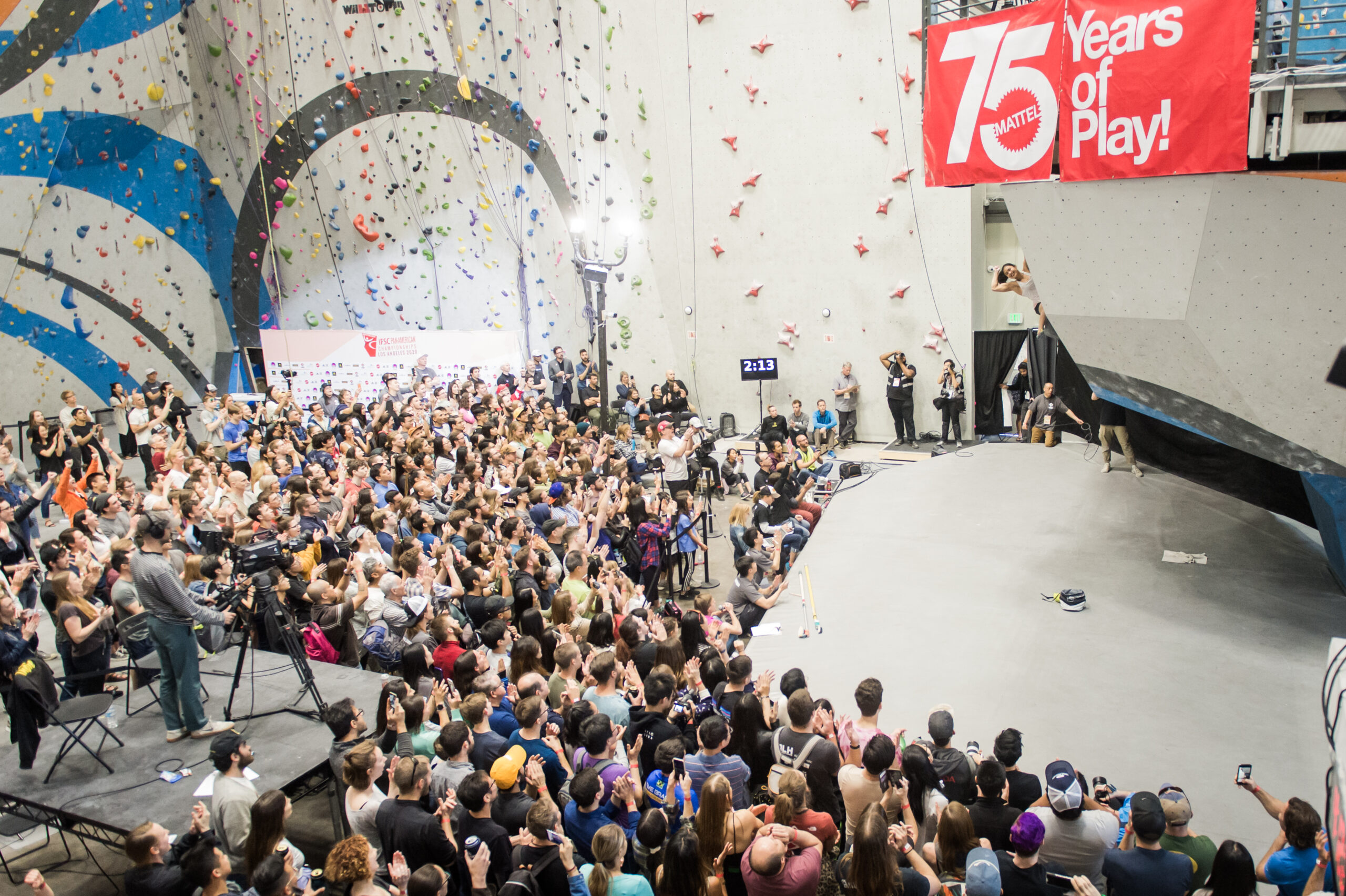 The competition wound up being one of the last in the sport before the pandemic forced everything and everyone to retreat in mid-March. "That was the largest event we ever hosted," Kao said. "We had the event, came back to work and the next thing you know, the whole world was shutting down."
The timing of the shutdown and the length that gyms were closed was unfortunate for the sport. With momentum building toward the Tokyo Olympic Games and "Free Solo" — the documentary of professional climber Alex Honnold's attempt on El Capitan — winning an Oscar, hope was strong that the sport was on its way up, Allured said.
"It's just heartbreaking to look back because everyone thought 2020 was going to be a banner year for climbing," Allured said. "Going into the Olympic year we definitely thought it was going to go off like gangbusters and climbing gyms were going to face the complete opposite challenges of what they are facing. We thought gyms would be overwhelmed by interest from novice climbers and people who had no exposure to the sport."
Shutting Down
The story of 2020, of course, is a familiar one. For climbing gyms, the onset of the pandemic meant closing doors even before governments mandated that they close. "Gym owners felt a strong responsibility to keep their community safe," Allured said. "Most closed down several days before they had to."
That was the case for Kao, who closed her two facilities and put the plans for expansion on hold. But as other states began opening, California largely remained closed. In her case, Kao was only able to reopen for three weeks before the latest wave of coronavirus cases nationwide caused gyms to close again.
Nationwide, more than 80 percent of gyms have now reopened, according to the CWA. But by early March, California was the last state that had not allowed its climbing gyms to reopen. That has caused Kao to launch a coalition of gym owners in the state who have been lobbying state officials to exempt gyms and allow people to climb again.
"I wanted to raise the awareness to what this is doing to the indoor climbing industry," she said.
Among the cases Kao and her coalition have made: Climbing may be one of the safest indoor sports for someone to undertake. By its nature, climbing is socially distant. And while the initial thought may be that all those touch points on a wall need to be disinfected, at gyms like Sender One, a liquid chalk is used that is about 70 percent alcohol, helping climbers to disinfect as they head up or around the wall.
"In Los Angeles, you can go to the mall right now, you can go get your hair cut and you can go get a tattoo. But you can't go climbing."
—Alice Kao, owner of Sender One
Allured noted that there were more than 10 million visits to climbing gyms in 2020 with no reported COVID-19 outbreaks.
Kao's coalition has met with state officials in recent weeks and the latest indication is they may be just weeks away from being allowed to reopen in some capacity.
"We presented the science and data of why we should be allowed to open," she said. "In Los Angeles, you can go to the mall right now, you can go get your hair cut and you can go get a tattoo. But you can't go climbing."
Gym Owners Concerned
The concern about reopening is real, and not just in California. While more than 80 percent of gyms have reopened, the owners of those gyms remain concerned about what all the lost time and revenue has meant for the businesses.
The CWA performs a monthly survey of its members to gauge what's happening in the industry. In 2020, more than 50 percent of gym owners had lost over half their business from the year prior, Allured said. And in the latest poll, 38 percent of gym owners said they believe they will soon go out of business, with 29 percent unsure. Only 33 percent said they felt they were in a good position to continue. "Those are big numbers," Allured said, "and concerning numbers."
The association's Inside Voices campaign is aimed at spreading the word about what's happening. Gym owners and industry partners can download customizable social media posts with graphics to spread the word about the industry and receive email templates that can be filled in to engage their supporters. The association has also prepared press releases that can be shared to generate media interest.
Encouraging News Ahead
Despite the obvious concern about the future of gyms — and by extension, venues for events — there is encouraging news for the sport. The Olympic Games, while rescheduled, will continue this summer with a start date of July 23. Sport climbing will be on the program, even if it's a year delayed. Even more encouraging is that the sport has been shortlisted for the 2024 Games in Paris, meaning the Olympic momentum will continue at least into the next quadrennial.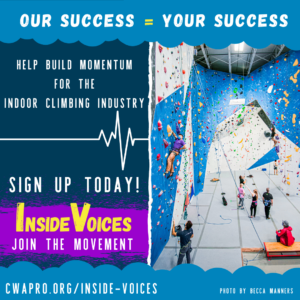 Participation data also points to positive trends. In the 2021 Sports & Fitness Industry Association's Topline Participation Report, climbing fared well, both indoors and outdoors. Sport climbing has seen a 2.9 percent increase in participation over the past three years, with an increase of 4.9 percent in 2020 in terms of people who participated at least once, according to the SFIA. Indoor climbing reported similar gains, up 3.2 percent over three years and 4.3 percent in 2020 alone, despite the many gym closures.
And events are coming back. USA Climbing will host the 2021 National Team Trials at High Point Climbing and Fitness in Memphis, Tennessee, March 26–30. The event will select the athletes who represent the United States at internationally sanctioned events.
The event will not be open to spectators and the governing body intends to work with its medical committee and the local health department to stage a safe event under CDC guidelines.
John Muse, vice president of sport for USA Climbing, said events are slowly coming back although in a typical year, the full schedule would have been released one year prior. In addition to the Memphis event, the national governing body is looking for a host location for the para nationals and a youth nationals event this summer. There are a few World Cup events planned in May in the NGB's home city of Salt Lake City.
For gym owners, who host most of the sport's events, the return to events is a delicate one, he said, since so many have been closed to their own members for so long. "Then you add in a layer of complexity with if I'm going to run a big event, I've got to shut my facility down again or dedicate some space," Muse said. "Fortunately with a lot of our gym partners out there, they're still interested in helping us out. But we have to be clever."
"We still believe climbing has a very positive impact on people's lives," she said. "It's healthy, it's fun, it's a strong and vibrant community."
—Laura Allured, Climbing Wall Association
Allured said the CWA is confident that the future can remain bright for the sport, despite the setbacks of the past year. "We still believe climbing has a very positive impact on people's lives," she said. "It's healthy, it's fun, it's a strong and vibrant community. We still think there's a ton of potential. You can see it in the number of climbing gyms that are being built."
For her part, Kao also hopes to bring her future expansion plans back to fruition. And while she waits for the day to bring in the types of crowds she had at the Pan-American Continental Championships, she's anxious for the days she can have anybody back inside.
"I don't need to have 1,000 people in here," she said. "I just want to be able to let people in here to have 25 percent capacity."